Australia driving licence is issued by each local licensing authority of the state or territory, so is renewal. The renewal process is generally similar in all states and territories, but there are still some important differences. And today we are going to introduce driving licence renewal in NSW. 
Applicants can apply for different validity for different permit types. Full (unrestricted) licences can be renewed for 1, 3, 5 or 10 years, commercial driver licences for a maximum of 5 years, P1 licence for 18 months, P2 driver licence for 36 months and P2 rider licence for 30 months. They mostly differ in the cost and eligibility while the application process goes similar. If you are holding an expired NSW driving licence and have no idea of what to do next, just continue reading this article.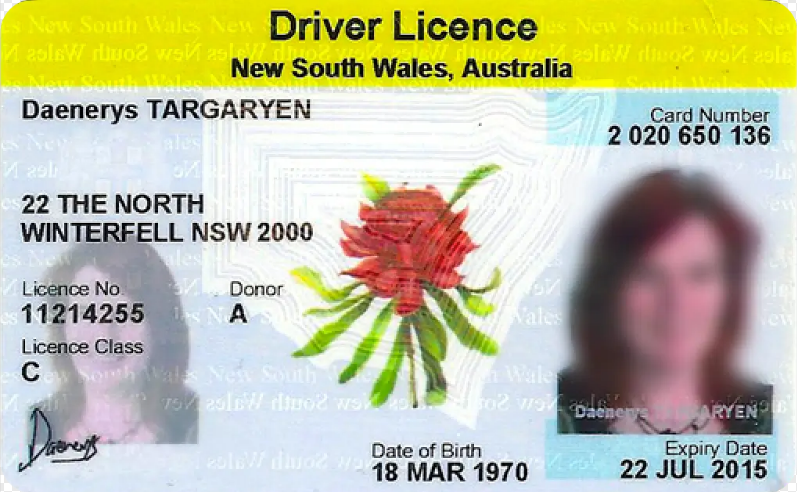 Eligibility of Driving Licence Renewal in NSW
Candidates must meet the following restrictions to renew NSW driving licence.
An eyesight test is required when upgrading a driving permit to a higher class, every 10 years for those under 45, every 5 years over 45 (included), when applying for a 10-year validity, or renewing LR, MR, HR, HC, MC licence.
Passenger Transport licence holders with code PT T011 must have passed a commercial standard eyesight test on the day of renewal.
There would be an email notifying you to take the test. Once receiving the email, please book an optometrist or ophthalmologist to examine your eyes within 8 weeks.
Remain valid for 6 months or less
The Australia driving licence should be renewed up to six months before expiration.
MC driving permit holders must be younger than 70. Candidates over 75 (included) need to take an NSW Fitness to Drive medical assessment (See here) and notify Transport for NSW (TfNSW).
Update medical conditions
Make sure you have entered the updated medical conditions into Transport for NSW.
Make sure that your driving licence is not under cancellation, disqualification, suspension, refusion or appeal pending.
The TfNSW has taken your signature and photograph within 10.5 years before the expiry of the new card.
Your permission card is featured with an interlock or Q (temporary overseas visitor) condition.
How to Renew NSW Driving Licence
There are online and offline renewal services available currently. Online service could satisfy most of your needs conveniently. However, if you have special demands or no access to renewing driving licence online, please go to a Service Centre in person. Next, let's how these two ways work.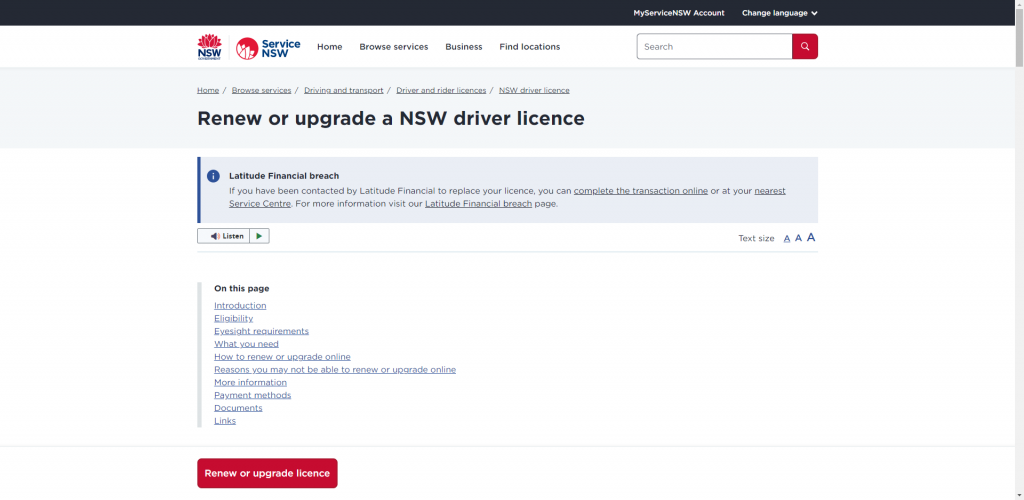 Renewing Driving Licence Online
Then click the "Renew or upgrade licence" button at the bottom. First of all, you have to create a MyServiceNSW Account. If you already had one, just log in. If you are a first-time user of the account, you have to input detailed information on your NSW driving licence. 
Provide detailed information
Follow up the instructions on each step and provide all required information, such as name, address, etc.
After filling in the form, you have to pay online before finishing the application. Payment methods like PayPal, Credit or debit card and BPAY are all welcome.
Get a digital/ interim paper permit
You can go to the Service NSW app to download a digital licence or print it out to temporarily replace the expired one before you receive the new driver card.
Wait for the new NSW driving licence
It takes up to 10 business days to process your application. The new licence would be sent to the address you attached.
Renewing a Driving Licence at a Service Center
Online service is not applicable to everyone. Applicants must visit a service center on the condition that:
The applicant is between 21-44 years old and wants a 10-year driving validity.
The applicant is Passenger Transport licence code PT T012 holder.
The applicant's address has been changed in the last 14 days.
The applicant prefers to obtain an NSW Photo Card at the same time.
The applicant's old driving permit has expired for over 6 months.
The applicant is under 25 and holds dual-class driving licence: one if full LR/MR/HR/HC/MC and another is Rider P1 or P2.
The applicant holds a dual-class driving licence and one of them is a learner class.
The applicant holds a learner driver or rider permit.
The applicant doesn't comply with the eyesight requirements.
The applicant's medical conditions did not enter the TfNSW system.
The applicant's permit is under restriction.
The applicant is holding both driving licence and boat licence.
The applicant uses photo-kit to finish the last renewal.
The applicant has to finish an older driver assessment.
In order to renew NSW driving licence offline, please prepare the following documents:
A renewal application form
Current permit or other identity certificates
Eyesight test report/medical report (if necessary)
Walk into a service center and the officer would tell you what to do. Once you pay the renewal fee, the officer would take a photo for you. You would be given a temporary paper licence for driving until the new licence card is sent to you. The old licence card is just used to identify your identity at renewal. It is no longer a valid driver licence.
Fees of Australia Driving Licence Renewal
Fees vary across types of licences, classes of licences and the validity period.
Learner licence: $26
Replacement learner licence: $23
P1 licence $61
P2 licence $96
Heavy vehicle licences/rider licences/driver licences
1 year: $62
3 years: $144
5 years: $194
Unrestricted licence classes C/ R (rider)
10 years: $362
Unrestricted licence holders with good driving records might be eligible for certain discounts. The actual fee is subject to the final settlement.
Final Thoughts
Driving with an expired driver licence in NSW is as severe as unlicenced driving. You might encounter a serious penalty. The only way to regain the right to drive is to renew NSW driving licence. So, please pay attention to the valid period on your licence card and renew it before it becomes invalid (up to six months in advance). There are 2 options available: renewing driving licence online or at the service center. If you haven't applied for renewal before, it deserves to spend some time carefully going through this article so as to get fully prepared.