It is getting more and more popular to take a road trip today. Anybody hoping to drive in Malaysia must hold a JPJ driving license or JPJ international driving license which is an official permit for drivers to get around the city conveniently. Unlicensed driving is not only an illegal act but also a total disregard for the safety of yourself and the public.
Therefore, if you plan to buy a car or rent one for the trip, the first thing is to get a driving license. In this post, we would explore the whole driving license system for you, including types and ways to apply for driving license in Malaysia as natives or expats.
Types of Malaysia Driving License
The driving license is issued by The Road Transport Department Malaysia (JPJ). There are 15 license classes, ranging from motorcycles, cars and trucks.
Driving License Classes
| | | |
| --- | --- | --- |
| Classes | License | Age |
| A | Vehicles for the disabled ≤ 450 kg | ≥16 |
| B | Motorcycles > 500 cc | ≥16 |
| B1 | Motorcycles ≤ 500 cc | |
| B2 | Motorcycles ≤ 250 cc | ≥16 |
| C | Motorized tricycles | ≥16 |
| D | Manual transmission cars with unloaded weight ≤ 3500 kg | ≥17 |
| DA | Automatic transmission cars with unloaded weight ≤ 3500 kg | ≥17 |
| E | Trucks (all classes) | ≥21 |
| E1 | Trucks with unloaded weight ≤ 7500 kg | ≥21 |
| E2 | Trucks with unloaded weight ≤ 5000 kg | ≥21 |
| F | Tractors or Light motorized machines (wheeled) with unloaded weight ≤ 5000 kg | ≥21 |
| G | Tractors or Light motorized machines (chained) with unloaded weight ≤ 5000 kg | ≥21 |
| H | Tractors or Heavy motorized machines (wheeled) with unloaded weight > 5000 kg | ≥21 |
| I | Tractors or Heavy motorized machines (chained) with unloaded weight >5000 kg | ≥21 |
| M | Court's Punishment | ≥17 |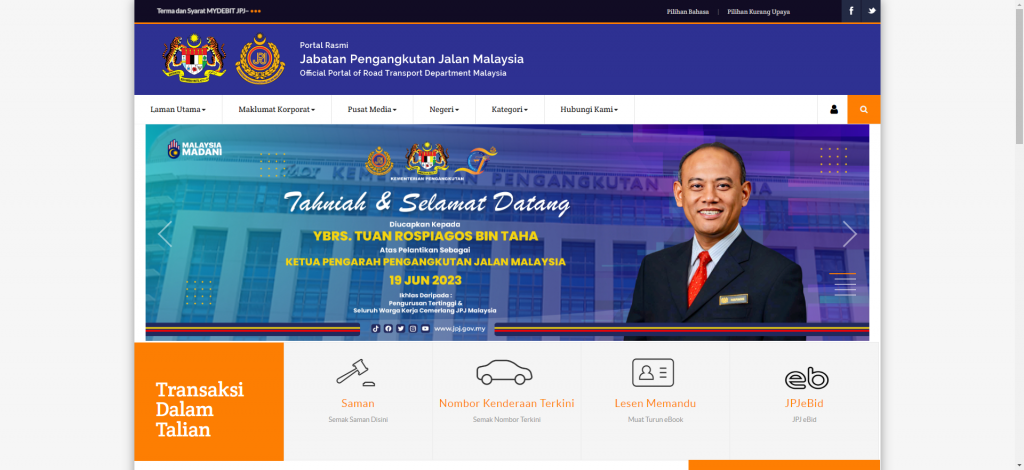 Driving Licenses Types
There are 5 types of Malaysia driving license listed as follows:
Learner Driving License (LDL)
This is the entry-level certificate for people without any license. After passing the first driving test at the driving school, trainees could get LDL which means the individual is still at the learning stage and they have to drive under an experienced driving coach's supervision. With 2-year validity, it is required to renew every 3 or 6 months before taking or passing the JPJ exam.
Once the license expires, you have to retake the test from the very beginning, so please get the JPJ driving license in 2 years.
Probationary Driving License (PDL)
PDL, also known as "P" plate driving license, is given to novice drivers who have completed all learning courses and passed all examinations.
It remains valid for 2 years from the date of issuance. Drivers with PDL should attach a "P" sticker to the vehicle, indicating the probationary identity.
Competent Driving License (CDL)
This is the full driving license issued after the 2-year probation expires.
Vocational Driving License (VDL)
This is also considered a commercial driving license which is issued for those who want to run commercial vehicles like trucks and buses. Candidates who intend to apply for VDL at Classes E-I must be 21 or older.
International Driving Permit (IDP)
This JPJ driving license is especially issued to drive in foreign countries. IDP applications could be submitted at JPJ offices or Malaysian Automobile Association (AAM) offices in any state.
How to Apply Malaysia Driving License
Candidates who want to apply for motor license must be at least 16 years old and 17 for car license.
More importantly, applicants with visual defects are not allowed to get a driver's license, such as color discrimination disability and bad vision to see shorter than 23m.
In order to successfully obtain a Malaysia driving license, you just need to follow the instructions below.
Step 1. Register
Registering at a driving school is the first step to start your JPJ driving license application where you can learn related traffic laws and regulations, take theory courses and practical skills. A qualified coach would help you overcome the fear of driving and cultivate good driving habits. There are over 100 driving schools in Malaysia. Please google them and find the nearest one. Each school charges different levels of registration fees. Please make a phone call or site visit to choose one within budget.
Step 2. Take Theory Lessons & Tests
Candidates must acquire basic traffic rules before driving on the road. Then a theory lesson is required. After enrolling in the driving school, candidates would receive a book with 500 questions. You are required to take the 6-hour KPP01 course which involves topics like traffic signs, driving codes, etc.
After finishing the course, you can move on to take an online test. There are 50 multiple-choice questions: 10 to check whether you are color-blind and 40 from the 500 questions stated before. To pass the exam, the accuracy rate must reach 84% (42 questions).
If you fail the color-blind test, you have to go to a clinic to ask for approval and take the test again.
Step 3. Get LDL & Take Practical Lessons
After passing the test, you need to apply for Learner Driving License (LDL). Rember to prepare two biometric photos in advance. To make a qualified photo, you can use AipassportPhotos, an online identity photo maker.
At this stage, you are required to learn the assembly of a car and how to carry out safety checks. Finally, it's time to get inside the car. The instructor would guide you to practice in the training circuit where you can learn basic driving skills like turning a corner, parking, operations on the slope and so on.
Step 4. Take Road Test
The road test includes 2 parts, one in the circuit and another on the specified section of road.
The circuit test requires candidates to:
Stop uphill, and move on to go downhill
Drive along a Z-shaped curve.
Drive along an S-shaped curve.
Side parking at an area enclosed by the yellow line.
Three-way maneuver in/out of a dead end.
Following the circuit test is the real-world driving test. The examiner would sit in the passenger seat so as to assess your performance and guarantee your safety as you are a beginner. Don't be nervous. Do as you learned and pay attention to every single step, such as tightening the seat belt and correctly using indicators.
Step 5. Pass 2-year Probation
With all these done, you finally graduate and receive the PDL. You have to keep this kind of Malaysia driving license for the next 2 years and drive the car with P-plate. Don't be shamed of it. Just focus on improving your driving skills. Every driver has to go through the period. Rember not to run out of your demerit points, or the license would be revoked.
Step 6: Get Competent Driving License (CDL)
Two years later, you can visit the JPJ offices and change the CPDL to Competent Driving License (CDL). Congratulations! Now you are a competent driver with a JPJ driving license.
How to Apply International Driving License in Malaysia
If you are planning a road trip in foreign countries, an IDP, also known as JPJ international driving license is necessary. IDP is issued to anyone over 18, but there are different requirements for Malaysian citizens and foreigners.
International Driving License Malaysia for Citizens
CDL holders could apply for IDP in a JPJ office (state or branch) or the Automobile Association of Malaysia (AAM) office with the following documents:
Class B2 or D Malaysia driving license with validity for over 1 year
Photocopy of both sides of the driving license
Identity card and photocopy of both sides of it
Form JPJ L1 (available at JPJ office)
The duration of an IDP is only 1 year after which you have to renew or convert it back to domestic ones only in Malaysia. As it is not allowed to hold 2 licenses at the same time, applicants must surrender the domestic JPJ driving license to the international driving license Malaysia. If you don't need the IDP anymore, visit the JPJ office to get your domestic driving license back with the following documents:
IDP
2 passport-size biometric photos
Form JPJ L1 (available at JPJ office)
The IDP application and renewal fee are both RM150 per year.
International Driving License Malaysia for Foreigners
Foreigners from ASEAN or Commonwealth nation can drive in Malaysia without IDP. If not, they have to apply for JPJ international driving license under the condition of:
Valid passport or visit pass for minimum 1 month/married a Malaysian citizen/hold MM2H (any of them)
Valid driving license from the home country (equal to Malaysian CDL/PDL). A translation version is required if it is non-English.
After confirming that you are eligible, you need to go to the main JPJ office and make an appointment. Visit the office again on the given date and provide the following documents:
Passport and photocopy of the page biometric information (usually the first 2 pages)
Visa or visit pass and photocopy of it
Driving license from your home country with validity of over 1 year and photocopy of both sides.
Translation of license in English from embassy or certified organizations (optional)
Form JPJL1 (available at JPJ office)
1 passport-size photo
Payment of RM150 (for a year)
How to Renew Malaysia Driving License
Can you set your mind at rest after getting the JPJ driving license? Definitely not. There is validity period on your license. Driving with an expired driver's license is as serious as driving without license. Make sure to renew it at least 1 month before it expires. Don't do that less than 3 years after it expires, or you have to go over the application process again from the very beginning. There are online and offline methods available to renew Malaysia driving license.
Offline JPJ Driving License Renewal
The renewal services are available in post offices, JPJ offices and Pusat Transformasi Bandar or Urban Transformation Center (UTC) branch. Just take a valid ID (like passport or ID card) and current driver's license. The officers would tell you what to do.
Online JPJ Driving License Renewal
If you are too busy to visit a physical office, online service is also available. Driving licenses except LDL or PDL could be renewed on MyEG's website by following the steps below:
Go to MyEG website and log in. First-time users must click on "Register Now" to sign up.
Choose an office near you.
Choose the "Renewing Driving License" service.
Fill up all the information required and fulfill payment.
Save the receipt and wait for the MyEG to send the new license.
Prices of Malaysia Driving License
In this session, we'll explain fees for first-time application and renewal fees for a Malaysia driving license.
Application Fees for JPJ Driving License
The cost of applying for a Malaysian driving license varies from institution to institution, but they all have to comply with the maximum fees set by Licensing Committee of the Driving Institute (LKPIM) which is listed as follows.
License Type
Class
Malaysia Driving License Price
License for Manual Transmission Car
D
RM 1,150 – RM 1,300 (USD 287.50 – USD 325)
License for Automatic Transmission Car
DA
RM 1,250 – RM 1,500 (USD 312.50 – USD 375)
License for Motorcycle
B2
RM 350 – RM 450 (USD 87.50 – USD 112.50)
B
RM 900 – RM 1,100 (USD 225 – USD 275)
Note: These are the official ceiling prices. For more exact information, please consult the specific driving school.
Newal Fees for JPJ Driving License
The costs of CDL are listed as follows:
| | | | |
| --- | --- | --- | --- |
| | Class A/A1 | Class B2, B, and C | Class D & above |
| 1-year validity | RM2 | RM20 | RM 30 |
| 2-year validity | RM4 | RM40 | RM 60 |
| 3-year validity | RM6 | RM60 | RM 90 |
| 4-year validity | RM8 | RM80 | RM 120 |
| 5-year validity | RM10 | RM100 | RM 150 |
Conclusion
Applying for Malaysia driving license is a tremendous task of patience and practice. What you need to do is to find a qualified training school and an experienced instructor. Even if you are not native, driving in Malaysia is as easy as driving in your home country. You also have to pay attention to traffic light, signs and the road condition. Don't be nervous. Just feel free to convert your JPJ international driving license. Don't miss the fun of freely get around the city.