Resizing your image to 35mm x 45mm online has never been as easy as it is today. The good thing about this process is these online tools also ensure that the image quality is preserved and maintained. Anyone with basic or everyday computer knowledge can use these image-resizing tools online.
With the recent upsurge of AI technology on the internet, almost everything is possible if you can access the right tools. Many tools are available online to make many processes run smoothly without needing a professional.
A general method for quickly resizing photos to 35mm x 45mm online is to upload the image in JPG, JPEG, or PNG format, enter your desired dimensions, and download your perfectly resized image in a few seconds.
This article will teach you everything you need to know about resizing your photos, including why it's necessary, the best practices and tools, and an easy step-by-step guide to get you started!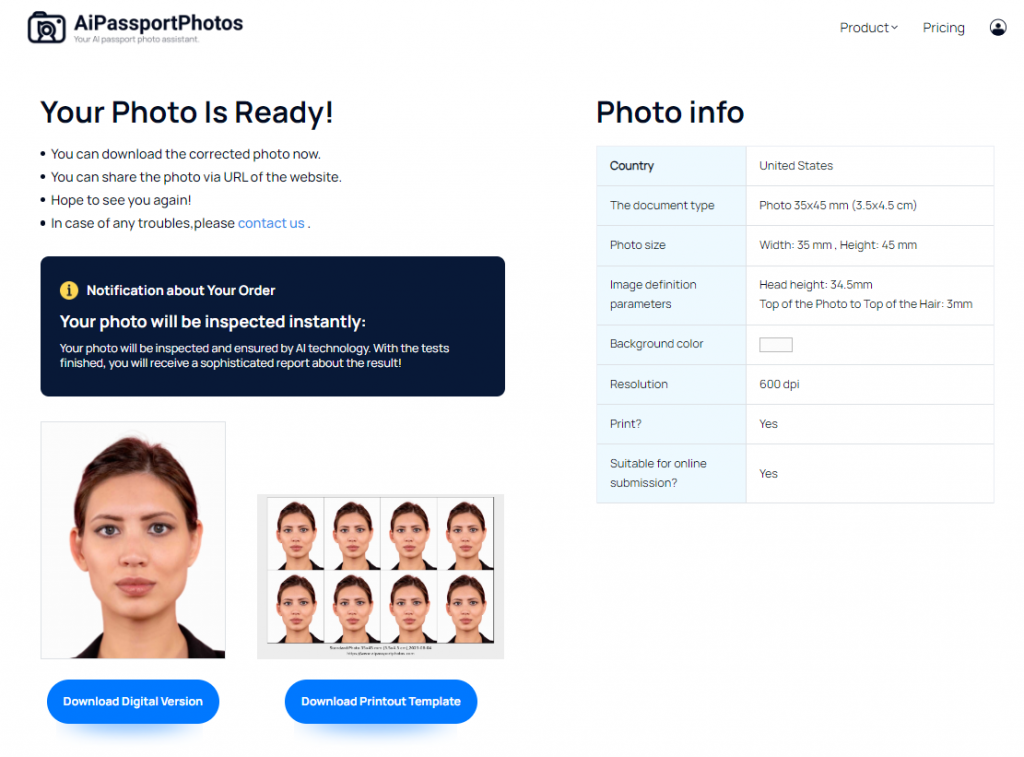 What Does it Mean to Resize My Images or Photos?
Photos Resize involves a series of simple processes channeled toward adjusting or changing the dimensions of an image to a required or predetermined size. The image's width and height are often adjusted (increase or decrease).
For example, you may be required to use specific dimensions when uploading an image for an application. Assume the required dimensions for most tools are 35mm x 45mm; all you need to do is upload your image and resize it to the desired size. You'll be done in seconds without sacrificing the image quality of the original photo.
Types of Image resize
When it comes to image resizing, two essential types are worthy of mention, they are; Scale Down Resizing and Scale Up Resizing.
Scale Down Resizing means reducing the image's dimension, whereas Scale Up Resizing involves increasing the photo's dimension.
The most common passport photo size around the world (Uk, Europe, Australia, Singapore, Nigeria, etc) is 35mm x 45mm, however, there might be certain exceptions to the rule like Canada. Thus, depending on the requirements, you may need to Scale up or Scale down your photo.
Why is it Necessary to Resize Images?
You may need to resize your image for a variety of reasons. But first, let's look at the most common reasons you might encounter. These reasons are also applicable to passport photo requirements depending on the country. 
Certain web pages are designed to accommodate specific photo dimensions, and exceeding the set dimensions will prevent you from uploading your image for that important application you eagerly need to finish. With this requirement in place, resizing becomes necessary.
Furthermore, resizing an image is a great way to crash or reduce the file size of a photo while keeping the original quality. This advantage helps to minimize data usage and the time it takes for an image to load on a webpage.
Finally, resizing an image improves its visual quality by changing its resolution or aspect ratio.
What Image Formats Can I Resize?
Many image formats are available today, but we recommend sticking to PDF, JPEG, JPG, and PNG to ensure a seamless process. These are the standard image formats accepted by most online resizing tools.
Will Resizing My Image Change its Quality?
Resizing your image will not change its quality. You can use AiPassportPhotos for a smooth and quick process. Even after resizing your photo, you will get the same image quality as the original.
How Can I Resize My Image?
Before we get into the "how," you must understand the specific requirements outlined by the recipient page or platform before resizing an image, these requirements will guide your search for the best tool for this exercise.
Now, let us look at the HOW – Some decent image editing software is available for resizing images. Typical examples are Adobe Photoshop and GIMP.
Unfortunately, not everyone has the patience to learn the intricacies of how these software works because they appear to be rather complicated to the average person. 
Instead of complicated software, you can use simple online photo resizing tools like AiPassportPhotos to resize your image in seconds.
This tool is quick and easy to use, and there is no need to download any software. You only need internet access and a device that can connect to a web browser.
A Step-by-step Guide to Resizing an Image Online
There are many image-resizing tools available online today. We will provide you with a simple step-by-step guide that will work for almost all of these online photo resizing tools.
Step 1 – Launch the Resizing Tool in a web browser
Step 2 – Upload the image to be resized
Step 3 – Adjust, crop, and insert the desired dimension
Step 4 – Click on NEXT or CONFIRM to complete the process
Step 5 – Download your Resized image to your device
With these simple steps, you can quickly complete the task on almost any online image resize tool in seconds. But it gets even better with AiPassportPhotos; here is why!
Why Should I Use AiPassportPhotos?
AiPassportPhotos outperforms other free online passport and visa photo resizers because it includes background removal and compliance checks.
With a resolution of 301 dpi, AiPassportPhotos will help you crop the photo to a size of 2 inches in width and 2 inches in height. The head height will be 1.29 inches, with a distance of 1.18 inches between the bottom of the photo and the eye line.
At the same time, you don't have to worry about whether the images will be suitable for web uploading. We guarantee that what you receive is ideal for online and offline printing.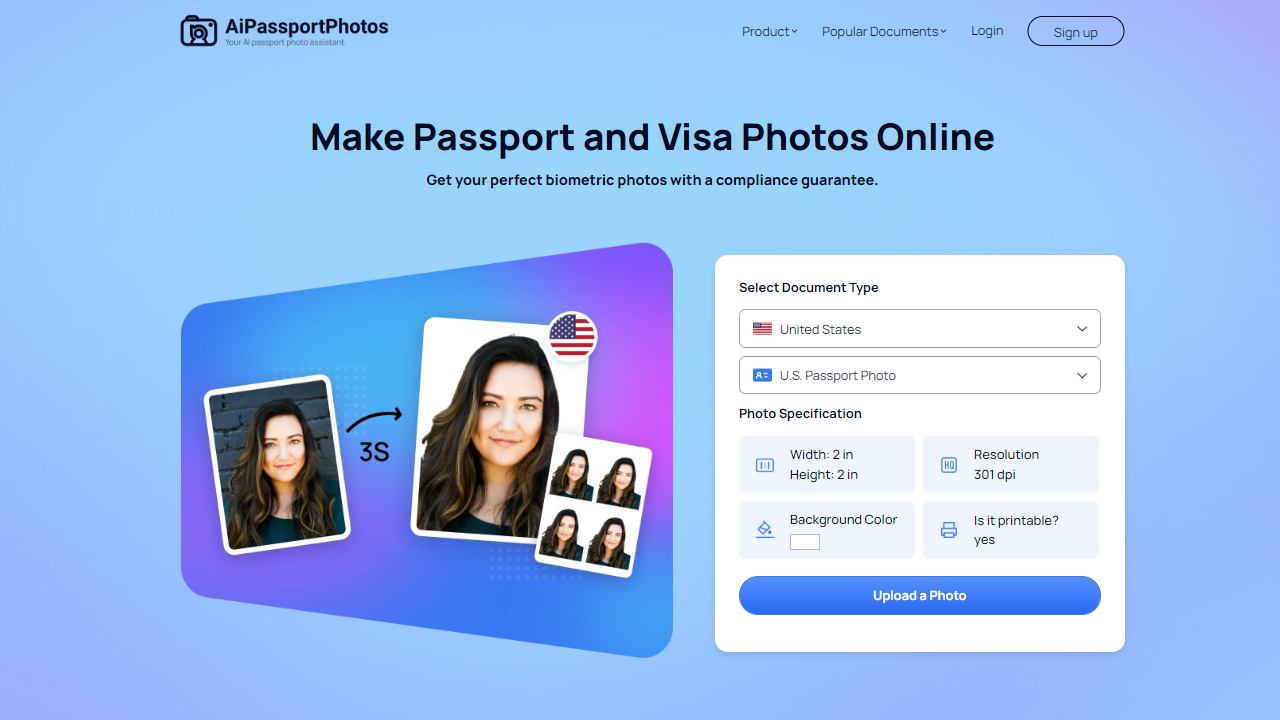 Conclusion
You may be familiar with the perils of a tourist or travel enthusiast, especially with the inconvenience of having passport photographs made for your trips. Finding a photographer who can capture your image according to the stringent requirements for passport photos may be challenging.
Sometimes even if you find a professional, the fee may be expensive, and you may have to wait hours or days for the prints to arrive.
AiPassportPhotos can assist you with this. Our cutting-edge passport photo resizer uses artificial intelligence to resize and alter your photo to meet passport specifications automatically. AiPassportPhotos lets you get your passport photo in minutes without hassle or delay!