Taking a passport photo becomes tiresome, especially when the image is unappealing, no matter how hard you try to look good for the camera.
Situations like this can make it challenging to take photographs. However, there are a few things you should be aware of before taking your passport photo — passport photo sizes & requirements with examples.
Most people believe they are unphotogenic and have given up on looking attractive in passport photos. According to York University's Department of Psychology, 9 out of 10 people are unhappy with their appearance in passport photos.
Ugly passport photos can be incredibly disheartening because they can make someone appear completely different from real life. The quality of your passport photograph is very important. 
Some passports have been rejected due to poor-quality passport photographs, as reported in some cases.
Why a Passport Photo May Turn Out to be Ugly?
There's no denying that most of us do not look good in passport photos. Many say that even after altering styles and positions hundreds of times, they still don't have an attractive passport photo. 
As a result, many people have erroneously concluded that they are not photogenic and have given up on getting a nice passport photo.
On the other hand, some people believe they can have a beautiful passport photo but are unsure what to do or how to go about it. Whichever category you fall into, this post will provide you with the information you need to get started on getting that perfect passport photo.
Numerous factors can cause a passport photo to appear unappealing. Some of the reasons for this are as follows:
Using a Substandard Camera
The camera used to capture images is crucial in determining the quality of the photos. In addition to other factors, low-quality cameras rarely produce good image quality.
When the camera leaves your modest facial asymmetries unflipped, you see an unpleasant, alien version of yourself, according to the mere-exposure effect.
Taking Pictures in a Hurry 
Photographs taken in a hurry are more likely to be blurred. When shooting handheld, the camera is more likely to shake. Hence, it needs an excellent focus to capture the image adequately. Motion blur and a narrow depth of field can contribute to an unappealing passport photo.
Poor Lighting
One of the most important aspects of a passport photo that improves your appearance is lighting. Natural light is the best. Diffused daylight will make you appear radiant and beautiful. 
If you must use artificial light, ensure the lamps have a "daylight" color temperature to match the sunlight, or you will get a bad photograph. 
An Uneasy Expression and an Unhappy Face
Your posture and disposition are crucial when taking a passport photo. Avoid having a strained expression or looking exhausted. Being in your natural state is ideal for photographing; remain calm and comfortable. You can smile slightly, but remember that your teeth must not be visible. 
How to Improve Your Ugly Passport Photo
The primary goal of your passport photo is to identify you. Spending so much time, effort, and money on a passport photo only to be disappointed with the results can be discouraging. So to achieve the best photo results, consider these tips before posing for a photographer.
Tips to Help Improve Your Passport Photos
It would be best if you could shoot your photos on a bright, beautiful when you feel great about yourself as this can affect the end results of your photo. You might not look good in your picture if you're moody or having a bad day. These usually translate into a bad photo.
Maintaining a good posture is another tip for improving your passport photo. How you position your face, neck, and back affects the overall quality of the image. The better your facial posture, the better the outcome of your passport.
Allow plenty of time to capture the perfect moment by taking as many shots as possible. Put on some music and listen to your favorite songs. This will help lighten the mood you will feel more comfortable.
How to Take Your Passport Photo
Thanks to technological advancements, you can now take a good passport photo with smartphones like Android phones and iPhones. If you have a good camera at home, you can capture yourself the way you want instead of going to a photo studio.
We've established everything you need to know about taking good-looking passport photos. You can now take a beautiful passport photo yourself from the comfort of your home. To get the perfect fit, adjust your appearance, comb your hair, correct your makeup, or change your outfit.
AiPassportPhotos images is a photo tool online that uses AI technology to generate your photo in 3 seconds. It verifies every photo for current conformity with official passport standards. It also fixes the background and automatically crops the image to the correct size.
The AI system will verify the image for you and allow you to take as many photos as you want; you only pay when you are satisfied. 
If you are unhappy with your photo or blink your eyes, you may retake it until you get the perfect photo. Acceptance is guaranteed, or you will receive a full refund.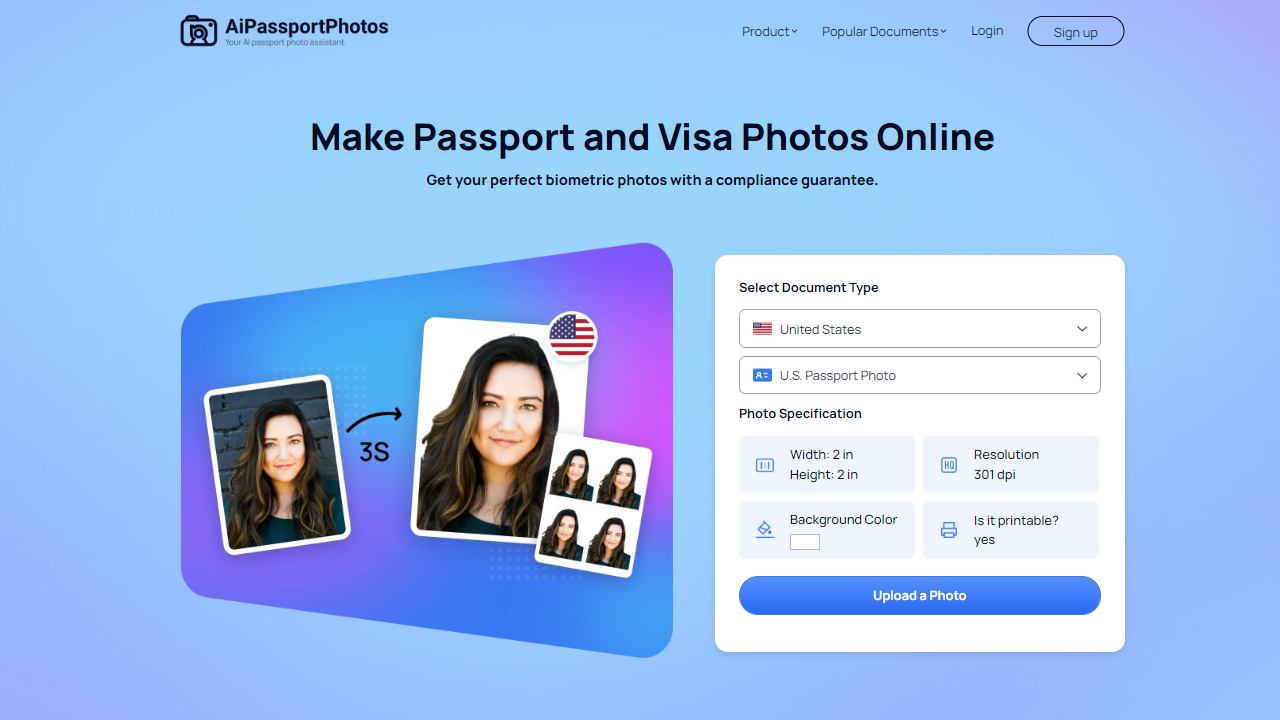 Conclusion
We have seen in this article the apparent causes of poor passport photos. However, with the tips provided in this essay, we have shown how you can improve your passport images. You may take professional passport images using photo editing tools such as AiPassportPhotos.
We hope you found this post valuable and interesting; remember to enjoy the process and have fun while taking your photos. We hope you get amazing results!