No matter when you are planning overseas study, working or tour in Singapore, you have to work with ICA. And today, we are going to talk about preparing an ICA passport photo.
Applying for passports could be a troublesome thing. There are plenty of dos and don'ts to take care of. The first thing that you have to think about is how and where to take passport photos in Singapore, especially when you are applying for the first time. It might cost you a lot of time searching for a place to take photos for you. Even if you have found one, you have no idea whether it is professional enough to provide a 100% acceptable ICA passport photo.
Fortunately, nowadays there is more than one single way to get a qualified passport photo in Singapore. In this passage, we would introduce the most popular options for you, including online and offline.
Where to Take Passport Photos in Singapore
We traditionally visit physical stores like photo studios or photo booths. As technology develops, web-based platforms, desktop software and mobile apps allow you to make passport-size photos online. Let's learn more about these different choices.
Photo Booth
Photo booths are usually small-scale workshops mainly equipped with a digital camera and printer. They scatter around in airports, train stations, shopping malls and drugstores in Singapore. You can finish the shooting on your own. Just go to the nearest photo booth, choose a passport photo shooting service from the screen, read the instructions on how to take the picture, adjust your pose & position and press the "OK" button. You need to be very familiar with the passport photo requirements because the booths usually don't offer feedback to you. You can print out your photo after payment.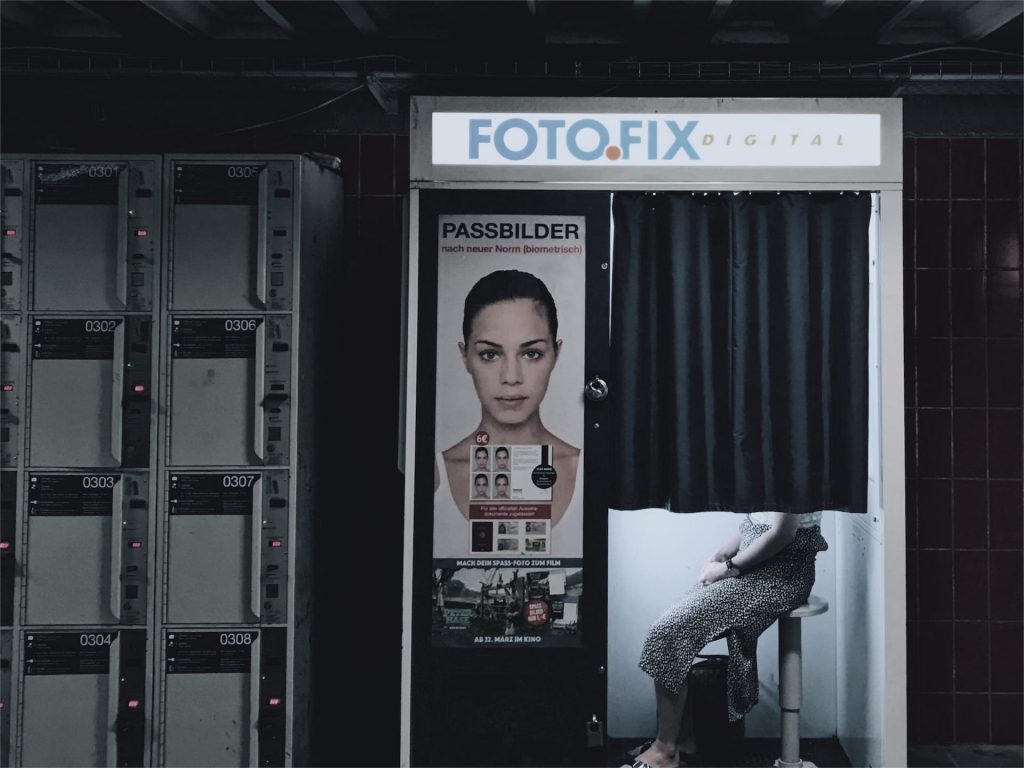 Photo Studios
If you want to take passport photos with better effects, you can choose a photo studio. The studios are usually equipped with more professional services, from the photographer, camera and lighting to backdrops so as to make sure that the outcome fulfills the passport photo requirements set by ICA. In Singapore, there are multiple photo studios available. Here we list a few photo studios in Singapore.
The BeautyBox Studio
Hotsource Digital Architects
KT Colour
Studio03
For more info, you may search on Yelp or Google Maps and choose an affordable and nearby one.
Make ICA Passport Photos Online
If you find it troublesome to find a physical passport photo service provider, or if you feel nervous to stand in front of a stranger (the employee or the photographer), you can choose to shoot one at home with online tools specially designed for testing and checking your photos. All you need is a camera or smartphone with a camera function and a plain background. If nobody could help to take photos for you, a tripod is required.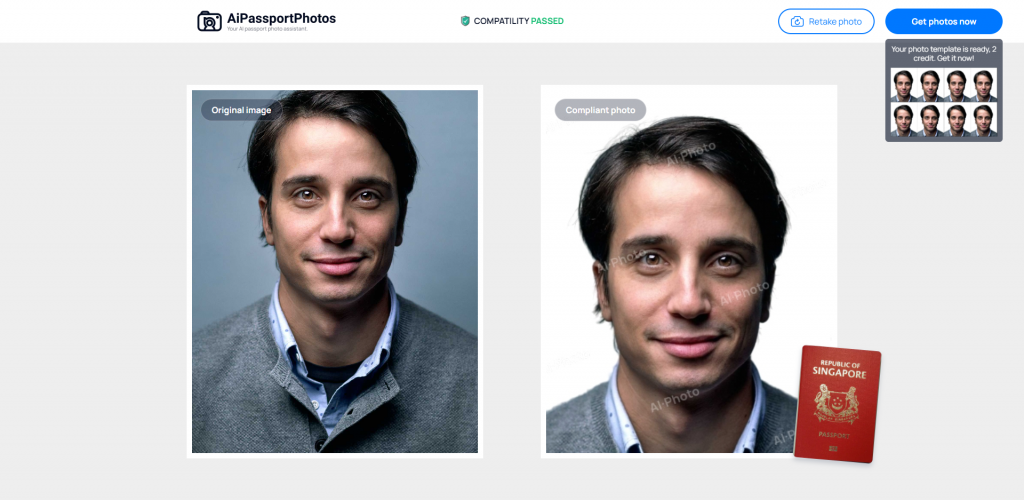 AiPassportPhotos, an online passport-size photo maker, is committed to getting you a perfect biometric photo with a compliance guarantee. You can just shoot a photo according to the passport photo requirements and then upload it on the platform. AiPassportPhotos would help you detect whether your photo is compliant with the authority standards. If yes, it will automatically crop your photo to Singapore passport photo size.
ICA Passport Photo Guidelines
If you choose to take a passport photo at home, you have to learn about ICA passport photo requirements before starting out.
Resolution: 600 dpi
Singapore passport photo size: 35mm (Width) x 45mm (Height)
Photos should be taken within 3 months.
Avoid distorting facial expressions like laughing, crying or funny faces.
Your face should be clearly shown in the photo without mosaic or vagueness.
Head and shoulders must be shown.
Do use white or off-white background.
Wear clothes in dark color, so does a headscarf (if any).
Sunglasses are prohibited while glasses are OK, but no reflection or obscuring).
Contact lenses should not cover up the original color of your pupils.
Keep your head at the center and look to the front by exposing the whole face, from forehead to chin and ears.
Don't distort or flip photos. Make sure facial features like bangs and moles are the same as the actual self.
No modification or beautification with software/mobile app.
Tips to Take Passport Photos at Home
If you choose to take the photo at home and use the passport photo editor, there are still certain aspects that you should pay attention to.
Equipment
The most important equipment for taking ICA passport photo is the camera or a phone with a camera function. It doesn't need to be highly advanced, but it has to produce images with high definition.
According to the regulations of ICA, a selfie is not allowed. If you have family or friends take photos for you, a camera is all of the equipment required. If not, you would need to use a tripod to hold your camera at your height, or you can fix it on a desk or table while sitting down to shoot.
Background & Lighting
Stand in front of a white wall so as to guarantee a white background. If there is no white wall, any background is applicable unless you use the online passport photo editor to modify it.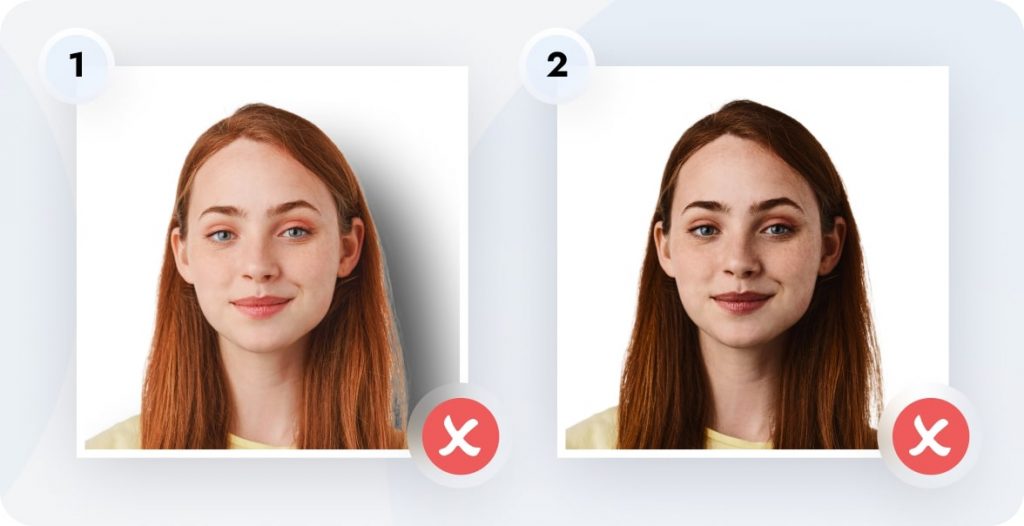 Choose to shoot it on a sunny day and let the sunlight come in through the window so your face is naturally lightened up. Expose the whole face to the sunshine instead of the side face in case of projecting shadows. If not, you need to supplement the light from the other side of the sunlight.
Outfits
What you wear would influence the examination of your application because it would be shown as your shoulders are visible.
White clothes and off-shoulder dressing are not permitted, because they would make your body look invisible or naked. Uniforms are also not allowed because that's not your permanent identity.
So, what should you wear when taking passport photos? Just put on your daily dressing like T-shirts or shirts with a solid color like black, blue, red, etc.
Wrap up
For the sake of an enjoyable international trip, we certainly hope everything goes smoothly when applying for a Singapore passport. We should pay much more attention to preparing passport photos, the first and essential step.
We hope that this post would provide you with more options in choosing where to take passport photos in Singapore. No matter whether you visit a physical store or DIY at home, it is necessary to learn about the passport photo requirements in order to reduce the chance of being rejected because of unqualified images. If possible, turn to a specified passport photo editor to guarantee the compliance of your pictures.