The Craze of Cartoonifying Personal Photos Takes Off
Is there anyone who wants to try making your selfie in cartoon style? The craze of cartoon selfies has inrushed social media with numerous different kinds of effects. People prefer to share, use, and post something along with cartoony image pictures, some of them look fancy, some are them look adorable, and some of them look like Barbie Dolls, especially with big shiny eyes.
Cartoonized photos have become a creative and artistic expression, allowing individuals to showcase their personal style and creativity by making their selfies into cartoon photos. If you want to know how to get cartoon selfies, let's begin by reading this article.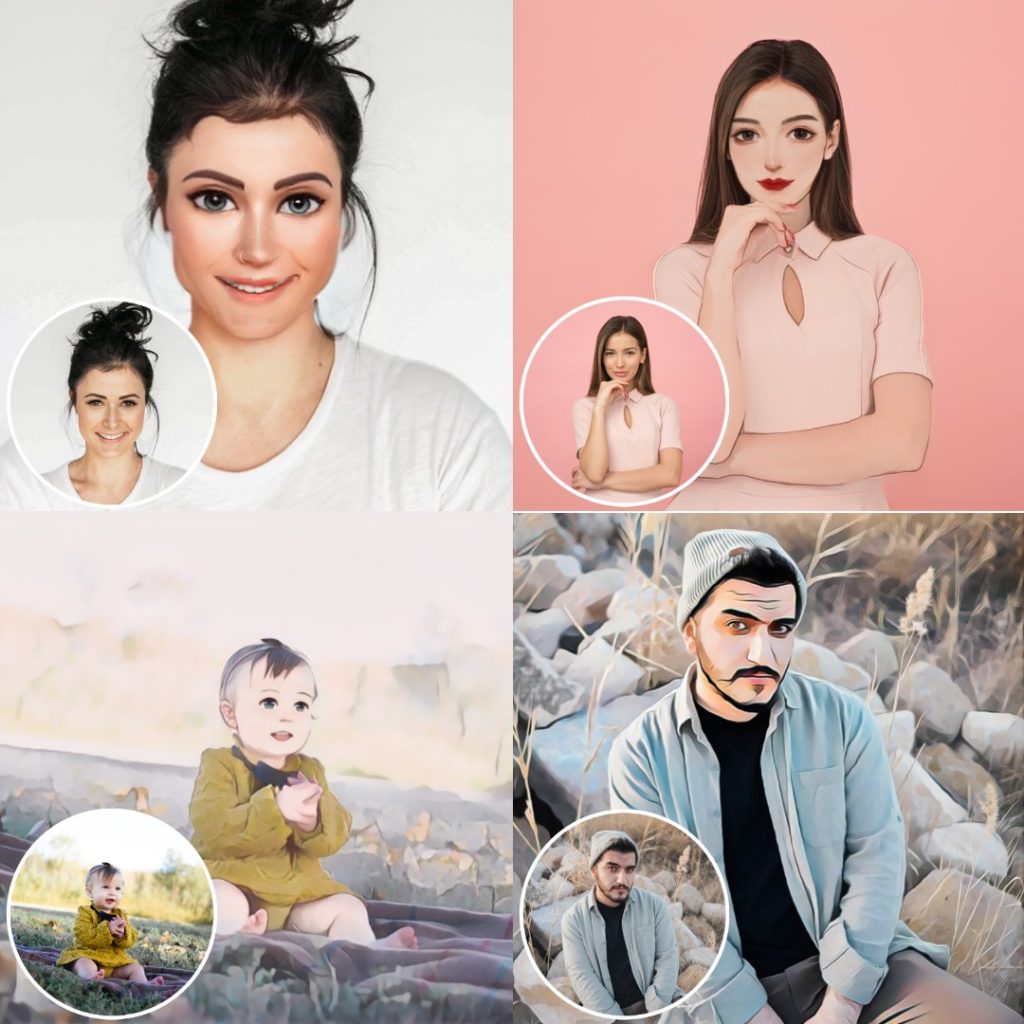 How to Make My Selfie into Cartoon Photos?
Common methods of getting cartoon selfies include:
Draw It Yourself
If you are good at drawing, you can manually draw your selfie to create a cartoon image. Here are the following steps:
Prepare for Your Equipment:
For hand drawing, either paper, a pencil, or a digital drawing board may be utilized. Before drawing, make sure that all the equipment you need has been successfully prepared, especially the digital drawing board should be connected to your computer. A vital tip here for noticing: Please always keep attention to saving your drawing, i.e. Ctrl+S, in case the process may be interrupted by power outages or other emergencies.
Choose Your Preferred Cartoon Style and Effects:
Decide what the satisfactory design and characteristics are, including line color, painting-brush thickness, number, and character expression. Try all the effects to get your favorite style to finally render a good-looking cartoon image.
Simplify the Photo
Simplify the original photo's details and features based on the style and features you selected, and pay attention to maintaining the photo's essential outlines and features.
Start Drawing:
Utilize the tool of your choice to begin drawing, then progressively complete the cartoon image by drawing outlines, filling in colors, etc.
Once you have completed your drawing, make any adjustments necessary to achieve the desired effect and manner.
Commission Artists
If you cannot draw, you can consider employing an artist to create a cartoon image for your selfie. Find artists' websites or other contact information, such as Facebook, communicate with them, and negotiate painting specifications and prices. Here recommend some commission websites such as Upwork and Fiverr, on which you can post a job, set offers with freelancers, keep tracking the project process, and communicate with them until you are satisfied.
Make Use of Cartoonize Tools / Software
Prisma: Utilizing artificial intelligence technology, it converts photos into different creative styles, among those, one is cartoon styles. This software rapidly transforms photos into "World masterpiece" effects, and according to the related Google Play install profile claims, it adopts and duplicates the painting styles of great masters, like Van Gogh, Picasso, and Levitan, among others.
ToonCamera: Paid App. Able to make photos and videos convert into cartoon style with multiple cartoonized effects.
Cartoon Photo Editor: This program is available for changing pictures into cartoon ones through a lot of cartoon filters, on which you can also take rendering degree and scale adjustments to the filter.
Cartoonify: Online tool that is capable of turning uploaded photos into cartoon versions, as well users can choose from a variety of different cartoon effects.
Clip2Comic: The program is accessible to make selfies or photos into cartoon ones, of course, it also supports different effects and, in addition, it can make custom adjustments.
Pros & Cons
Pros:
The software operation process of all is extremely straightforward – you simply take a photo, select it, upload it for processing, and then export and save it. It's essentially a foolproof tool, making it perfect for individuals who don't wish to use Photoshop and don't want to spend time learning the technicalities of operating the software.
Cons:
The aforementioned applications and tools are all capable of transforming your photos into cartoon images with just one click. However, they do have several shared drawbacks that users may find problematic. These include slow processing speeds, which can lead to long wait times, the apps taking up the phone memory, and slightly pricey charges. Typically, it costs a few dollars per image or pays for the whole project.
Is There Any Efficient & Accurate Tool to Get Cartoon Photos?
Besides those mentioned above, there are numerous tools or software that can achieve turning selfies into cartoons for people to choose from, but the most efficient online cartoon maker stands out – AiPassportPhotos.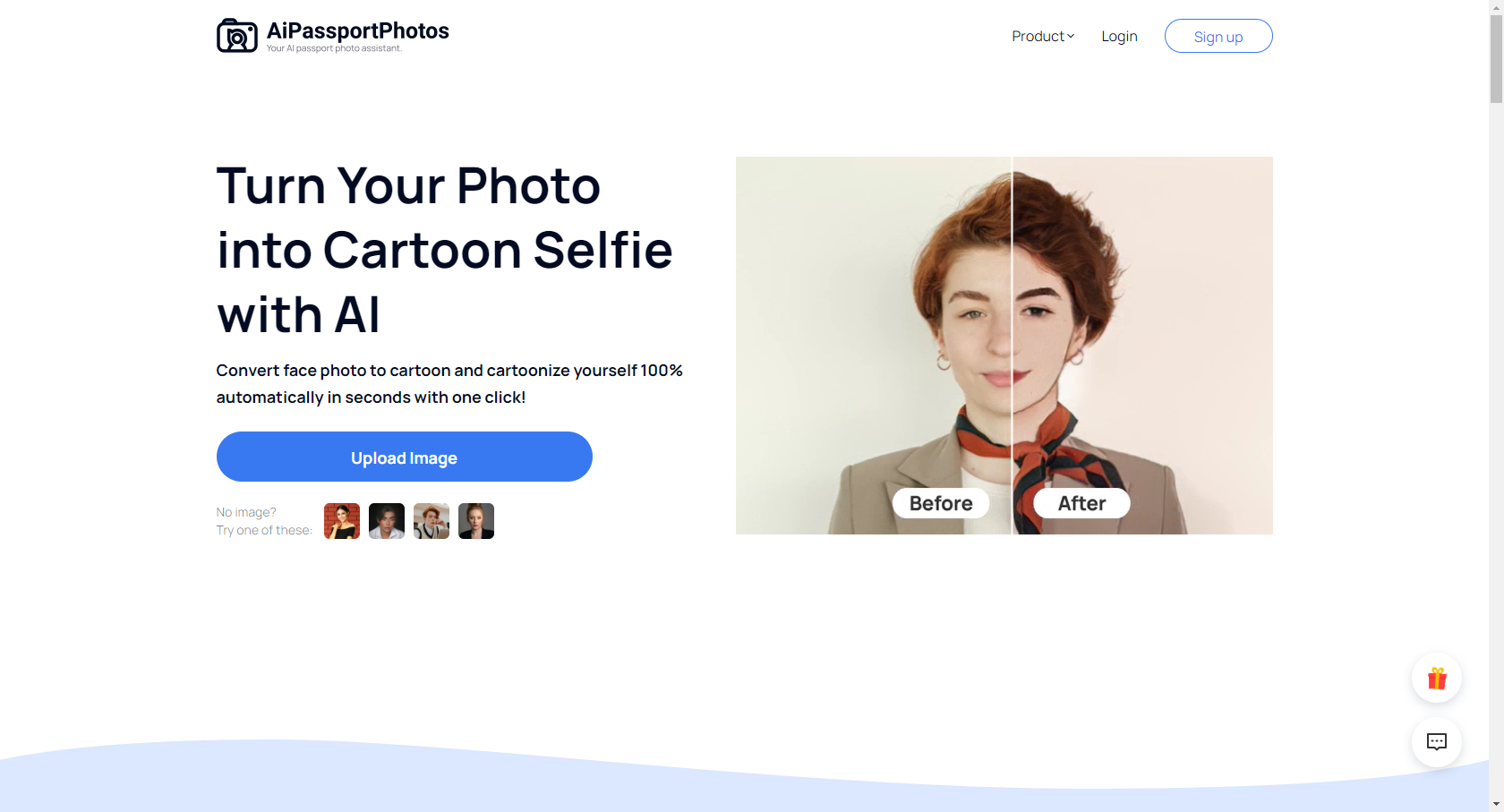 It only takes 15 seconds to convert your selfie into a cartoon-like image, and its potent feature ensures nearly 95% precision. This type of image conversion technology is known as Image Style Transfer. Using algorithms for deep learning, it transforms photos into specific cartoon styles by comparing the features with those of portraits.
In the dealing process of Image Style Transfer, the algorithm first analyzes various features of the photos, such as texture, color, or composition, and then preserves these features in the input photos to achieve the ideal style transfer.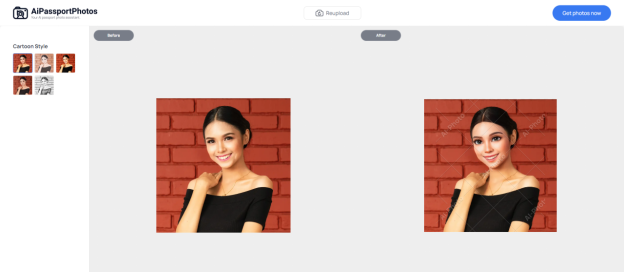 So AiPassportPhotos digest portrait photos well, even if it's your selfie, at the same time, the cartoon selfie online tool outputs diverse kinds of different styles of cartoon images that retain the characteristics of the uploaded photo.
All you have to do is follow the steps below:
Cartoon Selfie Converting Steps
Take a good-looking selfie with your devices
Upload Your Selfie Photo
Waiting for Its AI Processing
Customized Edit
Finalize & Share – Save the Cartoon Selfie

You can take a good-looking selfie with devices, whether it's a smartphone, an iPad, or a camera. Just make sure your photo is clear, and your face can be recognized. With these things thought in advance, your photo can be transformed into a cartoon image easily!
(PS: At present, AiPassportPhotos only supports uploading photos from your local device. We kindly request our valued users to provide us with your suggestions on additional upload source paths. We are committed to enhancing this feature in upcoming versions and appreciate your continued support in our growth.)
Once your photo has been uploaded, our online cartoon selfie converter can recognize your photo in a few seconds. You'll just need to wait a few minutes to get the perfect cartoon result. Before outputting, choose your preferred cartoon photo style from the 5 types of different rendering results we provide.
And the best part? It is almost free that just costs only 1 photo credit for saving a cartoon selfie. And reading this, you will wonder how to earn the photo credit points.
Actually, credits will be given 5 points automatically once you sign up as a new user. What's more, there will be a reward of 5 credits for each person both you and your friend if you invite them to register successfully. You may also get a 3-Day Pro Membership by entering this coupon code.
For security, AiPassportPhotos guarantees that we will not save any of your original photos or cartoon selfies, and are committed to protecting users' personal privacy. After you finished this online feature, the file records will be automatically deleted to ensure that there are no potential risks like data breaches.
Versatile Editor – AiPassportPhotos
In fact, AiPassportPhotos has many other powerful features besides making cartoon selfies, such as removing the background from photos, face cutouts, blurring the background, photo enhancement, photo colorization, and so on. These tools can help you readjust your photos, touch them up, or more, all of which are available online without the need to download memory-hogging applications just to process a few photos occasionally. With just a click, you can perfectly solve your photo problems.

Suppose you have a precious photo that has become slightly blurry over time and you don't want to discard it. Then try using AiPassportPhotos' old photo restoration feature. It can help you restore your photo and precious memories without any hassle, effort, or cost.
Try and Enjoy It
With a beautiful cartoon photo, you can use it as your new profile picture on social media, as people always did on Instagram, Facebook, and Twitter. And when you're sharing daily updates with your friends, incorporating a cartoon image can add a fresh visual twist that'll pique people's curiosity about what you're up to. Let's start your cartoon selfie right now!