Permanent resident card, also called PR card has a more popular name, Green Card. It is a small white card carrying your personal information and biometric information such as photos and fingerprints. It is the permit for living and working in the United States. It is portable in wallet size, so you have to take it with you because it proves you are a legal resident of America. The authority regulates a certain expiration day for it. If it is damaged, expired, lost or if you have changed the information, you have to apply for a permanent residence card renewal.
Why You Should Renew Permanent Residence Card
Before learning about the importance of PR card renewal, let's see how a permanent residents could benefit you.
According to immigration law and regulations, a Permanent Resident is entitled to most of the rights that an American citizen enjoys. For example:
You can accept any legitimate job offer;
Your safety and legitimate rights are protected by the laws and regulations in the United States, State of residence and local community;
You can vote in certain areas.
Permanent Resident Cards could usually last for 10 years. All the rights above would eliminate as your permanent residence card expires, so it is essential to renew your card. Under US law, legal residents always have to hold a Green Card within validity. Therefore, you are suggested to submit your renewal application beforehand, but not more than six months in advance.
Who Can Renew Permanent Residence Card
There are two types of Green Card in America. Green Cards with 10-year validity are for legal permanent residents while those with 2-year validity are for conditional residents. Only permanent residents could renew the Permanent Residence Card while conditional residents can only replace it.
Check the following terms to see if you are eligible to renew permanent residence card:
You must be a legal permanent resident, that is to say, a green card holder.
Your card has expired or will expire in 6 months.
Your card was stolen, damaged or lost.
You got the previous card before 14 and now have turned 14 (If your card would expire before 16, you don't need to renew it even if you are 14).
You must be present in America at the time you file the Forms.
You must not have abandoned your U.S. residence, which means you have been living in the U.S. and did not spend extended periods of time outside the US.
You have changed your personal information (eg. name, appearance) since receiving the last card.
How to Renew Green Card
It might take several months to finish the renewal, so you had better prepare the application up to six months before the expiring date in advance. You can complete the application on your own without the help of a lawyer in most cases unless you have immigration violations.
Step 1: File Form I-90
First of all, you are required to submit Form 1-90 to US Citizenship and Immigration Services when applying for a Permanent Resident Card renewal. You can do online submission or through the mail.
Filing Online
Many USCIS forms support online filing and the benefits are listed as follows:
Eco-friendly paperless operation on mobile phone, tablets or computers whenever and wherever at your convenience.
The system helps you check out if there is any omission or mistakes.
Online payment is allowed.
Acknowledgement on your application is sent out immediately instead of waiting for a mail notice.
Check your application status at any time.
Fast receive Respond to Requests for Evidence (RFEs).
Get the most updated notice in time.
If you choose to file online, you need to follow this ultimate guide:
(1)  create an account on the official website of USCIS if you don't have one.
(2)  Select "File a Form Online" option.
(3)  Complete all required sections of your form.
(4)  Upload evidence (if required).
(5)  Review the information you provided and digitally sign on the form.
(6)  Fulfill payment through credit cards or debit cards. The system would submit your form after paying for the fee. Keep the receipt number in the receipt notice.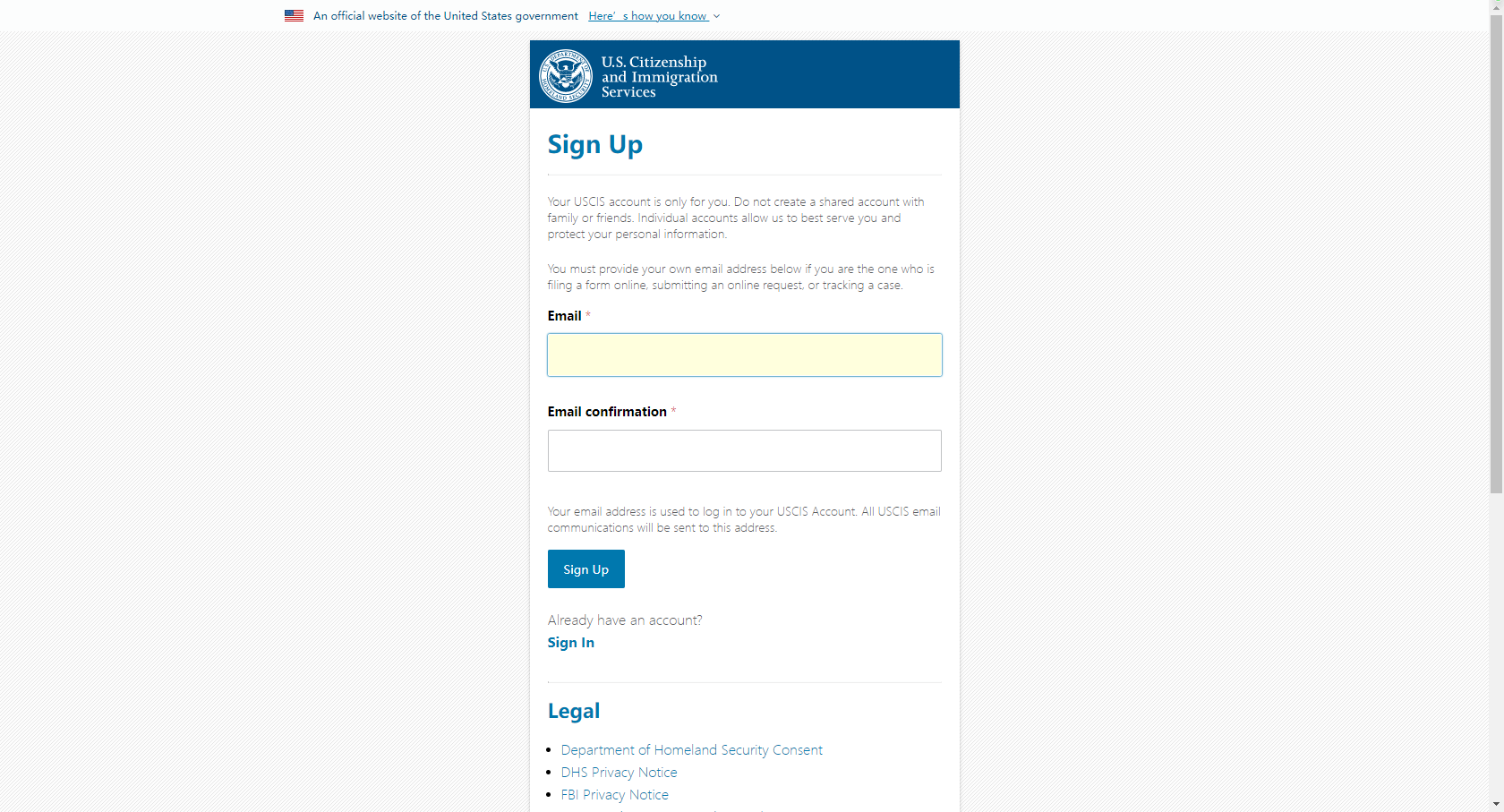 Filing by Mail
If you feel more secure in filing by mail. You can download and print forms on the official website of USCIS for free. Make sure your writing is clear and highly recognizable. It is suggested to go through Tips for Filing by Mail before you fill up the form. Mail the forms to the address listed on that form's webpage. Remember to use assigned express like UPS, FedEx, or DHL.
Step 2: Get the Receipt Letter
After about 2-3 weeks of submitting Form 1-90, you would receive Form I-797C, Notice of Action. There is a receipt number on Form I-797C which could be used to trace your case status.
Step 3: Prepare for Biometrics Appointment
After about 3-5 weeks of submitting your application, there would be a biometric services appointment in which you have to offer biometric information like fingerprint and passport-style photo. Remember to carefully read the USCIS's instructions and provide what is required.
Sometimes you would be asked to attend an interview. Just pay attention to what the appointment notice says.
At this step, most people would be concerned about what a qualified identification photo should be. Actually, the requirement for permanent residence card photo is similar to that of passport photos. If you are not sure about it, you can use AiPassportPhotos, an online passport photo maker to produce a 100% acceptable one.
Before you start taking a Green Card photo, we would like to introduce the specifications of it.
Format: JPEG
The photo should be 2 inches wide and 2 inches high.
The top of your head should measure 1.29 inches to the upper margin of the photo and the eye line measures 1.18 inches to the bottom margin.
Adjust the resolution to 301 dpi.
Use light colored background, such as white or off-white.
Maintain a natural facial expression—don't laugh or make faces.
Keep your head in the center and don't tilt your head.
Look straight to the camera with eyes open.
Wear T-shirts or shirts in solid color—no white color, no shiny outfits and no uniforms; religious clothing acceptable with official documents
No accessories like glasses, sunglasses, or headphones.
Use photos taken within the last 6 months.
Step 4: Get Your New PR Card
After all these have been finished, you just need to pay attention to the decision on your case. You can log in to the USCIS website to monitor the process. Once confirmed, just wait for your new Permanent Resident Card to come.
How Long & How Much it Cost for PR Card Renewal
According to the statistics, it usually takes 7-9 months to receive a new PR card. These are not the universal cases. Sometimes it might take longer if there is anything wrong during the filing process. The workload of USCIS and the material you submitted could also influence the efficiency.
As the filing fees, it depends on the way you file, such as filing online or by mail. Generally, it charges $455 for Form 1-90 and $85 for Biometrics, total $540. If you have any question, you can go to the official fee calculator.
The USCIS allows you to apply for fee waiver if you are in financial difficulty. In order to waive the fee for PR card renewal, you need to fill up Request for Fee Waiver, also known as Form I-912. There are 3 ways to prove your financial difficulty and you have to conform to one of them.
(1)  You are receiving a public benefit that is offered to low-income groups. Examples include Medicaid, SNAP (Supplemental Nutrition Assistance Program), Temporary Assistance to Needy Families or Supplemental Security Income.
(2)  Generally, the household income ceiling of a family of 5 is $31,040 which is treated as the Federal Poverty Guidelines and your family income should be equal to or below 150% of that.
(3) You are suffering economic hardships so you can't afford the fee of permanent residence card renewal. For example, are you burdened with high medical costs? Are you unemployed? Are you homeless now?
Conclusion
Holding an expired card would add inconvenience to employment, traveling, driver's license renewal and home mortgage. In order to maintain your rights and interests in living in America, to remember to renew Permanent Residence Card before it expires. No matter you are a first-time or experienced renewal applicant, we hope this passage would provide you with the most updated information about PR card renewal, boosting the whole process to go smoothly if you follow the instructions stated above.