If you're ready to apply for your new Australian passport, you're probably wondering what it is exactly that you need to do and need to prepare. Luckily, there are only a few key steps you need to understand before you're ready to have your new passport shipped right to you.
Here is all you need to know on applying for your new Australian passport.
The Official Website for Australian Websites
If you're curious about where your first stop should be on applying for an Australian passport, you should definitely visit the official Australian government site for passport information.
Not only do they have detailed info on what to do to renew or apply for a new passport, but they also have tons of resources on a variety of subjects, including:
Priority processing
Urgent applications
What to do in the event of a lost or stolen passport
Adult vs child passports
Where to go for Australian Passport Renewals and Applications
When it comes to Australian passport applications, the best avenue to take is a mix of both online and offline venues.
First, the easiest thing you should do is apply for your passport online. There are application forms you can find at https://www.passports.gov.au that you can fill out in the comfort of your own home.
Then when that process is complete, you can go visit your local Australia Post center with your printed-out forms and all of the necessary documents.
Australian Passport Validity Period
Australian passports will last for one of two designated periods:
5 years for anyone under the age of 16 or anyone over the age of 75
10 years for anyone aged 16-75
When it comes to the validity period of renewing your passport, you should generally aim to do so within the last 6 months of the passport's validity.
Australian Passport Pricing
There are six different price points for an Australian passport:
$300 for a 10-year valid passport for persons aged 16 to 75
$152 for a 5-year valid passport for persons under 16 or over 75
$189 for an emergency replacement passport
$220 for priority processing fees
$135 for overseas adult applicants
$66 for overseas child applicants
Australian Passport Photo Requirements
Arguably the most complicated part of getting your passport is making sure the photograph is valid. There are just as many requirements for a valid photo as there are for the passport itself! Here are all the steps:
First, Australia requires you to prepare two valid passport photos, not just one.
The photos must be of good quality, not blurry, with proper color prints. They also have to be less than six months old and produced using dye sublimation, not inkjet printers
Your face must be clear and focused and well centered
The lighting must be uniform. That means no shadows, no reflections, and no brightness or contrast that is too extreme to obscure your natural skin color.
Any long hair or head accessories must be brushed away so they do not obscure your face, especially your eyes.
Your eyes must be open in a natural state. Make sure to keep a neutral expression with your mouth closed. That means no smiling or frowning.
When it comes to the photo dimensions, they need to be 35mm to 40mm wide and 45mm to 50mm high. Your face from the chin to the top of your head should be between 32mm and 36mm tall, with a few mm separating the top of the picture from the top of your head.
If you're wondering how you can take a great passport photo on your own so that it meets all of the passport photo requirements and allows you to cut down on wait times at the post office, AiPassportPhotos should be your next step.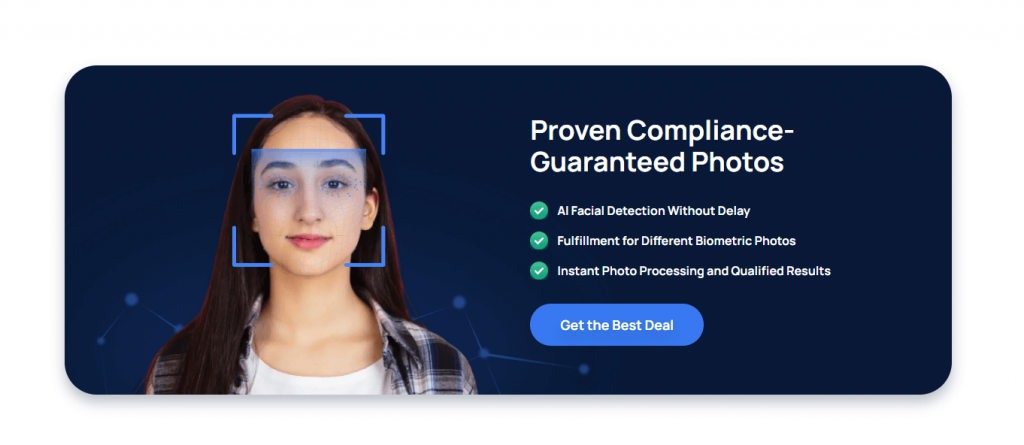 Not only does this photo assistant allow you to crop your photo so it has the perfect dimensions, but you can modify and edit your picture with tons of AI-based tools. You'll be given access to blur removal, color correction, portrait retouching, and other tools that will make your photo more than perfect for any passport requirement.
Steps for Applying for a new Australian Passport
There are two ways to get a new passport in Australia: application and renewal.
There are five main steps for applying for a new Australian passport;
Prepare the necessary documents and two passport photos. Documentation must provide proof of Australian residency and citizenship, your place of birth and gender, and anything that proves a change of name or gender took place if at all. Such documents can include a birth certificate, a driver's license, or a proof of age card.
Get someone to be your guarantor. This can include a relative or someone staying at the same address as you. They will verify details about you such as your name, phone number, and other details about you on file.
Fill in the application form online here.
Take your form to an Australia Post facility and pay the appropriate fee.
You will receive details about your Australian passport processing and shipping via email or text message.
Steps for Renewing a current Australian Passport
Australian passport renewal is a secondary path that you can take if you meet all five of the following requirements. Renewing your passport is easier than applying for a new one, so this is the path you ought to choose if available to you.
To renew your Australian passport, you must already possess a passport that:
Was made valid after 1 January 2006
Had at least 2 years of validity when issued
Was acquired when you were 16 or older
Still has your current name, date of birth, gender, and place of birth
Was never reported as stolen, lost, or canceled
If your Australian passport meets all five requirements, you can use the official Australian gov online portal to go through a quicker renewal process.