A passport is an important document in that it verifies your identity when you cross the international border and travel all over the world. If you don't have a passport or forget to take it, you will be expelled.
Is it necessary to get a new passport when you get married or have a divorce? It depends. What matters is that you enter your "correct" name on the airline, bus, and cruise ship. If your important information, like name or nationality, changes, you should present a document that reflects this change when you use your previous passport. What's more, you should book the ticket in your maiden name, too. Therefore, just make sure that your name on the tickets should match the one on the passport.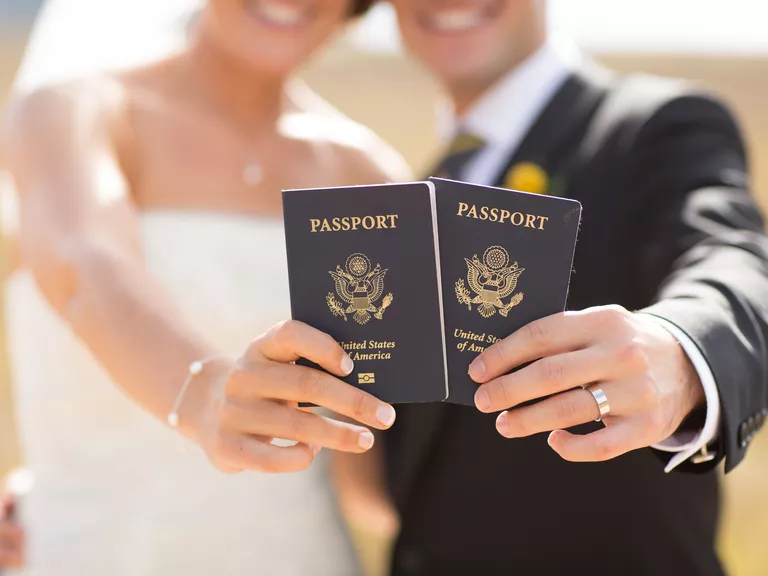 Can I use a passport with my maiden name?
For US Citizens
According to U.S. Customs and Border Protection, people who've had their names changed can use their previously issued passports. Therefore, you can use your maiden name in the passport.
In most circumstances, you won't encounter any problems if you travel by bus or cruise ship, because there is no need for you to show your passport and you can travel hassle-free. Driving across the border to Canada or Mexico won't be a problem, too.
However, traveling by air will be a different story. The TSA requires that all travel documents match the name on the passport precisely. Just make sure that you purchase your air ticket in the same name that is issued in your passport. Or you can submit the documents that can verify your identity if you want to use your spouse's name.
For Citizens from Other Countries
Please pay special attention to the rules of different countries. In Italy and Iceland, women tend to keep their maiden name during their whole lives even though they use their spouse's name "socially." In Greece, the government has made it a legal requirement for wives to retain their names for life since 1983. Therefore, they don't need to change their name after marriage or having a divorce. What you should do is to learn the rules of passport application that the country you are going to visit and keep their warnings and restrictions in mind.
As for Mexico, women can continue to their maiden names throughout their lives, so there could be no problems with their passports after marriage. Just learn the rules of passport application that the country you are going to visit and keep their warnings and restrictions in mind.
How to change the name on your passport?
If you don't want to carry so many documents to prove your identity when traveling, it's a good idea to change your name on the passport. You can also renew your passport information when you want to correct some errors.
The process to change your name on your passport varies depending on your situation.
Passport issued less than one year
If your passport is issued less than one year, you can have this application for free. It normally takes several weeks to renew your passport.
Don't want to wait for such a long time? It costs an additional $60 if you want expedited service. Let's learn the steps for how to apply.
First, you are supposed to download form DS-5504. Use a form filler tool to fill out your form and then print it. Then, you should submit one passport photo, your most recent U.S. passport, and your original or certified name change document, such as a marriage certificate, divorce decree, or court order, which shows that you changed your name less than one year after your most recent U.S. passport was issued. After preparation, you can renew your passport by mail.
Passport issued more than one year
You can renew by mail using Form DS-82. The process and documents are the same as we mentioned above, but you should pay $110 for renewal and an additional $35 if you apply in person at a regional passport office.
Let's make a summary of what you need.
1. Marriage or divorce license, or court order(submit certified name change document)
2. Your most recent passport
3. One passport photo
4. Fees(it depends on your age)
5. Form DS-82(fill in it and send it by mail)
Notice:
Only when you respond "Yes" to all statements below about your most recent passport, are you able to renew it by mail:
I can submit it with my application.
It is not damaged (other than normal wear and tear).
I have never reported it lost or stolen.
It was issued within the last 15 years.
It was issued when I was age 16 or older.
It was issued in my current name, or I can provide another document such as a marriage certificate or divorce decree that is evidence of my name change.
It was not limited to less than the normal 10-year period of validity for an adult passport due to multiple passport thefts or losses, or due to issues with passport damage or mutilation. 
Passport expired more than five years/Damaged
For these situations, you'll have to apply for a new passport in person using form DS-11. If your passport has been lost or stolen, you should apply in person at a regional passport office or entrust your application to a third-party agency.
Traveling without a passport
Closed loop cruise
Closed-loop cruises begin and end at the same U.S. port. You can enter many Caribbean and Central American nations without a passport. In addition to closed-loop cruises, you can visit Canada or Mexico by land without a passport in certain cases because of special requirements.
Land or sea border crossings
 If you are a US citizen, you can cross land or sea borders without a passport and have immense opportunities to visit unique places without ever leaving the country. What's more, even though you forget to take your passport, you can drive to Mexico and Canada, too. Just remember to take an eligible form of ID.(U.S. passport card, driver's license, enhanced tribal card, trusted traveler card, or military ID card)
Wrap up
It never hurts to turn your name into your current, legal name. After all, the passport is for verifying your identity, so there won't be any troubles if your current name matches your passport name. What's more, there is no need for you to carry your marriage certificate when traveling and you can travel hassle-free.