Getting a valid and compliant Canada Passport photo does not have to be a drawn-out painful process if you know what to do. With the help of AI technology, it can be done with the smallest amount of effort from the comfort of your home. Here is how.
There are numerous reasons why you might need to renew your Canadian passport photo. As a Canadian citizen who wishes to travel internationally, a passport is non-negotiable in your preparations. However, Passports are not a one-time use. They have to be renewed every 10 years for adults and 5 for children.
Furthermore, a number of things could happen to your passport that could warrant a renewal even before its expiry date. It could get stolen or lost or even damaged. That's where the dreaded running around starts and one of the stops is usually a photographer's place where you have to start checking off a list of requirements to make sure you don't have to come back when your passport photo is rejected.
Happily, you no longer have to go through this process as there are easier and faster ways to get a valid photo that meets all the requirements for a Canadian passport straight from home.
Why You Need a Canada Passport Photo
Canadian passports are essential travel document that stand as proof of identity and citizenship for Canadian citizens who are traveling internationally. Not only that, the passport serves as a standardized form of identification that is internationally accepted and valid for various purposes, including obtaining visas, opening bank accounts, proving identity and obtaining consular assistance from Canadian government officials while abroad.
Furthermore, without a valid passport, international travel is not possible which can severely limit your personal and professional opportunities.
As mentioned earlier, no Canadian passport application is complete or valid without the inclusion of a Canada passport photo. This isn't just any old passport photograph, it is specifically taken and used for Canadian passport applications. The photo must meet specific requirements listed by the Canadian government which includes lighting and background, size and composition, and appearance and quality requirements. 
These requirements are to ensure that the photo is of high quality, clearly shows the subject's facial features, and meets international standards. Passport photos are important in a passport application, as they are the primary means of identifying the passport holder which in turn helps prevent identity theft, and fraud. Without them, it is impossible to either obtain a Canadian passport, or renew it in case where it needs to be replaced.
How to Get A Canada Passport Photo| Requirements
The usual way to obtain a Canada passport photo is to find a professional photographer or photo booth that meets the Canadian government's standards for passport photos. It is essential to ensure that the photo meets all the necessary requirements. This will allow you to avoid any delays or issues with your passport application. 
Canada Passport Photo Requirements
The photo requirements of a Canada passport photo are as follows:
Size: The width must be 50 mm (2 inches) and the height 70 mm high (2 3/4 inches) and it must be printed on high quality paper with a resolution of at least 600 dpi.
Background and Lighting: The background of the photo must be totally plain in white or any other light-colour and the photo must be evenly lit with no part shadowed
Facial Expression and Head Position: you must have a neutral facial expression, eyes closed and both eyes open with your head facing forward, and the camera must be at eye level.
Clothing: Normal street outfit is allowed but hats or any other head covering must be taken off unless it is for religious or medical reasons.
Glasses: If you have to wear glasses, they must be clear and every part of your eyes must be clearly seen.
If any part of these requirements are not met, your passport photo is automatically disqualified and you would have to take another one.
The entire process from scheduling an appointment with a photographer or waiting in line at a photo booth can range from days to hours and can be a stressful process. Fortunately, you could greatly expedite the process by going through another route.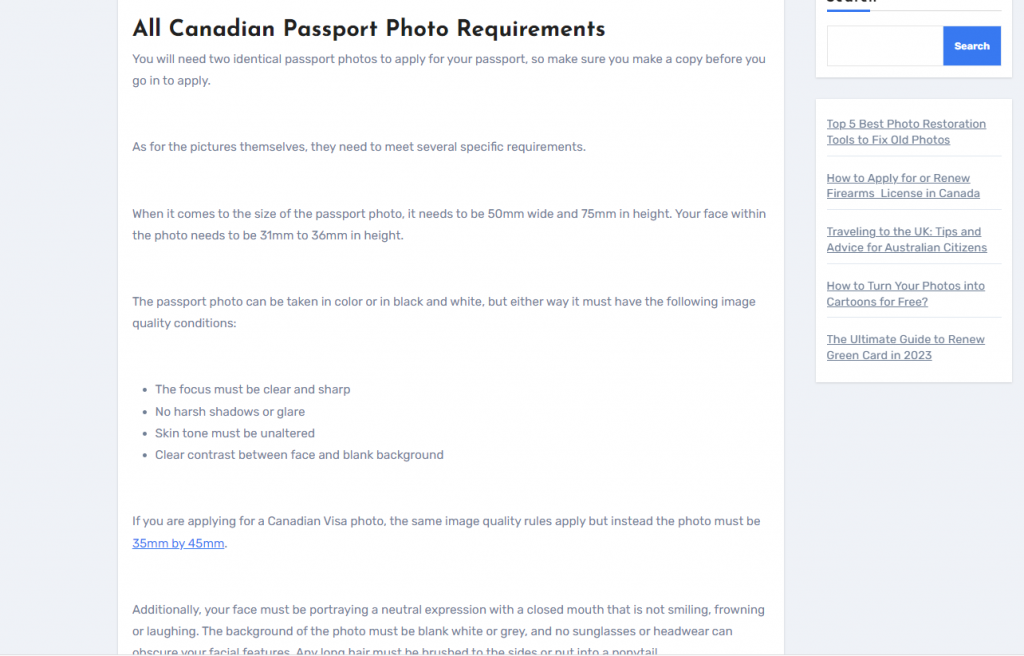 The Easiest and Fastest Way to Get a Canada Passport Photo
AiPassportPhotos is a website that uses AI tech to help you take pictures that are valid and compliant in just a few clicks. Instead of going through the stress of doing it in the traditional way, you can log in to AiPassportPhotos, take a picture and the AI will edit your photo to fit in with every single requirement.
The site features several tools that make this possible. For example, the backgrounds of photos can be replaced or totally removed as required, dull pictures can be brightened and blurry ones cleared up. The tool is not only compliant with Canadian regulations but also with that of many other countries. Below are some of the benefits of using AiPassportPhotos.
How to Take Valid Canadian Passport Photos Using AiPassportPhotos
First, position your camera at a distance of 4-5 feet away and make sure your face is unobstructed. The photo must show a full front view of the face, with a neutral expression, the mouth closed. Also, your hair must not cover your face or ears.
Check the lighting and background to ensure they meet all requirements. The lighting must be even, and the background must be plain white or light-colored with no patterns or designs. There must be no shadows on the face or the background, and the photo must be taken standing against a flat surface.
Fortunately, Aipassportphotos can help adjust the background color for you. After taking the photo, upload it onto the app for automatic cropping and resizing to Canadian passport photo specifications. 
If you need to edit an older photo, our online passport photo maker can also help with color correction and blur removal. Once you're happy with the result, save the image as a printable template and have it printed on high-quality photo paper at a nearby store.
The process is simple and straightforward, and you can be confident that your Canadian passport photo will meet all necessary guidelines.
Benefits of Using AI for Your Passport.
Free: AiPassportPhotos charges next to nothing. All you need is 2 photo credits which allow you to download 1 passport photo with unlimited downloads for the same template. Fortunately, AiPassportPhotos gives you 5 credits when you first download the app. Definitely, more than one user needs. The traditional way on the other hand involves you paying a professional photographer combined with transport fees it will cost just to get a valid passport.

With just a few clicks on the site, your photo can be ready.
The AI does all the editing work to make sure your photo meets the proper requirements so you don't have to be a professional to take professional pictures.
Meets up with requirements:
With Aipassportphotos, all you have to do is take the pictures and let the AI do its work. Odds are you won't have to worry about retaking pictures because they will be valid.
With AI, you can easily take your Canada passport photos in your home without stress.
How and Where to Renew Canada Passport?
Renewing your Canadian passport can be done in the following simple steps:
Check your eligibility, only those whose passports are still valid or have expired for less than a year can renew their passport. Otherwise, you would have to apply for a new one.
Gather all the required documents; your current passport, a new passport photo, and some amount of money. Depending on the situation, you may be required to provide additional documents.
Complete the application form, and submit it by mail or in-person to the passport office or Service Canada Center.
If your application is approved, you will receive your new passport in about 20 working days. You can get more information on the Government of Canada's passport website
To Wrap It Up
Renewing a Canadian passport photo has never been easier. This guide helps you to get it done with ease and speed.