If you need to apply for or renew your Canadian passport, you're probably wondering about what all the steps and requirements are. Luckily, it isn't a complicated process, plus there are even tools to help you achieve the perfect Canadian passport photo online!
Just follow the steps below to apply for your Canadian passport.
Steps on Applying for a Brand New Canadian Passport
The first stop you should make is visiting the official Canadian government website. This is an invaluable resource that will help you apply for a new passport.
The next thing you need to do is fill out the application form which can be found at their website. While Service Canada locations will have the form available for you, you can save yourself some time by printing it off and doing it at home.
Next you will have to gather all of the necessary documents. They need to prove your Canadian citizenship and your identity. Such documents can include birth certificates, travel documents or driver's licenses.
You will also need to have two identical passport photos. On the back of one of the photos, the photographer must sign their name, write their address and the date the photo was taken.
Next you will need a reference, known in Canada as a guarantor. This person must sign your application form and copies of your documentation. You will also need two additional references, neither of which can be your main guarantor.
Once that's all done, you will need to pay your Canadian passport fees. A 5 year passport costs $120, and a 10 year passport costs $160. There are three different service options to choose from:
Standard Passport Service, arrives in 10 to 20 business days; costs $20
Express Passport Service, arrives in 2 to 9 business days; costs $50
Urgent Passport Service, arrives within the next business day; costs $110
When You're Eligible to Renew Your Canadian Passport
If you already have a valid Canadian passport that has not yet expired, you can opt to renew your passport instead of applying for a new one. This is a much faster and cheaper option you should take advantage of if possible.
As long as your passport was valid for 5 or 10 years, you were 16 years old or older when it was issued, and it was issued less than 15 years ago, you are eligible for a renewal. Unlike applying for a new passport, you only need two references, not a guarantor.
All Canadian Passport Photo Requirements
You will need two identical passport photos to apply for your passport, so make sure you make a copy before you go in to apply.
As for the pictures themselves, they need to meet several specific requirements.
When it comes to the size of the passport photo, it needs to be 50mm wide and 75mm in height. Your face within the photo needs to be 31mm to 36mm in height.
The passport photo can be taken in color or in black and white, but either way it must have the following image quality conditions:
The focus must be clear and sharp
No harsh shadows or glare
Skin tone must be unaltered
Clear contrast between face and blank background
If you are applying for a Canadian Visa photo, the same image quality rules apply but instead the photo must be 35mm by 45mm.
Additionally, your face must be portraying a neutral expression with a closed mouth that is not smiling, frowning or laughing. The background of the photo must be blank white or grey, and no sunglasses or headwear can obscure your facial features. Any long hair must be brushed to the sides or put into a ponytail.
Keep in mind that if you are applying for a new passport rather than renewing, you must have your guarantor sign the back of one of your two Canadian passport photos.
Use AI Passport Photos to Perfect Your Passport Picture
If you have taken your Canadian passport photos and aren't quite satisfied with the way they have turned out, you can use an online resource like AiPassportPhotos to brush them up and remove any flaws.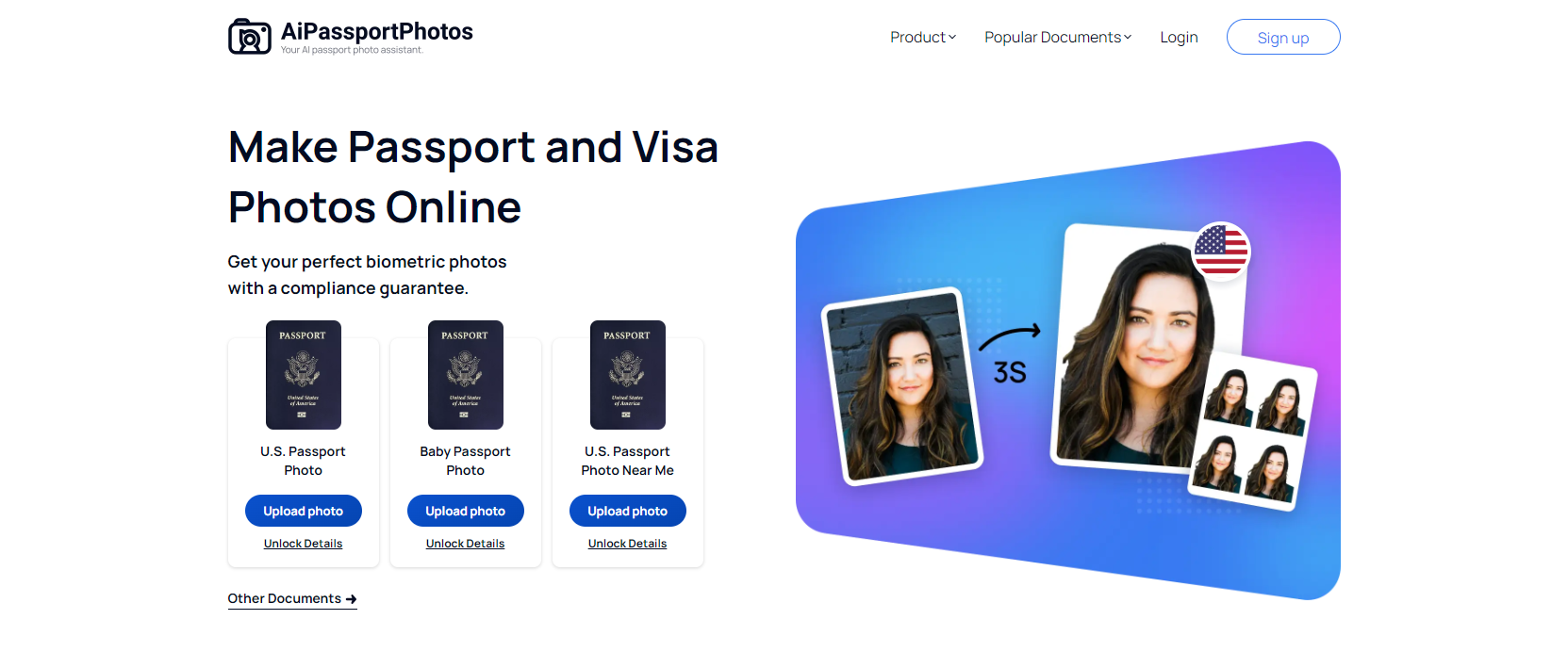 One of the most useful features of AI Passport photos is removing the background of the image and replacing it with a perfect blank white background. This is a highly useful tool that takes advantage of the AI-based facial recognition technology. No matter where your picture was taken, you can have it changed to look like it was taken in front of a blank screen.
Additionally, there are more advanced tools that can help spruce up your photo so that it is not only ready for the passport photo requirements, but so that you will be satisfied with how the final result turns out.
Because Canada accepts black and white visa or passport photos, you can create a black and white version of your pictures if that's a style you prefer.
Not only that, but you can also take advantage of the blur reduction, improved lighting technology and color correction so that your photo will look as if it was taken by a professional photographer.
AI Passport Photos is very quick and easy to use. Every function only takes seconds to implement, and it is very easy to crop your photo so that it has the perfect dimensions for Canadian passports or Canadian visas. Make sure to print out your photos at a professional outlet with high quality photography paper so that it will be perfect for your documentation.
While dedicated passport photography clinics or postal offices offer such printing capabilities, you can also consider doing it at a local Walmart or Costco.
Conclusion
Getting a Canadian passport is exciting because then you'll be able to travel anywhere you want. Even if it's not your first passport, it's still nice to see your new passport for the first time—especially if the photo came out great because you used professional AI photo editing software like AiPassportPhotos!