It is reported that nearly 90% of people are not satisfied with their passport photos. We have continuously heard people complain that how awful the passport style photo looks. Some of them would ask a professional photographer to take a shot. Some might have gone to bed as early as possible so as to ensure enough sleep. However, their biometric photos come out to be disappointing. Then, it could be a "nightmare" to show it to the border officers.
"It must be the problem with the camera lens."
"The lighting must go wrong."
These might be what you think when looking at the unpleasant photo? Actually, have you ever thought of makeup for passport photo?
Some of you might have been familiar with the passport photo rules, but you still wonder whether you can put on makeup for passport photo. Well, the answer is definitely YES. The authority does not strictly forbid applicants to use cosmetics. Therefore, in order to brighten your complexion and cover the blemishes, it is possible to apply some minerals to your face. However, over-painting is not allowed. Next, we are going to introduce some "unwritten" rules of passport photo makeup that you should follow in case of rejection.
Tips for Makeup for Passport Photo
According to passport photo rules, the whole face must be clearly shown in the picture. Anything that obscures facial features is absolutely prohibited, such as headbands, hats, sunglasses, etc.
Unlike life photos with exaggerated filters or beauty effects posted on social media, passport style photo must reveal your real appearance. Once the officers fail to recognize the passport holders from the portrait printed on the certificate, you are most likely to be rejected. That is to say, even if you put on makeup, please keep it simple and your face recognizable. Making your look natural does not mean just simply reducing the kinds of cosmetics. The key to guaranteeing compliance lies in color tones and techniques.
In a word, don't let the makeup significantly modify facial features, like changing the shape of your eyebrows or eyes, the size of mouth or nose and even covering nevus and scars.
If you're curious about how to achieve perfect and natural passport photo makeup, please move on to the coming paragraphs.
Keep Natural Skin Color
Flash or strong lighting projecting on the face while taking biometric photos makes you look pale, so applying a foundation could help reduce the impact of lighting. However, there are so many types of shades for foundation available on the market. Please make sure that your makeup for passport photo does not hinder the original skin color. For example, take the undertone (warm, cool or neutral) into consideration when choosing foundation that matches your skin color. In this way, it prevents you from looking unnaturally pink or orange.
Moreover, as you will show your head and upper shoulders in passport or ID photos, remember to apply foundation on your neck so that it matches the color of your face.
Avoid High-SPF Base/Sunscreen
SPF, the abbreviation of sun protection factor, indicates the protective effect of certain sunscreen products. It is acknowledged that the higher value of the SPF, the better sunburn protection it will be, and whereas more reflective to the camera flash. That is to say, photos with high-SPF cosmetics would generate a white cast, which adds to the possibility of being rejected. Therefore, when choosing the foundations for passport style photo, please skip those with UV filters or SPF higher than 15.
Keep Natural Eye Look
The beauty industry is always changing and new trends show up from time to time, especially eye look. Smoky eyes, different shapes of eyebrows, neon eyeliner and colored contact lenses are popular on social media. However, most countries' passport photo rules prohibit contact lenses except for medical reasons, let alone multifarious eye makeup that hinders the recognition of your biometric features.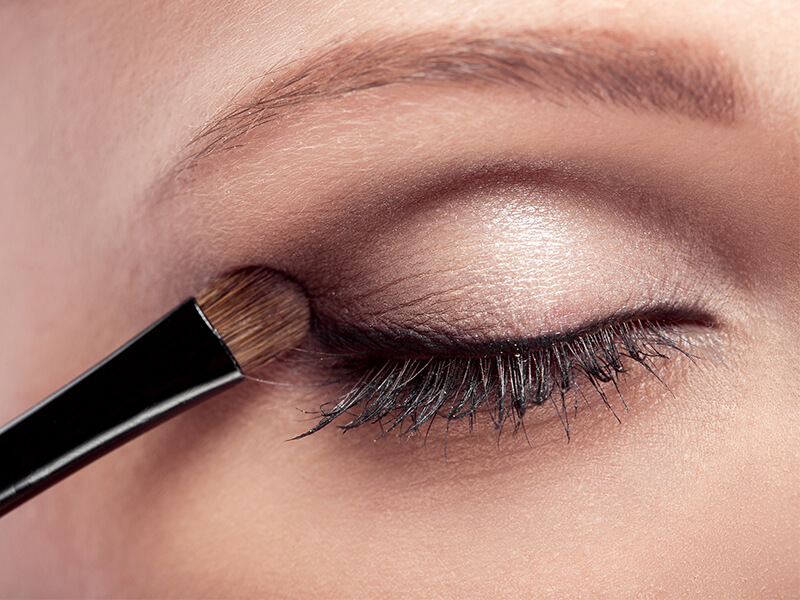 Beautify Eyes Properly
Do you worry about standing in front of the camera with black circles due to lack of sleep? Do you often squint at the camera when it flashes? These all make you look dull in the photo. The area around the eyes matters.
Concealer is recommended to cover the eye bags, but don't apply too much in case of contrast with the skin color.
Eyeshadows and eyeliners are passport photo makeup tricks to make your eyes look bigger and sharper. Matte and Nude color tone is more recommended while glittering products are always a ban.
In terms of eyeliners and mascara, just draw a thin line and single layer of mascara. Never use dramatic color or an exaggerated wing.
Keep Lips Natural
It is widely accepted that lip color has a great impact on the spirit. Pale lips make you look depressed. It is suggested to put on nude lipsticks or lip glosses to define your lips, which makes you more attractive in passport style photo. Keep the color neutral and simple. Any glitter or deep colors should be avoided. Lip liner might help you create fuller lips, but it also changes the original lip shape, which is not acceptable.
Although there are mountainous lipstick colors for each brand, you have to choose the one that fits your original natural lip because you have to look reliable rather than fashionable with makeup for passport photo.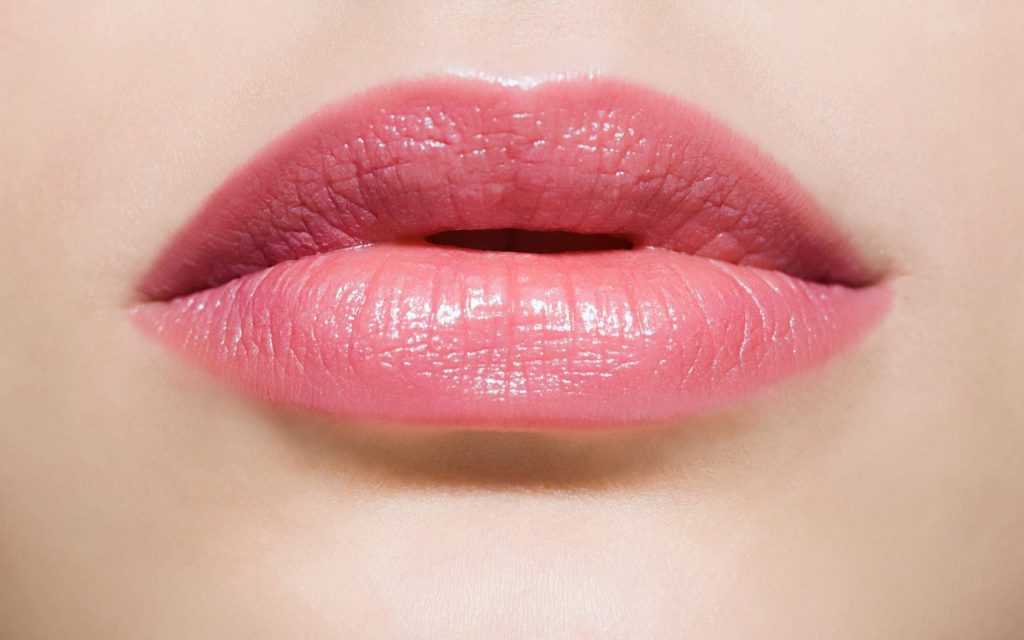 Style your Hair
According to the passport photo rules, it is qualified as long as your hair does not cover any part of your face. Many people admit that a suitable hairstyle can not only improve their confidence but also make them better-looking. And that also works for a passport photo. You can ask a hairstylist to style your hair that fits your face shape. Even a simple step of hair parting would make up for the facial asymmetry.
Manage Oily Skin
Excessive oil production on the face would not only make you look unhealthy but also reflect light in front of a camera lens. It is better to absorb excessive oil on "T-zone" and forehead and put on matte passport photo makeup with oil-absorbing sheets or powders.
Contour your Face
Contouring creates a chiseled face by carving out certain regions. You can add shadows and highlights to specific facial features, especially cheeks, nose and chins. Please make sure to use light-color contouring powder and a fluffy brush so as to bring out the natural look. Don't use dark and heavy shades in case of over-beautifying.
Make Passport Style Photo with Intelligent Tool
Although we have read the passport photo rules again and again, we cannot guarantee that our photo is 100% compliant. Wearing makeup for passport photo deepens our worry of being rejected. In this session, we would like to introduce the final tip that saves you from anxiety. Here is an online passport photo maker, AiPassportPhotos. It scans your photo, checks the compliance and modifies it according to the official standards.
It doesn't require downloading or installation. Any device connected to the Internet has access to it, including laptops, computers, tablets and smartphones. All you need to do is to upload the photo and wait for a few seconds. In this way, you can try different passport photo makeup looks until you get the best-looking one. Now you can finally show your passport with a beautiful portrait naturally and gracefully.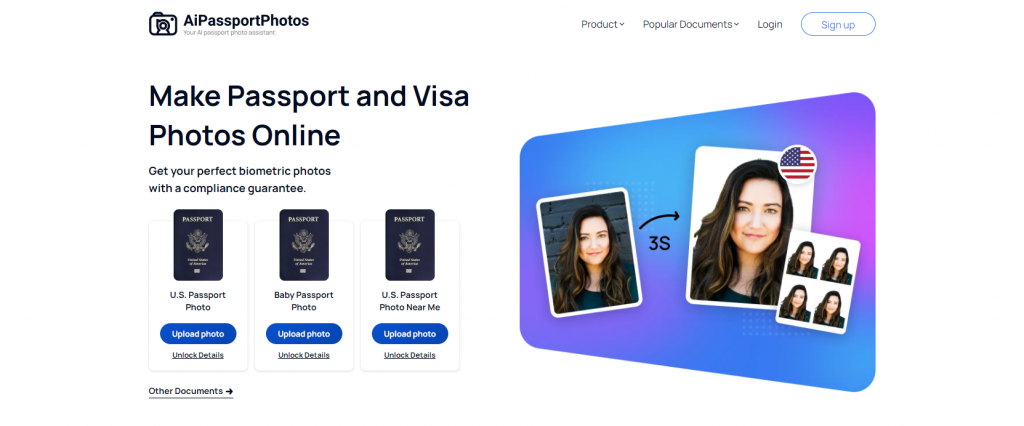 Summary
There is no such thing as perfect passport photo makeup because it depends on every individual's personal style and features. Anyway, the tips we mentioned above should be followed, such as maintaining the original skin color, not changing any key feature, etc. You have to consider each of them while applying makeup.
Generally, low-SPF base, light-color concealers, eyeshadows and proper contouring are always favorable. Just keep your face natural and refreshed. Don't be exaggerated, or it would be returned by the officer. After reading this article, please stop asking "Can you wear makeup for passport photo?". We hope it would help you make a perfect passport photo for yourself.