Did you notice that more and more mobile phones are equipped with Portrait Mode in built-in camera apps? Photos taken in Portrait Mode feature blurring backgrounds and drag people's attention to the subject of the photo. Additionally, it adds depth of field, bokeh artifacts and even dreaming effects to the image. Once the background is blurred, sometimes a photo would magically turn into a wonderful masterpiece. The photos seem to come from a professional photographer instead of an amateur.
What if you fail to use Portrait mode and capture a photo with busy background under the common mode? A bit of blur would greatly improve the quality of your shot. Then you might ask how to blur background. Well, background blurring is actually a simple editing method in an image blurer.
In this passage, we would introduce some free ways to blur background online, on computers or smartphones in this passage.
How to Blur Background of Photo?
If you want to blur the background while taking a picture, you can choose either to spend a lot of money on camera lenses or use the built-in Portrait Mode of your phone as we have stated before. If your iPhone version is too old to support this mode or you forget to use it, just move on to learn some free ways of post-processing.
Traditional ways to blur photo background
Traditionally, people turn to professional image editors, such as Photoshop or third-party applications.
Photoshop
To blur photo background in Photoshop, just follow the navigation "Filter>Blur Gallery>Field Blur" and locate the specific area that you want to blur. Adjust the type and size of the blurring brush if necessary. It seems quite easy but Photoshop is actually known for its fully-equipped tools and complicated interface, which is mainly designed for professionals. Besides, it requires high expense of subscription. Therefore, it is not suitable for beginners with limited software editing knowledge and budget.
Third-party application
Third-party apps provide more blurring effects, such as soft focus, different shapes of bokeh, radial blurring, and motion blurring.
If you want to blur photo background on iPhone, you can find free software in Appstore, such as Blur Photo Editor, Blur Photo Background, Blur Photo Plus, Blurry, etc.
If you want to blur photo background on Android, you can find free software like FaceTune, YouCam Perfect, etc.
Blur background online
We can see that traditional ways require certain storage space to install a bulky software package. Nowadays, it's getting more and more popular to blur background online. There are many background blur online tools available on the market which is easy to operate and require little special skills or complex installation.
Fotor
Fotor is one of the most popular photo editing tools. The "Background Blur" feature will detect the subject and auto blur background after the photo is uploaded. If you are not satisfied with the effect result automatically generated, you could manually choose the blur mode. Blurring brush is available in circular or linear shapes. That is to say, you can feel free to choose the subject that you want to highlight. Intensity ranges from 0-100%, allowing you to decide the visibility level of the background.

LightX
LightX is a versatile photo editor, including background blur online. In auto blur background mode, the program chooses what to emphasize on its own while the manual mode requires users to outline it. The erase strength and blur Intensity are adjustable. The tool is easy to use with just a few clicks, but the problem is that the algorithm is not intelligent enough to deal with details, thus generating weird blurring effects occasionally.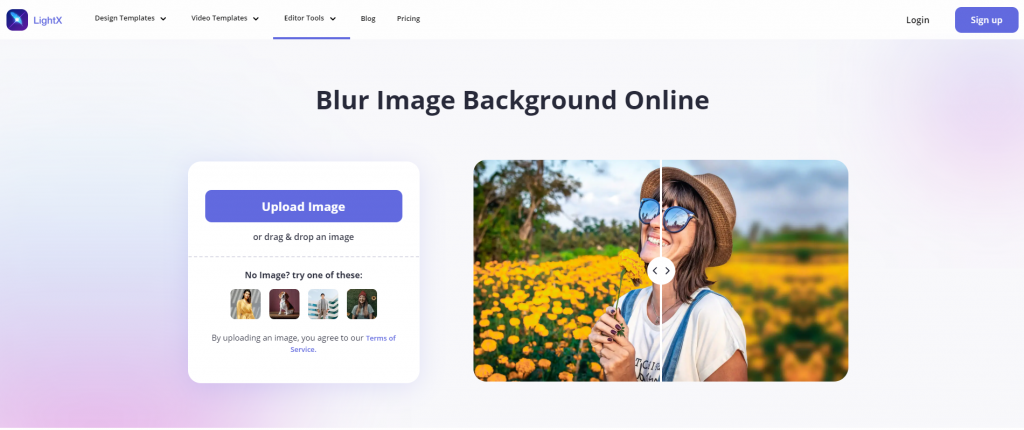 AiPassportPhotos
AiPassportPhotos is a simple one-click AI background blur tool. Supported by powerful AI technology, this online image blurer is boasted of deep learning ability. What you need to do is to upload the photo and it will detect faces and auto blur background for you without any other instructions.

If you have to deal with batches of photos, stop complaining about the troublesome, boring and inefficient manual background blurring. With the help of this intelligent photographer. It's time to say good goodbye to the days of repetitive work with just one-step operation. However, this program supports only face recognition currently. Blurring background of other types of photos except portrait photos is yet to be explored.
AiPassportPhotos provides 6 levels of blurring effects. The degree should be based on how much you want to emphasize the subject.
Why Blur Photo Background?
As we have learned some image blurer tools, let's go further to see why background blurring is becoming so popular except for covering lack of photography skills.
Draw attention to specific subject
Imagine that you stand in a crowded street and press the shutter button. The photo comes out to be cluttered with shabby buildings, irrelevant passers-by and messy trash cans. How depressing it is! There is also the same condition in commercial pictures. Marketers display the product in scenarios, and sometimes with accessories but want consumers to concentrate more on the product itself. Background blurring is hence a common way to highlight the subject from a distracting background.
Reduce difficulty of composition
A poorly composed picture may contain many unnecessary elements, too much empty space, inappropriate color contrast, etc. Most photography enthusiasts are not masters of photography and are inexperienced in composition. Besides cropping size, background blurring is another effective way to cover the poor arrangement of the frame.
Protect privacy
Posting pictures on social media is a popular way to share our life with friends and strangers. However, photos with personal information bear the risk of privacy leaks. Blurring photo background helps to protect your privacy like license plates or house numbers.
Add artistic effect
Taking a photo in a busy street when streetlights illuminate looks dramatic, but it would be more romantic and artistic when turning it into bokeh with image blurer.
Tips for Better Effects to Blur Background Online
Although background blur online tools make things easier, there are still some helpful tips that you should keep in mind.
Upload photos of high quality
The photo quality influences the recognition and hence the outcome, so make sure to use clear photos.
Select the proper blur shape
Proper shape of the blurring brush helps to clearly define the contour. Generally, circular blur is recommended for portrait photos while linear for landscape.
Choose the proper intensity
An over-blurring photo seems unnatural. Remember not to overdo it. If you are processing groups of photos, make sure they are in consistent blurring intensity.
Conclusion
Background blurring effectively grasps viewers' attention, making the photo look more professional and eye-catching. After going through the free ways above to blur background online, you can try each of them and find the most suitable image blurers for yourself. Remember the tips like photo quality, shape as well as intensity and your works would successfully stand out.