Have you ever tried many methods to have big face cutouts perfectly to change the background or add some funny stickers? But some of them can be costly and complex for many users. And sometimes no matter how hard you try, you still can't get a good detailed face cutout on your own, missing important details or including extraneous objects.
So if you are looking for some simple and economical tools to get personalized big head cutouts, in this place we will share some practical solutions with you and let you start to cut face from photos on your desktops and mobile phones(IOS&Android) and online.
How to Cut Out an Image from a Photo on a Desktop?
It will be so easy for you to do some cutouts of a picture on your personal computer. You may miss the daily use software Microsoft Office. As described below, you will start with automatic background removal and manually outline the areas of the picture that you want to keep or remove.
Select the picture that you want to remove from the background.
Copy and paste the picture in an Office file, you can remove parts of the picture that you don't want to include.
Click the picture and Choose "Remove Background" in the picture tools.
Choose Cutout in the multiple sections.
Select AI technology automatically or manually cut the person or objects out from the picture. If you pick the automatic cutout, it takes some time. In this section, you can keep any part you want.
Tap the "Done" icon when you have already finished, then save the file on your device or share it.
With this powerful and intelligent photo editing in Microsoft, you can do more on it, such as retouching, changing filters, adding words, and adding watermarks. But if you want to use more useful functions, you need to be the primer at first, which cost you every month. That would be economical to use this on your desktop if you have to do some photos cut out daily.
How to Cut Out an Image from a Photo on iPhone?
If you simply want to remove people and objects from their backgrounds, Photos app should be your best choices. Here you can follow these steps to cut faces from photos on your iPhone easily without downloading any image cutout applications. (The iPhone requires a version of iOS 16 and up, running on an iPhone XS/XR or newer.)
Open the Photos app, and tap the photo that you want to remove from the background, so the photo is shown on your screen.
Tap and hold the person or object that you want to cut out from the photo.
The object will be automatically detected by the Photos app. Unhold the person or object when you see a glowing outline that means the borders of what will be cut out of the photo.
Now you have the cut-out object, you can either copy the image and paste it into another app for further photo retouching or share it with others through AirDrop.
Photo Cutout is also available in Messages and Safari. So you will find it's now incredibly easy to do face cutouts on your iPhone. It just takes a couple of taps to get the big head cutouts. However, you can't change the boundary outlining the selection of the object, which indicates that there's no way to adjust what is included. the iPhone almost always draws the correct border around a person or object without missing vital details or including inappropriate items. That works well if there aren't strict requirements on cut-out images.
How to Cut Out an Image from a Photo on Android?
If you want to crop your photo or remove the background on the Android, then you can pick this comprehensive easy-to-use photo editing app – PhotoDirector that allows you to cut out images, add text to photos, and add stickers. Here are the simple step-by-step instructions to follow:
Download and open the PhotoDirector app on your Android.
Select the photo you want to edit from your photo library or PhotoDirector's stock image library.
Tap the "Cutout" icon and adjust the cutout section accordingly. You can also use the "Eraser" tool to edit the cutout area manually and make sure it looks just like you want it.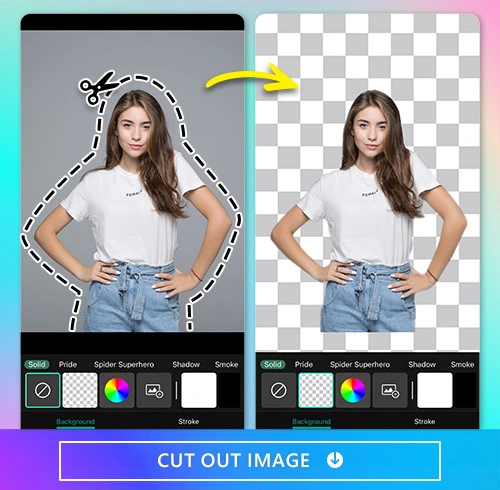 Choose your new background from the app if needed.
Once satisfied, save your edits and share them with your friends!
Thanks to its sophisticated AI Background Remover machine, it allows you to precisely choose what you want to cut out of the photo, and with just a few simple swipes, create the photo of your dreams. But when you are required to deal with a great amount of pictures sometimes, the app will occupy huge storage space in your phone because of the app update and cache data.
How to Cut Out an Image from Photo Online?
If you want to cut out your face online using AI technology without downloading, try AiPassportPhotos. This online website helps you accurately delete and create face cutout with just a few clicks to get your customized perfectly-matched photos without losing quality. Now, let's have a try. Intelligently detect the subject's face and make a big head cutout with just a few taps.
Sign up for your e-mail and password on the website if you are a new user. Log in if you have an account already.
Upload the target image from your file or photo library that you want to make the face cutout. This process will take a few seconds.
Use Intelligent AI technology detection to get a perfect cutout which frees you from the strenuous manual cutout.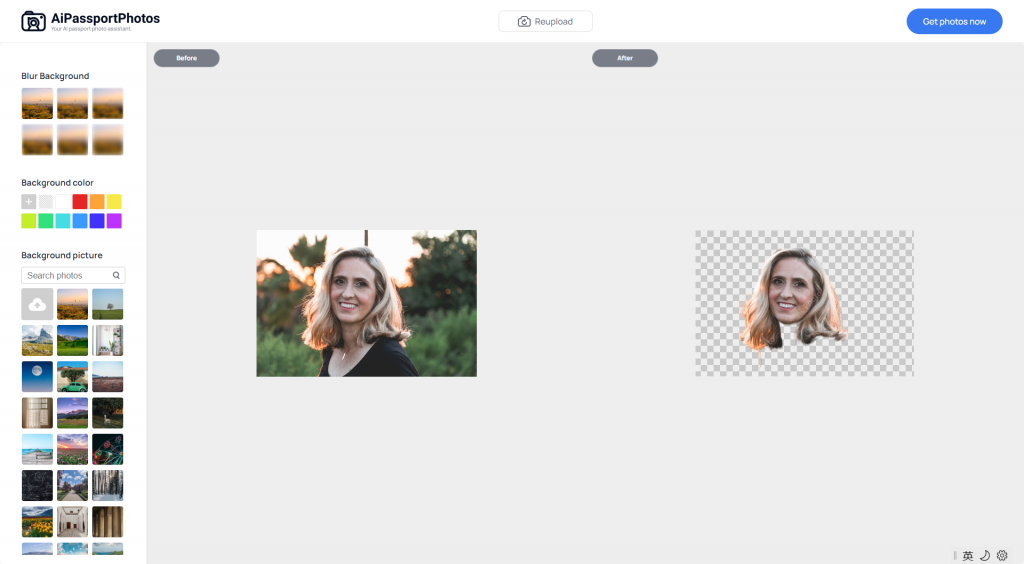 If you want more change, go for personalized editing, including the background color and picture editing.
Get your photo now and download it on your device. You can share the photo via the URL of the website.
AiPassportPhotos has a strong capacity for big face cutouts for adults, kids, and pets with hair-level fine details. It also deals with not only normal photos but also passport photos and other ID photos. To access such a useful and smart faceout tool, you can register free account and download full-resolution photographs. And you will get 5 credits immediately after registering your account successfully.
Conclusion
All the four ways mentioned above are useful in face out. There are still other applications and online websites to cut faces out of the picture, here are the simple and user-friendly tools for beginners, which don't require too many photo editing skills. You can follow the step-by-step methods to do the job without any hassle. Get perfect close-up images now!