We believe that every family keeps an old album that records their family stories. Old photos inside usually carry our memory of the past, which is precious and sweet. However, as time goes by, they would somehow oxidize no matter how carefully we protect them. Worse still, they might be damaged by water, fire or other accidents.
There are multiple ways to preserve old photos, such as taking a picture for them, digitalizing or repairing them. Old photo restoration is the best because it recovers what it originally looks like, especially for those faded, stained, or damaged pictures.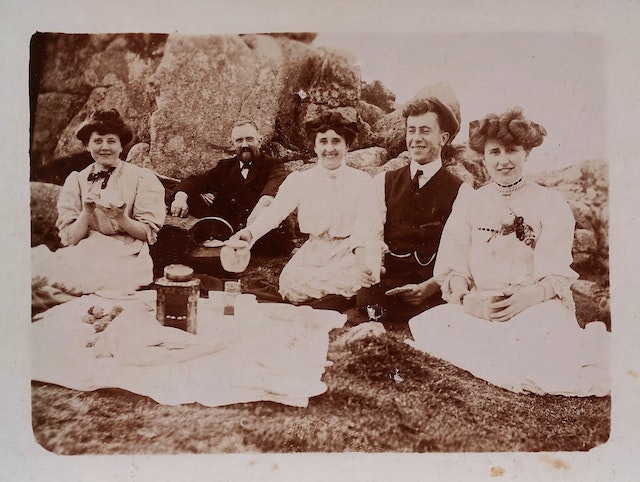 The history of old photo repairing has witnessed the development of restoration technologies.
Traditional photo restoration, flourishing in the 20th century, mainly used paint, pencils and patches to manually restore old photos. Artists (also known as craftsmen) attach similar pieces or draw on blurred areas to recreate missing parts. The final effect depends on the skill and proficiency of the artists and it could take weeks to finish one picture.
Digital photo recovery emerged in the late 20th century. With the rise of computers, cameras and scanners, people turn to using photo editing software to repair old photos. The most popular and well-equipped one is Photoshop.
Photoshop, or PS, allows users to work on layers, which means each adjustment is carried out separately without altering the original picture. In PS, restoration tools usually include filters (to improve clarity and reduce scratches), Spot Healing Brush and Clone Stamp tool (to fix details) and Colorize Features.
Photoshop remains popular nowadays. However, as it is a professional photo editing tool that requires rich knowledge and subscription fees, it is not suitable for most people, especially novices. Luckily, new software springs up explosively in replacement of PS. And today we are going to talk about how to restore photos without Photoshop.
Restore Old Photos Offline
If you plan to repair old photo at home on your own, usually we need to download and install software for offline working. PHOTOWORKS, a substitute for Photoshop, is a powerful offline restoration software with intelligent tools and presets. It is compatible with both Windows and Mac. There are 3 subscription packages available, ranging from $19.25 to $79.8 for a year. The standard one could satisfy your need to restore old photos. And it allows you to download the Free Trial Version before paying for it.
If you want a tutorial, please move on. The whole restoration process takes only a few steps.
Convert to a Digital Version
As the restoration is carried out on computers, we have to convert the paper photo into a digital template. You can use either a camera/smartphone to reshoot it or scan it with a flatbed scanner/printer, and then upload it to the computer. In order to bring out the original image of the retro photo, scanning is more favorable.
Upload Photos
Make sure you have installed the PHOTOWORKS. It allows you to try using it for free for 5 days. Click the "Open Photo" button or drag the photo you want to process to get started.
Crop Size
The first step to restore photos is to cut out the unnecessary parts. There might be worn-out corners and edges due to poor preservation. If it doesn't carry any useful information, it would be better to crop them out instead of wasting time recovering them.
Turn to the "Tools" option on the top and "Crop and Rotation" on the right. Select the "Free aspect ratio" and drag the mouse until the damaged areas are cut out.
Retouch
Removing rips and scratches is one of the most important steps to restore old photos and it could be achieved through retouching.
Choose "Retouch" on the top and "Healing brush" on the right. Set the size, feather and opacity of the brush. Move along the brush on the blemishes until they disappear. If there is a large area of tear, the "Clone Stamp" would work more efficiently.
Enhance
As the equipment was less developed in the past, old photos are usually blurred. Enhancement is designed to improve clarity. Go to the "Enhance" feature on the top and "Sharpness" on the right. Move the slider on "Amount" to the right and you will see the photo becomes clearer. You can also zoom in to see details.
Colorize
Colorizing is an essential part to bring faded photos or black-and-white photos back to life in the "Enhance" Interface. Move the slider on "Saturation" and "Vibrance" until you see the photo colorized. "Auto correction" function would also help if you have no idea about how to deal with it.
Recreate Vintage Atmosphere
The unique retro atmosphere should not be eliminated at old photo restorations. PHOTOWORK not only fixes the flaws but also maintains its charm. After restoring the images, please go to the "Effect" section on the top and "Photo effects" on the right. There are various retro filters here. Choose one that fits your photo without damaging the previous restoration effects.
Now the restoration is finished. The saving or printing service requires extra fees. If you are satisfied with the effects, you can pay to save it.
Restore Old Photos Online Free
The offline tool requires downloading and installing software. If you don't want to spare memory space for extra software, here are 2 online AI-powered programs for you.
Fotor
Fotor provides a 3-day free trial period. To repair old photo, please follow the steps below.
Visit the photo editor page and drag or upload an image.
Choose "1-Tap Enhance" service on the left and it will enhance photo quality and improve contrast, saturation and so on without further manual operation. Other editing tools are also available. You can adjust the brightness/contrast/saturation/sharpness, fine tune exposure/highlights/shadows, resize, etc.
Download and save the post-editing images. The batch editing function supports maximum of 50 pictures processing at the same time.
AiPassportPhotos
AiPassportPhotos is featured with one-click operation and it will automatically finish all recovery work, including enhancing photos and colorizing, suitable for single portrait and family photos.
To restore old photos, please follow the steps below.
Visit the old photo restoration and drag or upload an image.
Preview the outcome. You can see the original and edited version at the same time. The built-in AI technology would bring your retro photos back to life to the largest extent. No manual operation is needed.
If you are satisfied with it, click the "get photos now" button to log in and download it.
This is a great tool to restore old photos online for free. Every new user is awarded 5 credits once registered and the credits could be used to download photos.
Comparison Between Online Old Photo Restoration & Traditional Photo Editing
As we have introduced the main methods restore photos, you might have decided what to choose. Traditional photo editing involves much more than photo restoration. In order to make it a wise decision, we would like to make a comparison between the online and traditional methods.
Performance
Although photo editing software like Photoshop is well-equipped with all types of functions, it cost a lot of time and money to master using it. Sometimes, we would be stuck in the installation process due to the compatibility. Finally, we have to turn to technical support or a photo studio to finish the work. Whereas online program avoids fussy installation or taking up large memory for bulky software.
In a word, professionals might favor PS while beginners would prefer online old photo restoration.
Time
Online photo recovery works quicker than the traditional way. Imagine that you have to manually restore photos by fine-tuning the slider bit by bit and switching between different tools and layers. You have to spend lots of time and patience to achieve the best results. Each photo could take days to be restored.
Online old photo restoration, featured with preset effects and algorithms, could generate a new picture within seconds despite the damaged conditions.
Therefore, suppose that you have to deal with batches of photos, like dozens or hundreds of them. We would recommend you use online tool.
Cost
If you pay for PS, it would cost more around $20.99 per month (Please refer to the official website for exact offer) after a 7-day trial.
If you turn to photographers or artists in the physical store, the charge might vary from dozens to tens to hundreds depending on locations and workload.
If you restore old photos online, the service fee ranges from 0 to a few cents for each.
Quality
Generally speaking, traditional manual restoration brings out better effects because you can target each blemish and fix it bit by bit, especially for badly damaged photos while online programs restore old photo with preset algorithms and sometimes fail to focus on details.
Summary
Photoshop is a comprehensive and powerful tool for image editing and designing, but we can still find some strong alternatives to it. When it comes to how to restore old photos without Photoshop, this passage has explored several methods, including online and offline, free and paid, manual and one-click automatic restoration. Just choose according to your workload, budget and time. We hope all of us can see a new look on those retro photos which record our memory of the past. Next time, when asked "Is there any photo restore near me", share it with your friends.