Kinds of problems are frequently asked yearly, and research shows that in 2023, people are more intent to know if they could wear accessories in passport photos. This article aims to solve your problem of whether you can do it or not in the US passport photos, by the way, give you a guide.
For a U.S. passport, the photo must adhere to specific guidelines. The face of the applicant should take up between 50% and 69% of the photo's height, from the top of the head (including hair) to the bottom of the chin.
The photo must have a square aspect ratio with dimensions between 600×600 pixels and 1200×1200 pixels.
Using JPEG format is mandatory, and the file size must be less than 240kB, compressed to a ratio of 20:1 or less.
Additionally, the photo must be in color (24 bits per pixel) and in the sRGB color space. Make sure to double-check your image to ensure it meets all these requirements before submitting it for approval.
……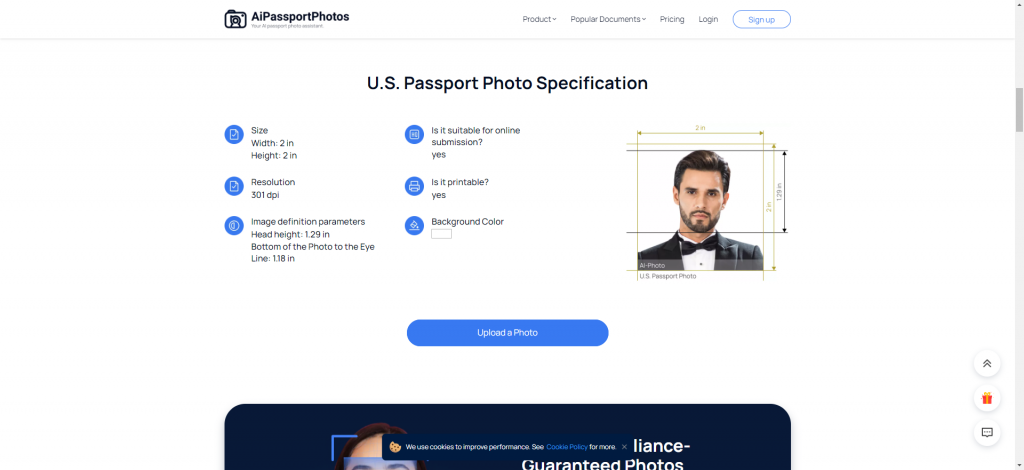 Are Accessories Allowed in Passport Photos?
Not fixed, as the case might be changed along with the specific types of accessories people use. Some are allowed and some are not available. Here explain the different kinds of accessories to figure out whether they would affect the passport application like getting rejected.
The official website of the US Department of State has posted a public announcement listing multiple notices on what to wear and such similar elements that may influence the passport photo application's passing rate.
US passport photo allows you to wear accessories and piercings because those are also usually used among people. But pay attention, accessories or such things should not cover your facial features significantly. A passport photo required in the passport document is specifically designed to help you to be recognized, identified, and verified with consistent characteristics. Essentially, everything that has the possibility to affect the role of passport authentication is prohibited, including oversized accessories or things that interfere with visual judgment.
In terms of accessories, there are certain rules and restrictions to keep in mind when taking a passport photo. Let's go for it!
Can I wear glasses in the passport photo?
No. Remember that taking a passport photo, you know it is used for checking and verifying your identity, in part is a very serious and important matter.
Approximately 65% of US citizens wear glasses in their lives and since they got pretty much used, wearing glasses may be regarded as fair, common, and indifferent matter. However, glasses are an accessory that is prohibited in passport photos.
Even if you wore it every day, you must remove your glasses for a photo. But there is one exception: the passport photo will still stay valid – If you cannot remove your glasses for medical reasons, please be certain to submit the required documents with the application such as a signed note from your doctor or other authentic documents that could validate your need for remaining the glasses in the photo.
Is headgear possible in the passport photo?
No. Headgear covers, but is not bound to, any kinds of hats or head coverings, for example, headbands, headcloths, caps, knit caps, or berets.
Also, there are exceptions, if in some situations you have to be involved in:
Regarding religious purposes. – Submit a signed statement that declares and verifies that hats or head coverings in your passport photo are part of the necessary traditional religious attire worn consistently in public.

You can wear a kippah, a hijab, a turban, or any other piece of traditional religious clothing that your culture or religion needs.

For the sake of medical reasons. – Also in the same way as "glasses", bring a signed note or document from your doctor to ensure the necessity for preserving head coverings in the photo.
For the above two reasons, there will be no influence on the validity of passport photos, and will meet the requirements at the passport agency.
But here you should pay attention to how to dress your hat or headgear up while avoiding covering part or full of your face and avoiding casting shadows.
Are hair accessories allowed in the passport photo?
The vital rule for a US passport photo is to keep the full face clearly visible. So through literal understanding, if your hair accessories such as different shapes of hair clips, hair barrettes, and hair clasps, can be well used along with your hairstyle that won't cloak part of your face.
Make sure your eyes and eyebrows should be visible in the photo, so it would be better to adjust your hairstyle if you have bangs, whether you clip them or sweep them aside.
Plus, you should also abandon using some large hair accessories like a ribbon or such elements which can disturb the shape of your head in the passport photo. Leave the chance to use beautiful ornaments in your daily life, and instead, you ought to choose thin hair ties or bobby pins or tuck your hair behind the ears.
Additional Tips on What to Wear in Passport Photos
Although those limitations sound strict, there are ways to dress actively or fashionably when compliant with the rules.
Jewelry & piercings in passport photos
Generally, your full face should be 100% viewed in the passport photo, and accessories (facial piercing is also okay) cannot cover your facial specifications and must not draw away the focus from your face. Make sure your US passport photo is clear enough to be checked.
Piercings like earrings, nose rings, lip piercings, or eyebrow piercings are allowed, but huge earrings or anything slightly bigger might make it a little bit more difficult to identify you. Meanwhile, it means the necklace is almost always ok.
A Matter Worthy of Note on Jewelry in Passport Photos
Big accessories – If your accessories are bigger than the regular size that may draw attention away from your face, this is likely to make your passport application get rejected, and better to take it off.
Shiny Jewelry – It's better to take it off if the item reflects light and creates shiny effects on the passport photo.
Jewelry distracts attention – If your photo cores attention on the accessories, think about taking them off or just toning it down.
Jewelry hiding background – You must take the accessories off once it hides the background of the passport photo.
Passport dress code for infants/babies/kids
Baby passport photo requirements can be viewed here for reference and for babies, it is pretty much the same as for adults. – prohibit hair accessories, glasses, or toys.
For the US passport photos, your baby doesn't have to wear clothes, but it is still suggested to wear casually.
Be mindful that pacifiers, colorful hair pins, or other distractors (even your hand) are not allowed to show up in the photo.
Vital Reasons for Following Passport Photo Regulations
Calculate the necessary time (may cost 7-14 days) on applying for a US passport, you would better pass the application review at once and not let its rejection, in case, influence the plan you have set before to be delayed, like traveling abroad.
Conclusion
As a whole, you need to follow the regulations and suggestions when wanting to wear accessories in your US passport photo to make sure it matches the photo requirements. Meanwhile, choosing simpler, low-key, and coordinated accessories may help to improve the quality of the whole passport photo.
Read here for more notices on the US passport photo requirements if you need more help.