There are various ways to take biometric photos in the UK. Passport photo kiosk is one of the most popular options because it is usually located in large shopping malls, train stations or right on the street, which is convenient to find and easy to operate.
Then, how does a passport photo booth work and how should we use? This article would answer all these questions and introduce how to find a nearby one.
Tips Before Using Passport Photo Booth
Going to a passport photo machine means you have to take pictures on your own. Even if it has been equipped with compliant photo templates, there is still something to note in advance.
Dressing
Passport photo machines help you adjust posture and background, but they cannot tell whether your outfits are acceptable or not. According to the British government, the background must be cream or light grey, so please make sure your clothes are in contrast to the background, never wear the same or similar colors. Dark and bright solid colors like black, brown and red are favorable.
Please dress decently and casually. For example, daily T-shirts or blouses are recommended instead of uniforms, vests, turtle necks or clothes with shiny accessories.
Accessories
Glasses are the biggest concern in passport photos. Please note that glasses, sunglasses, and colored contact lenses are all prohibited while prescription glasses with clear lenses and medical statements are accepted.
Headgear like hats, caps and headbands is not allowed, either unless for religious or medical reasons.
As for other accessories like earrings, and nose rings, you'd better take them off before entering the passport photo booth in order to guarantee 100% acceptance. Stick to the principle that these accessories don't hinder any part of your facial features.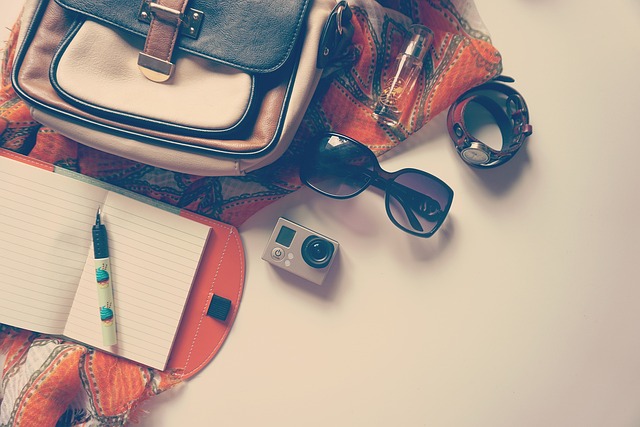 Makeup
As the photo would stay on the passport for years, we all want it to look more beautiful. There is no restriction on whether you can put on makeup or not, but you must make your face natural and recognizable. Golden rules are listed as follows:
Apply light makeup that matches your natural skin and facial features.
Don't use excessive cosmetics like smoky eyes or super red cheeks.
Don't use makeup that reflects light, such as high-SPF sunscreen or highlighter.
Use lipsticks in natural color instead of exaggerated purple, pink, burgundy, etc.
How to Take Pictures in Passport Photo Booth?
It is a portable stall or cubicle equipped with cameras and screens. You can see yourself on the screen and preview the results. Once stepping into it, there will be instructions leading you to use it. Although each brand of passport photo kiosk is featured with some selling points, basic operations are similar as follows.
Choose Desired Service
A passport photo booth offers more than one template and requirements according to types of photos. Sometimes, it also provides official photo templates for different countries. Please make sure you select the right one.
By the way, the machine could also provide a code which is used to import photos into online applications.
Pose for the Photo
After picking the service, there will be some passport photo specifications. Read carefully and do as it says. Showing your head and shoulder is enough. Some might display a face frame. Adjust your head to fit the frame so as to ensure it is in the center and not tilting. Press the OK button when you feel alright.
Select or Ditch the Photo
Each time you press the button, the shot will appear on the screen. Now it's your turn to confirm the outcome or choose to take another picture. The times you can try depends on the brands of the passport photo booth.
Fulfill Payment
Once you have confirmed the photo, you have to choose how many you want to print and pay. Cash and credit cards are common payment methods for most brands. Wait for a few seconds and get your photo from the printer exit or note down the photo code (if any).
How Does Passport Photo Booth Work?
Photo booth is considered the greatest selfie machine. With built-in various types of photo templates and themes, users can take either formal or funny pictures.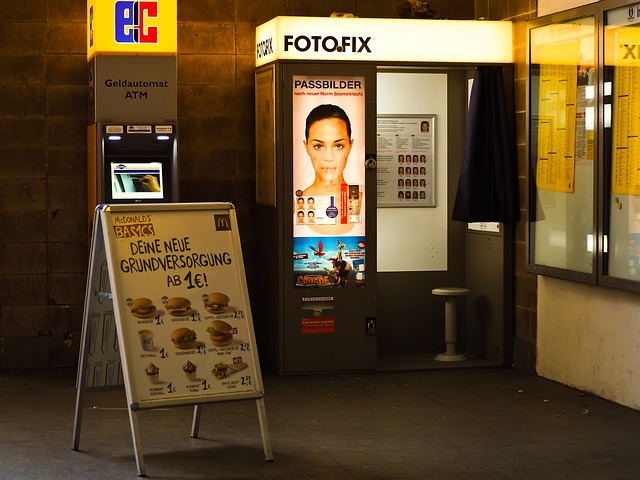 Cost of Passport Photo in Photo Booth
Fees might be the first concern before looking for a passport photo machine. It depends on its location and which company it belongs to. There is no model answer to this question, but the average price usually ranges from £4 to £8 for 4 photos. If you want more, pay more.
Digital Passport Photo Services
Supposing that you apply for a passport online, you are required to offer a photo code instead of uploading photos. Please choose digital photo service in the passport photo booth.
Digital Photo Booth Near Me
A passport photo kiosk is located in crowded and busy districts like shopping centers, transportation hubs. If you are looking for the nearest photo booth, please find the nearest of the following locations first.
TESCO
Tesco has more than 100 branches around the UK and each is equipped with passport photo booths, usually at the entrance. Max Spielmann, as one of the most advanced photo booth brands, has closely cooperated with Tesco. It supports payment by cash, credit cards, and Apple Pay. The staff would help you fill out the application form in some of the stores.
ASDA
Although we can take passport photos in ASDA photo shops, they usually require us to make an appointment while the kiosks don't. Moreover, if you already have prepared photos, you can also use the digital photo booth mobile apps to shoot and print them out at printing kiosk.
MORRISON
Morrisons installs passport photo booths in some of the branches. Look up in the Store Finder and find the nearest one with a photo booth icon.
Sainsbury's Shop
There are only a few Sainsbury's shops providing passport photo services and they are listed below. If you live near any of them, why not pay a visit?
Pimlico, 99 Wilton Road, London
Nine Elms, 62 Wandsworth Road, London
Longwater, William Frost Way, Norwich, NR5 0JS
Birkenhead, 342a Woodchurch Road, Birkenhead, CH42 8PQ
White Rose Shopping Centre, Leeds, LS11 8LS
Railway/metro stations
Railway and metro stations are crowded with people. Photo booth companies wouldn't miss this opportunity to promote their business. Large brands like Max Spielmann and photo-me set their machines in common transportation hubs. Please use the booth seeker on the website to find "passport photo booth near me".
Nearest Photo Booth: Online Passport Photo Maker
Passport photo booth is a cheaper alternative to studios for those who are not good at taking photos, but it is still not the best choice. As the booth is set up in specific locations, many customers occasionally found they are closed when they got the free time to take a shot.
Therefore, the nearest photo booth is on your phone. As long as you have a program on your phone, you can take pictures whenever and wherever you are. However, there are many passport photo tools available on the market. It is not easy to find out the most suitable one. Considering system compatibility, functions and cost, we would recommend AiPassportPhotos which acts as a digital photo booth near me.
It is an online tool which could be used on computers, tablets or phones once you get connected to the Internet. That is to say, you don't need to worry that downloading and installing an application would take up extra space on your device.
More importantly, the built-in AI technology could detect whether your photo is compliant or not, thus no more time waste in replacing a new photo after rejection. The program is so easy to use that you just need to upload the photo and wait for a few seconds for it to process the passport-style photo automatically.
As for the cost, first-time registers are given 5 credits and each download cost 2, which means new users could get the photo for free.
Summary
Services in passport photo booth are intuitive as instructions and show photos in real time. Please pay attention to the tips for preparation we stated before going to the booth because the machine would not give specific feedback. If you are looking for "photo booths near me", search for the shopping malls in the neighborhood first, but if you want to guarantee the approval of your passport photo, we would recommend you use the online ID photo maker to create a digital template and take it to the passport photo machine and print it out.