Photos with cluttered backgrounds will extremely influence the viewing experience, by blurring the background of the photo, you can easily eliminate this worry. Moreover, blurring the photo background can draw the viewer's attention to the character or other main objects in the photo. In this guide, learn how to blur background of photo already taken on any device, including Windows, Mac, iOS, Android, and online. Also, compare those mentioned photo editors and select the best one to utilize.
How to Blur Background of Photo Already Taken on Desktop
When it comes to the all-around photo editing software, Adobe Photoshop must be on the top list. It is a powerful photo editor available on both Windows and Mac that is loved by numerous professionals in graphic design and photography. One of the notable features of Photoshop is photo background editing. You can use it to background blur, remove, and change the photo background easily. It can create a sense of depth and dimension in the photo, making the subject or character more three-dimensional-like.
Though Photoshop is sophisticated enough to blur background of photo already taken, it also has several downsides. On the one hand, for those beginners with no photo editing experience, this software is complicated to use with a complex user interface. On the other hand, Photoshop is not a free photo editing tool. On the contrary, it costs more than other simple photo editors.
Pros
Professional features in photo editing
Compatible with multiple systems
Great photo background blur results
Cons
Complicated for new users to operate
Only 7-day free trial
Pricing:
7-day free trial if you are new to Photoshop
The pro plan begins at US$19.99/mo
Supported OS: Windows, Mac, iPad
Steps to Blur Background of Photo Already Taken with Photoshop
Step 1. Open Photoshop and import your photo need to be blurred background.
Step 2. Select the Lasso on the left menu bar. Pick the area you want to highlight by dragging the polygonal lasso.
Step 3. Choose Filter> Blur > Gaussian Blur, then adjust the radius to blur the background. After that, save the edited photo.
How to Blur Photo Background on Mobile
Suppose you are used to editing photos on your mobile phone; a specific photo editing app to blur photo background is the best option for you. YouCam Perfect does a really good job in photo background processing. It is a practical and reliable app available on both iOS and Android systems. Moreover, it has a good reputation and a high score on the App Store and Google Play, 4.8 and 4.4 separately. 
Better than that complicated photo editing software on the desktop, YouCam allows you to blur photo background easily with your finger. It can automatically recognize the image background, and by pressing the blur button, it can directly blur the background in seconds. Apart from the photo blur tool, you can also use it to make background transparent, change the photo background, blur specific objects in a photo, and more. As for the price, YouCam enables users to try its photo background blurring feature for free. You can save the edited photo directly with no payment.
Pros
Free to blur images
Easy to operate on mobile with simple clicks
Automatically blur photo background
Available for both iOS and Android users
Cons
Pro image editing features are paid
Only one photo background blur form
Price: The blur feature is free to use.
Supported OS: Android, iOS
Steps to Blur Background in Picture Already Taken with YouCam Perfect
Step 1. Launch the YouCam App on your phone and upload your image file.
Step 2. Select the Blur feature on the bottom menu bar, then it will automatically recognize the photo background and blur it.
Step 3. Click the confirm button and save the edited photo to your photo album.
Alt= Blur Image Background on Mobile with YouCam
How to Blur Background in Picture Online
For users who are reluctant to download and install third-party software and Apps, online photo editing tools are the perfect option. After having a trial of dozens of online photo background blurring tools, we picked AiPassportPhotos as the best choice. It is a free, easy-to-use, and smart AI tool that can cope with various photo editing issues.
Empowered by AI, AiPassportPhotos is able to recognize the photo background intelligently. And superior to competitors in the market, it allows users to select different photo blurred background results. Also, users can choose to change the image background, make the image background transparent, and make other edits to the current image directly without altering other online tools again. It is an extremely user-oriented and easy to operate online AI tool.
Price: 100% free to use
Supported OS: Online
Pros
Free to use with no hidden catches
Super easy to navigate
No need to install software and an App
Embed with other online photo editing features
Multiple photo background blur style to select
Cons
Need to create account and log in
Steps to Blur Background of Photo Already Taken Online with AiPassportPhotos
Step 1. Go to the AiPassportPhotos online blur photo background page. Drag or select your photo from the folder to upload.
Step 2. Select the background blurring style you prefer or change the image background directly on this page.
Step 3. Click Get photos now. Then create a new account or log in with your email. Then press download to save the edited photo locally.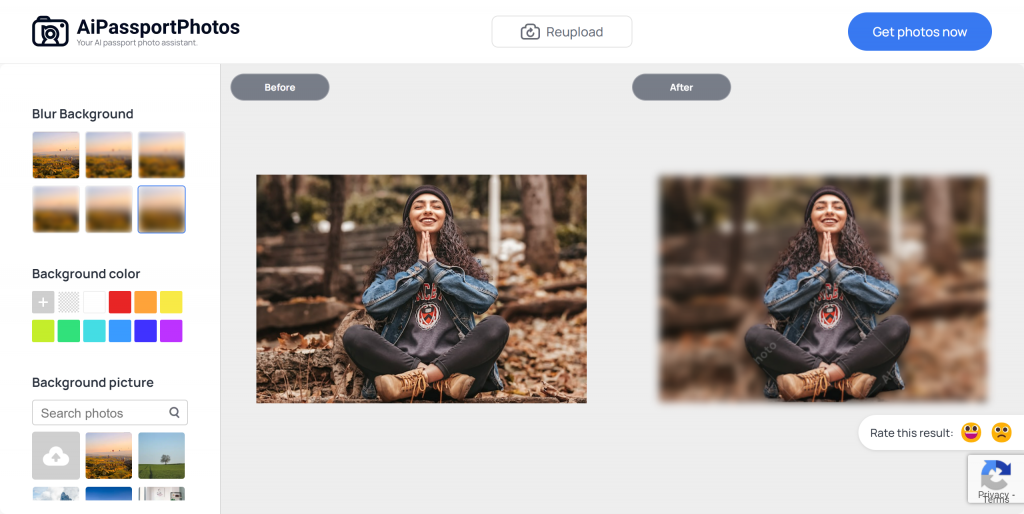 That's the ultimate guide to blur background of photo already taken. You can select a tool to use according to your system. And the online tool is suitable for all systems. The only thing it needs is a network connection.
The Bottom Line
This guide focuses on how to blur background of photo already taken on different systems. In the daily process of photos, we inevitably need to make edits on photo backgrounds. Those photo editors mentioned before can efficiently help you blur the image background. By comparing these tools, the online tool wins in a variety of aspects. It is easier to access and free of software installation. Might as well give it a try if you just looking for a tool to blur photo background.