If you plan to visit the United States for business, tourism, or study, you need a valid visa. Applying for a U.S. visa in Malaysia can be overwhelming and confusing, but take it easy. For new applicants, here are step-by-step guidelines on how to apply for a U.S. visa in Malaysia.
What Type of Visa Do You Need?
There are many reasons to travel to the United States, such as tourism, business, employment, study and exchange, and immigration, which also require a visa. Before we move to the application process, let's see the common U.S. visa types.
Business/Tourist/Medical Treatment Visa (B1/B2)
Student Visa (F/M)
Exchange Visitor Visa (J)
Temporary Work Visa (H2B)
Each visa type has its own requirements and application process. Therefore, it is necessary to know which visa category you need before applying for a visa. Most Malaysian citizens, receive B1/B2 visas and are normally issued with a 10-year multiple-entry combination. And they can stay for up to 6 months on each entry.
Steps to Apply for a U.S. Visa in Malaysia
If you want a short-term visit to the United States for tourism and business, there are several steps to apply for a visa. Let's take a look.
Step 1: Complete the Online DS-160 Form
You must complete the online nonimmigrant visa electronic application form DS-160. Make sure all the required fields you fill out are accurate and print the confirmation page on the application form to bring to your interview.
Step 2: Prepare the Visa Fee
You must pay the US visa fee in Malaysia (approximately $185/MYR 867.8 for a B1/B2 visa) after completing Form DS-160. You can pay this fee online using a credit card and the visa fee varies depending on the type of visa you want.
Step 3: Schedule your Visa Interview
After paying the visa fee, you should schedule a U.S. visa interview in Malaysia online or by contacting the U.S. Embassy in Kuala Lumpur. Interviews are generally required for visa applicants aged 14-79. (Those under 13 and over 80 are usually not required.) You should apply for your visa early, as wait times for appointments vary by location and visa type, and citizens and non-citizens applying to schedule visa appointments are different. Make sure you select a good wait time for a nonimmigrant visa interview appointment.
Step 4: Attend your Visa Interview
You must arrive at the embassy at least 15 minutes before your scheduled interview. Bring all the necessary documents, and prepare some questions that may be asked by a consular officer who will interview you to determine whether you are qualified to obtain a visa. Prepare the following documents before your visa interview:
Valid passport for at least six months beyond your stay in the United States.
DS-160 confirmation page for nonimmigrant visa applications
Receipt of the visa fee, if you are required to pay before your interview.
One 2×2 inch passport photo if you failed to upload your photo while completing the online Form DS-160.
Proof of links to Malaysia.
The purpose of your trip.
Proof of financial support.
Step 5: Wait for your visa application to be processed
After the interview, you need to wait for your U.S. visa status check. It usually takes about 3-4 weeks for the application to be processed. However, the processing time varies according to the type of visa application.
Requirements for U.S. Visa Photos
Your visa photo is an important part of your application. Review the information below on how to provide a photo that meets the U.S. visa photo requirements.
The photo taken must be in color.
The visa photo size is 2 x 2 inches or 51 x 51 mm with only a small frame.
The head size is between 1 inch and 1 3/8 inch (22 mm and 35 mm) or 50% to 69% of the total image height from the bottom of the chin to the top of the head.
The photo was taken in the last 6 months.
The photo is taken with a plain white or off-white background.
Your full face should be shown on the camera.
No shadows in the photo.
Open both eyes with a neutral facial expression.
Wear the clothes you normally wear every day.
Uniforms, eyeglasses and hair accessories are not allowed.
Headphones and hands-free wireless devices are not acceptable in your photo.
Fashionable headwear is prohibited, except for religious reasons.
Photographs copied or scanned from official documents are not acceptable.
Check more details in travel.state.gov.
How to Make US Visa Photos at Home
If you want to take the photo yourself at home, remember to use a professional visa photo service to ensure that your photo meets U.S. visa photo sizes. Photos must not be digitally enhanced or altered to change your appearance. Please follow the technical references below when taking photos to ensure your visa photo is accepted.
Put your face on the camera.
Remove all earrings and accessories.
No smiling or making a face.
Avoid unnatural light, such as overexposure, underexposure.
Do not use any retouching programs or filters to adjust your picture on your computer.
Make U.S. Visa Photos Online
After you have taken your U.S. visa photo, use AiPassportPhotos, the fully-featured online tool, to instantly convert the targeted photo into a compliant one in seconds. It offers an easy to use and user friendly interface. Simply upload your photo, and AiPassportPhotos will take care of the rest. And it ensures 100% acceptance of your photos, so you will never be rejected in the application. Follow simple steps and help you get compliant photos quickly.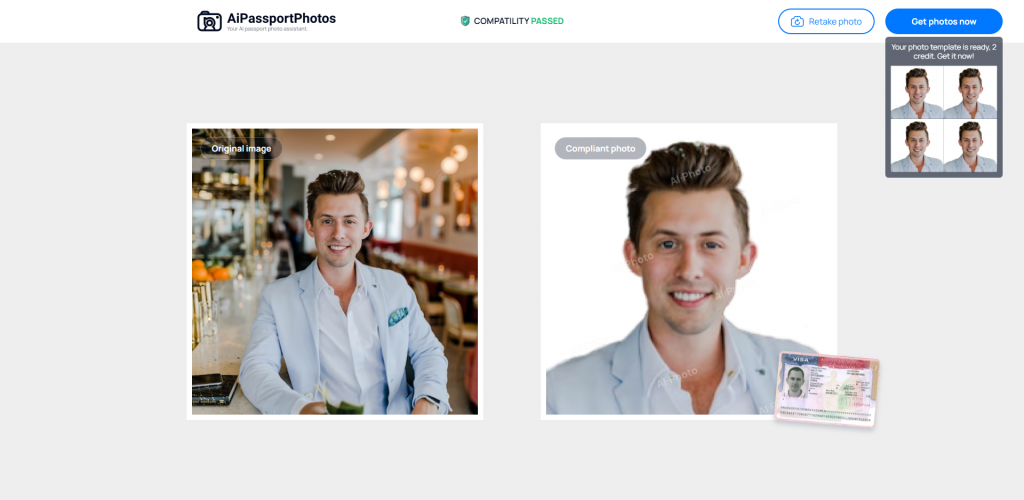 Launch AiPassportPhotos on your browser.
Select US Visa Photo 2×2 in.
Select and upload an image from your photo library. The process takes some time.
Crop size automatically. AI technology intelligently scans your passport photos online, resizes the photo, changes the background, and improves overall photo quality.
Save printable templates and get them printed in stores that offer photo services at a better price.
Cut it out and use it.
Overall, with affordable AiPassportPhotos, you don't have to spend a lot of money on professional photography services and get a high-quality U.S. visa-compliant photo. With its advanced AI technology and quick processing time, you can shorten the time of applying for your visa.
How can I apply for a visa if I am not Malaysian?
If you are not a Malaysian citizen, non-residents in Malaysia are also welcome to apply for a U.S. visa. The visa application process is almost the same as for Malaysian citizens. The only difference is scheduling a visa interview appointment in Malaysia. Make sure you schedule your appointment as a non-resident to avoid being turned away. Because appointments fill up quickly, you can check for additional appointments regularly when possible.
Conclusion
Here is the step-by-step guide to applying for U.S. visas in Malaysia. If you are planning to travel to the United States, get ready to apply for a U.S. visa and prepare your compliant photos now.