If you're the kind of person who likes to stand out, you probably do that in a few different ways. Tattoos? Hair coloring or multiple pairs of stud earrings. Perhaps you'll develop a passion for manipulating hues, which could translate to frequently switching up your hair color or even coloring your locks in accordance with the shifting of the seasons, such as sporting pastels in the winter and bold, vivid hues in the spring and summer.
But if you dye your hair, will that show up on your passport? How current is this passport? Or perhaps you need a new passport photo. These inquiries might be making you scratch your head. This article will clear up the ambiguity about the correct hair color for passport photos.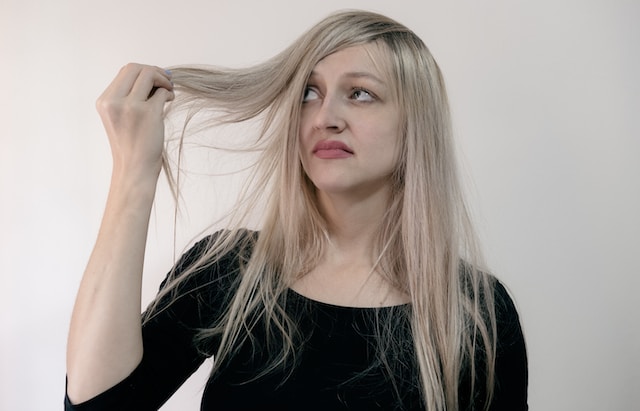 Should I renew my passport photo because of a hair change?
First of all, on the question of whether you need to update your passport if the hair color does not match the color on your passport, the answer is no. You don't need a new passport or a new passport because of the change in your hair color. The good news is that minor changes in look aren't grounds for denying a passport renewal by the United States State Department. If you dye your hair and go on vacation, customs officials may give you a closer look, but that is no reason to throw out your passport and acquire a new one. Plus, in most actual cases, customs will only pay a little attention to these small changes and just get you through. So, no more worries!
Small changes in the way you look include:
Change of hair color or hair length
Get bald
Weight loss or gain slightly
Modifications to existing tattoos and piercings
Altering one's beard or mustache
Minor plastic surgery such as secondary rhinoplasty.
When should I renew my passport photo?
Only if there has been a drastic change in your appearance after your last photo was taken will you be needed to submit new photos. These drastic changes mainly include the following situations:
Had significant facial surgery or trauma
Face piercings/tattoos were either heavily altered or removed.
Altered your body mass index significantly
Gained a different gender identity
Your photo may or may not be accepted by the U.S. passport agency or U.S. embassy or consulate when you apply for your passport or visa.
The best & free way to renew your passport photo
If you do have undergone a drastic change in your appearance, and you need to renew your passport photo, maybe some online passport photo makers will be a good choice.
What Should Be Written for Hair Color on the Passport?
Now, while applying for a passport, you must provide your hair color in the required information. In the government form for renewing a passport, you can select from a number of different hair colors.
Specific colors you can choose from include:
Blonde
Black
Brown
Red
Grey
White
In fact, all you have to do is select the color that best represents your current hairstyle. The passport authorities will almost certainly accept it. The natural hair color can be written down as an option for persons who are bald or have very short hair. If you have facial hair, pick a shade that suits you.
If you choose the hue that comes closest to matching your hair, the security personnel won't make a big deal if the hair in the passport and the hair in your head don't match.
Energy Color Hair on Passport
If you prefer demonstrating your personality in a more vivid way, maybe you'll dye your hair in colors, as purple mixed with pink, blue mixed with green, or just a collection of colors. Then, how to deal with writing the hair hues in the passport? No need to worry, just simply list the color that predominates. It will be accepted by the authorities.
Reviews
So, to reiterate for emphasis: no, it is not required to renew your passport just because you dyed your hair a different color. You should renew your passport only if your physical appearance has significantly changed. Many travelers on the Tripadvisor website have admitted that the passport photo they used did not accurately look exactly like them. If you want to read more about people undergoing the same thing, you can do so by clicking here.
FAQ
I have hair in my passport photo, but I'm bald now. Do I need to renew my passport?
Actually, there is no need to renew your passport just for this minor change. Hair is not a significant part.
I'm not sure if my photo meets the requirements of the official government. What should I do?
You can use the photo tool of the officials to see if your photo meets the requirements. Upload your photo and see examples of good and bad photos.
Do I put my natural hair color on my passport?
Passport applications typically ask about a candidate's "natural" or "dyed" hair color. Applicants with colored hair should list their current hair color; those without hair should list the color of their facial hair.
What should I put down for my hair color on the passport application if my natural color is brown but I'm going gray?
Whether you list your hair as blonde, brown, your natural color or a dyed color on your passport application is normally up to you. You can list "gray hair" as your hair color on your passport application if you end up with gray hair.