Nowadays, people love to edit and enhance their photos—even long after they've snapped them. Smartphone tools, photo apps, and websites provide you with tons of ways to brush up your pictures until they look exponentially better than the original.
But how would your photo editing game change if you had access to an advanced AI photo enhancer? The answer is, exponentially.
AI-Photo offers you a cutting-edge photo editor that will give you the highest quality and state-of-the-art tools for photo enhancement. Now, here are all of the ways a photo enhancer can benefit you.
Unblur All of Your Images
One of the most common problems people face when taking pictures is having to deal with blurry spots or images. This is an inevitability even for professional photographers. But thanks to our photo enhancer, you will never have to worry about this issue again.
With a simple click, the image quality enhancer will use its AI technology to automatically get rid of any blurs or fuzziness it detects in the image. Any face, building, painting or detail you want to capture in high quality can now be recovered easily.
This is a fantastic tool that will benefit any kind of picture you may have, including vacation pictures, family photos or images needed for official documents such as passports or visas.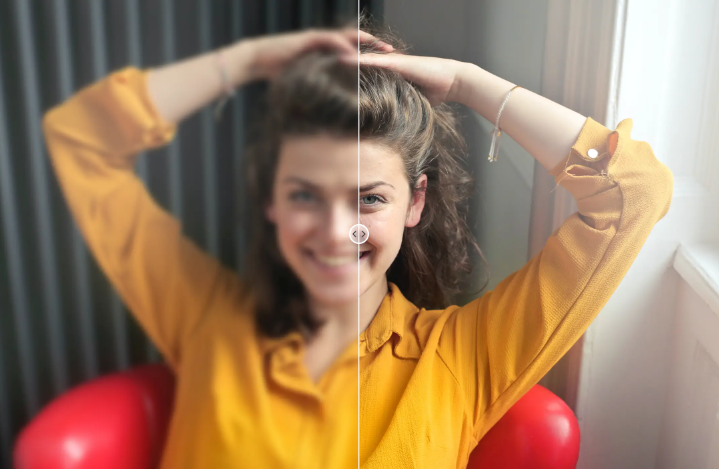 Fast and Automatic
One problem that certain photo enhancer apps and sites have is that they are too complicated to use. Not everyone is a whiz when it comes to computers or all-new forms of software. With our photo enhancer, you don't need to be computer savvy. It is extremely intuitive to use and requires no prior knowledge or skill.
Not only is it easy to use, but it's also super fast. As soon as you upload a photo, you can remove any blur or make any other enhancements you want within seconds.
It not only saves you time when working online, but when working offline as well. With these tools, you no longer have to worry about taking a new photo again and again until you have the perfect angle or the perfect lighting.
Our AI photo enhancer can take one decent picture and modify it until it achieves perfection. This will eliminate the time needed to retake pictures, which can be a boring and time-consuming process.
Make your Pictures High Quality and High Resolution
Not only can you remove blurs from subpar photos, but you can use the photo enhancer to take photos that already look good and make them look even better.
Color correction and refinement is one of the most useful aspects of the photo enhancer. If you took a vibrant and beautiful landscape shot or a self-portrait that's meant to capture as many different colors as possible, the photo enhancer can make the colors pop out even more.
This means that whatever landmark, clothing item or makeup you're trying to make as apparent as possible will be even more dazzling and noticeable after you put your pictures through the AI-based color correction.
This will ultimately enhance the overall quality of the picture, even if it was already taken at high resolution.
This tool comes in handy not only for portraits but also for digital artwork as well. If you have designed a logo for a business or a personal recreational group and it needs a more detailed brush up, the photo enhancer will make it look even more refined.
Or you can use it for social media pictures. If you need a new main profile picture to be as clear and colorful as possible, run it through the enhancer to spice it up quickly.
Tons of Useful Tools and Features
Getting rid of blurriness and adding color correction aren't the only things that the AI image enhancer can do. You will be given access to several tools that will greatly improve all of your professional or personal photographs.
Not only is there color correction but there's also an AI and algorithm-based colorizer. Give it any black and white pictures you have, and it will automatically scan the pictures and add colors to make them look as realistic and modern as possible.
Similarly, you can also take advantage of the photo restoration tool. Any pictures that have experienced intense fading due to being too old can be scanned and uploaded. The restoration process uses powerful restoration methods to essentially remaster and remake your photo so it looks like it was just taken today, even if it was really taken decades ago.
There's also a cartoon selfie AI tool that will turn any portrait into an animated version that looks both lifelike and vibrant.
Start Enhancing Your Photos Today
Our AI-based image enhancer tool can be used both on computers and smartphones. While these tools work best with portraits and faces, virtually any kind of photo will be compatible with our tools. Even if a photo you give us is in especially poor condition, we can still do our best to improve it in ways you wouldn't expect.
The longest you'll have to wait for your image enhancer to be complete is just a couple of minutes, but you can bet most of the time it will be much faster than that.
Whether you want to adjust photo colors, adjust the lighting, adjust shadows or adjust the background, our AI photo enhancer gives you all of the control and freedom you need to modify all of your favorite pictures and breathe new life into them. Whether they're old or new, colorful or black and white, our photo enhancer tool can get the job done.
Conclusion
AI-Photo is the best place to have your photos edited online with the power of artificial intelligence. You can use it to create photos for any use, including applying for a new passport, ID card, visa, or as a professional photo for job applications. Try AI-Photo today for yourself and see how easy it is to create the perfect photos of yourself!