Adobe Photoshop is the world's best-known image editing and graphic design software. But that doesn't mean it's the best software for everyone. It's pricey for those who only use it occasionally and it's complicated for those who only use it for basic photo editing. With full functionality, it takes up a lot of space and can slow down your computer. And paying for it per month, Photoshop may not be the best option for many beginner photographers.
Thankfully, there are plenty of great and free Photoshop alternatives. You've come to the right place, because we have introduced a collection of best photoshop alternatives that can be used as Photoshop alternatives in this article, from the introduction of the photoshop competitors to the comparison of pros and cons that can help you easily select the most suitable alternative to photoshop.
Luminar
One of the best Photoshop alternatives is Luminar software. It isn't the cheapest option out there, but it's an advanced results in easy-to-use software that employs artificial intelligence and machine learning in order to help everybody create amazing photos in just a few clicks. Thanks to an intuitive and user-friendly interface, it is accessible to everyone. With AI-powered tools, it can replace the sky, enhance landscapes and portraits, and enjoy a wide range of instruments including layers, masking, and local adjustments. There is no need for you to do it manually.
Pros:
Use it on Windows, macOS, or as a plugin for Photoshop & Lightroom.
Get quick pro-level results, and a consistent look across your photos.
Change each template to suit your tastes.
Edit RAW materials.
Cons:
No layer-based editing.
Can't compare images side by side.
No batch editing.
If you're looking for a complete free Photoshop alternative, Fotor, an all-round online photo editor, will be an excellent choice. Fotor's photo editor lets you edit photos in just a few clicks. With the AI process and a simple and intuitive interface, Fotor makes editing images super easy. Various stylish photo effects and editing features will surely be able to meet all your editing needs, perfect for both beginners and professionals. It covers a variety of free online photo editing tools, so you can crop images, resize images, add text to photos, make photo collages, and easily create graphic designs. Compared to Photoshop, Fotor has a lower learning curve than Photoshop. Everyone has a chance to become a professional photographer and graphic designer. The engine was dubbed "Light Photoshop" by the BBC.
Pros:
Popular features are almost available, such as crop and resize images, object remover, etc.
No skills needed, and enhance photos with one click.
Lots of templates and material resources to create various designs, such as invitations, posters, logos , etc.
Free on your Windows, Mac, IOS or Android device.
Cons:
Cannot select the photo size.
After the free trial, you can pay $8.99 per month or $39.99 per year.
Believe it or not, Krita is the perfect free alternative to Photoshop for photographers who need a bit more flexibility. It's impressive as a fully open-source image editor and includes plenty of advanced photo editing features and a great user interface. The dockers and panels can be moved and customized for your specific workflow. Over 100 professional brushes are preloaded, giving a good range of effects so you can create your own canvas. In Krita, you can work on multiple projects at once and there are many different effects to choose from. It also supports drawing boards, making it ideal for digital painting and sketching. Operation is similar to Photoshop, and the latest version is stable on Mac OS and Windows – it's also relatively lightweight too.
Pros:
No trials, no subscriptions.
Shortcuts to frequently used tools.
Support customizable interface.
Advanced layer management system.
Change your workspace to Animation.
Cons:
Not for iOS or iPadOS at this time.
No history toolbar.
If you're looking for a free Photoshop alternative, Pixlr can easily be categorized as a really good option. It is an online photo editing tool and also supports downloading apps for iOS and Android. Unlike other free Photoshop competitors, Pixlr editor has several versions such as Pixlr E & X, photomash, remove bg, and batch editor. With this photo editor, you can not only upload your photo, but you can also open it directly from a URL location or create a new image from scratch. Use Pixlr quickly and easily to improve your images and you don't want to worry about complicated software.
Pros:
Take 50 pictures at a time.
Accessible on any device.
Support a customizable interface
Open images from desktop or URL.
Cons
Not suitable for professional photographers and those of you looking for more advanced features.
After a free trial, you need to pay for the premium version.
With ads.
No pen tool.
AiPassportPhotos can be your best AI passport photo assistant. All-in-one online photo editor, it will be an excellent choice for Photoshop alternatives. With AI processing technology, it works like a real magician to meet your needs in any picture, such as restoring old photos, correcting photo color, blurring background, enhancing photo, making cartoon selfies, cutting face out, removing background and making passport photos. Avoid visiting traditional photo studios and waiting in line. Upload your photo and create a biometric photo with ease. Just one click to process images with the help of this professional and advanced AI technology.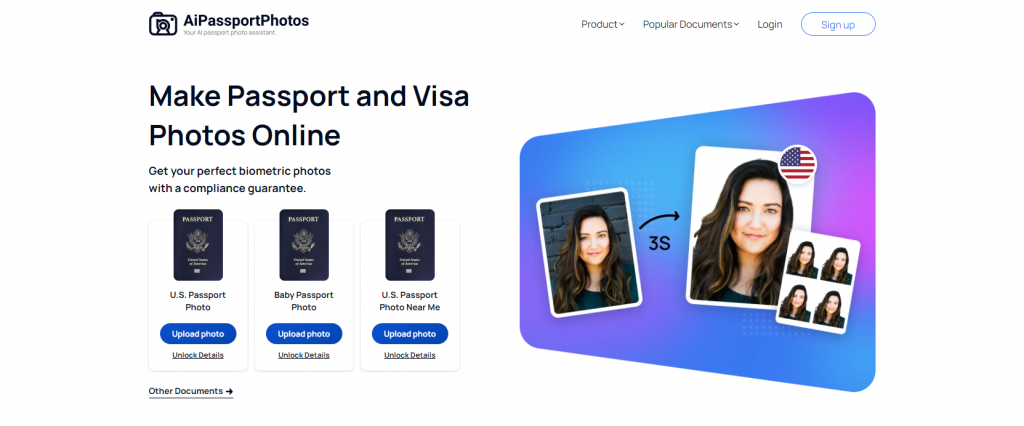 Pros:
Popular features are almost available, such as enhanced images and face cutouts, etc.
Don't have to deal with pictures manually.
Support passport, visa and ID photos for many countries, such as the United States, Australia and Canada, and get your online passport photos at home in seconds.
Amazing photo effects.
Quick and simple photo processing.
Intelligently detects human faces and makes changes based on official specifications, ensuring a quality and compliant photo.
Cons:
Need paid credits for downloading pictures if you use them out of free credits.
No templates and material resources
Conclusion
If you are looking for some great online Photoshop alternatives to try and avoid the costly Adobe Photoshops subscription fees, we've got you covered! Check out our recommendations above and start a more user-friendly and advanced photo editing experience yourself. One of these five Photoshop alternatives will surely give you the tools you need to perfect your craft.