For anyone who plans to travel abroad, you must not miss your passport which verifies your identity and citizenship. In the Philippines, passports are issued by the Department of Foreign Affairs (DFA). No matter whether you're above 18 or below, you can apply for and renew your passport with no doubt. If you're 18 or older, your passport will be valid for 10 years. If you're below 18, it will be valid for five years.
Renewing your passport is simple, but it can also be confusing if you don't know much about its procedures and details. Today, this passage will walk you through the requirements and procedures for renewing your DFA passport.
Must-know Things Before Renewing Your Philippine Passport Photo
For Adult Applicants(18 years old and above)
Only those who have travel plans that require a passport are required to renew their passports. You don't need to have your passport renewed every time it expires unless you frequently go abroad or plan to use it as your primary ID.
The DFA suggests keeping your passport valid for an additional seven to eight months beyond your intended departure date. For this reason, you should renew your passport at least 10 months before it expires.
Here are the CORE application requirements for adult ePassport renewal:
Firstly, confirmed Online Appointment

– To schedule an online appointment, please

click here

. To see if you are qualified to use the Courtesy Lane, please

click here

.

And current ePassport with a photocopy of the data page

Accomplished Application Form

Personal Appearance

Original PSA authenticated documents that will support the change of name

Annotated Birth Certificate

Marriage Contract

Death Certificate of Spouse

Marriage Contract with Notes About Divorce, Annulment, and Other Legal Actions
NOTE: A marriage license is not needed if the bride does not intend to change her last name.
There may be further specifications needed.
Supporting Documents for Adult Renewal of ePassport Applications
The following supplementary documents are also required in addition to the primary requirements:
In case the applicant is a Dual Citizen:
(in addition to the Renewal Core Requirements)
Government-Issued IDs (Refer to the list of valid Philippine Government Issued IDs or their secondary citizenship/residence counterparts)

If the applicant was born with dual citizenship (either one Filipino parent and one citizen of another country, or both Filipino parents and a citizen of a country that recognizes birth as a basis for citizenship under jus soli), then the application will be denied.
                     –Birth Certificate/Report of Birth (Original and Photocopy) PSA-Authenticated
                 2. If Filipino citizenship has been reinstated or maintained in accordance with RA 9225:
                   –The original and a photocopy of your Philippine identification certificate from either the Department of Immigration or a Philippine Foreign Service                          Post (FSP) (BI)
For Minor Applicants(below 18 years old)
Booking an online appointment with the DFA is mandatory for minor candidates just as it is for adult applicants. Everyone under the age of seven needs to have a parent, guardian, or legal representative present.
Here are the CORE application requirements for minor ePassport renewal:
Confirmed Online Appointment 

Current ePassport with a photocopy of the data page

Attendance in person is required for minor applicants along with a parent or other legal guardian.

Original and photocopy of proof of filiation and/or guardianship

Passport or Valid Government issued ID of either parent with one (1) photocopy (

click here

for the List of Acceptable IDs for Passport Application)

School ID (if applicable)

A marriage certificate is required if only one parent is accompanying the child

In the case of unmarried parents, if the mother is not traveling with her kid, a Special Power of Attorney (SPA) must be executed.

The Special Power of Attorney (SPA) must be validated by the Filipino Embassy or Consulate if it is executed outside the Philippines.
Click here to know more about passport requirements. 
How to RenewYour Philippine Passport
Renewing your passport is simple, but you might forget some important files and miss the specific steps, so please follow our step-by-step guide to learn what to expect. 
First of all, make a passport application appointment online through the

official DFA website

.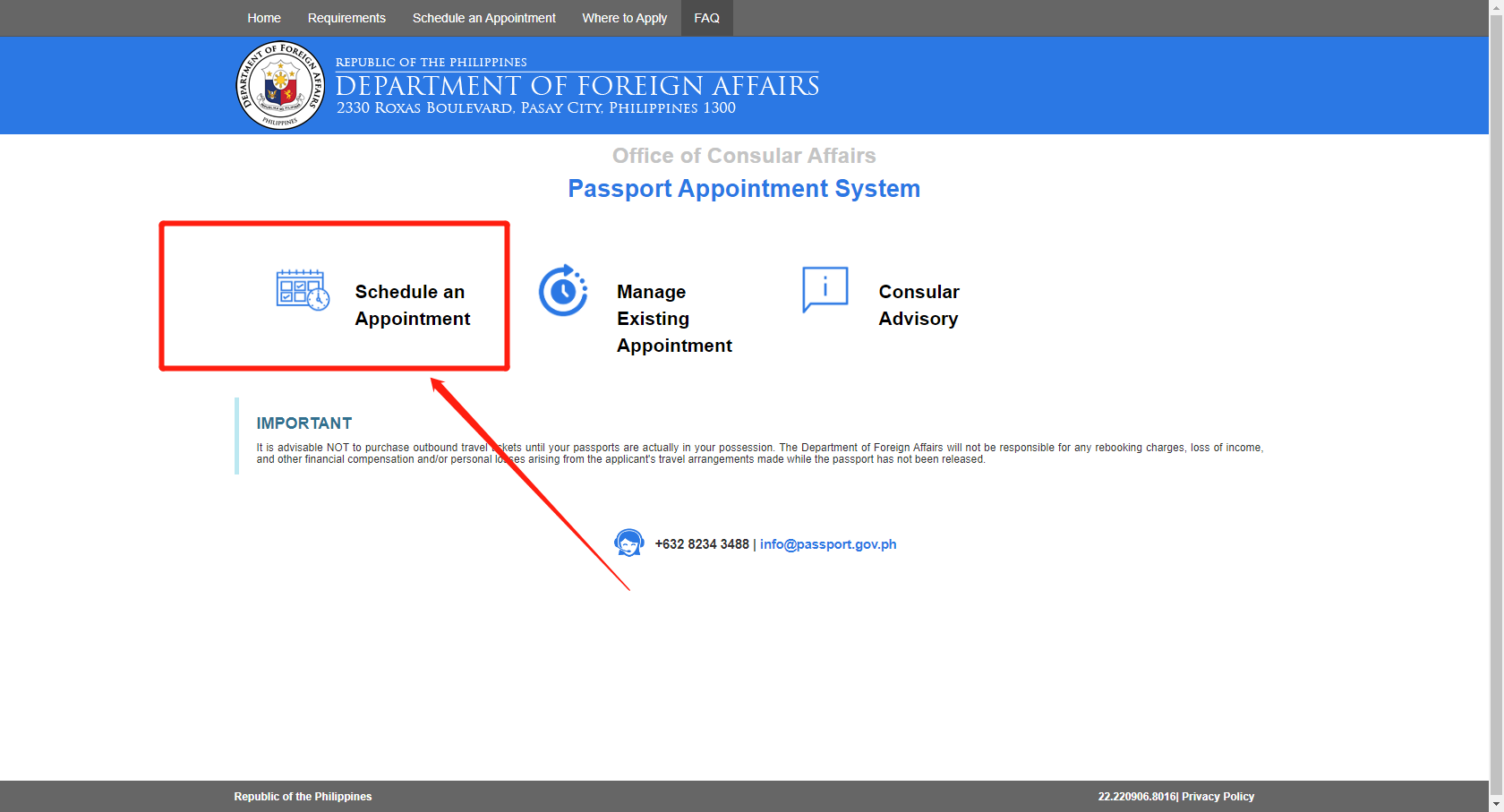 2. Next, choose the Site Location, and Date and Time, and fill in your personal and family information according to the official steps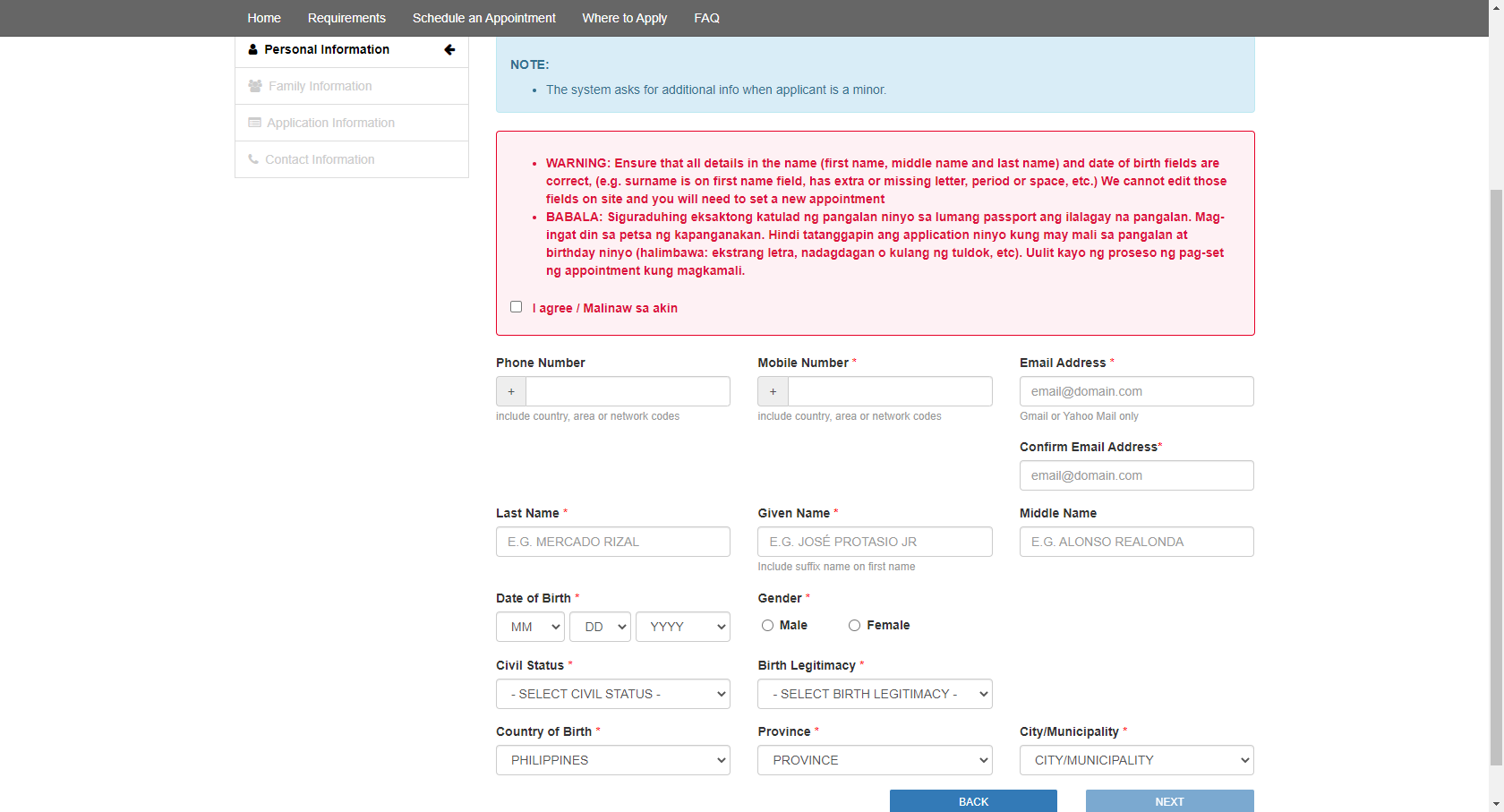 3. Then on the page titled Application Information, select "RENEWAL" in the Application Type dropdown menu. Next, fill out the online application form.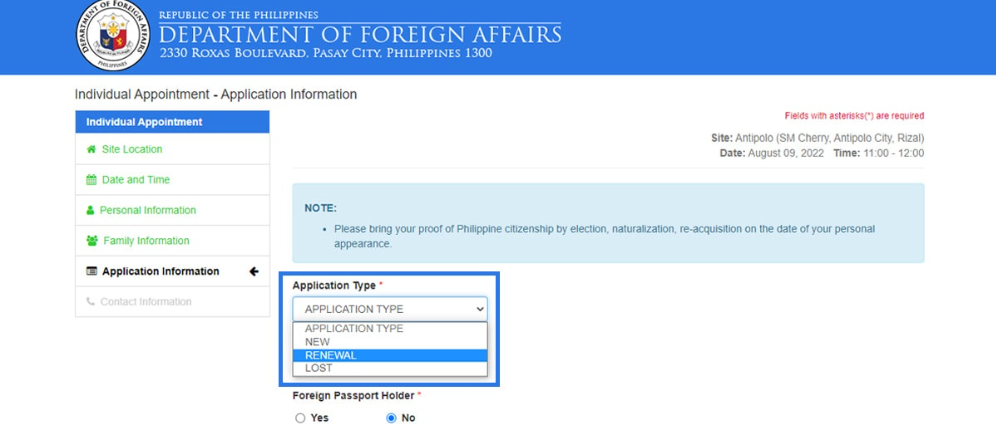 4. After completing the application form, pay the processing fee online. Regular processing costs P950.00 while special processing costs P1,200.00.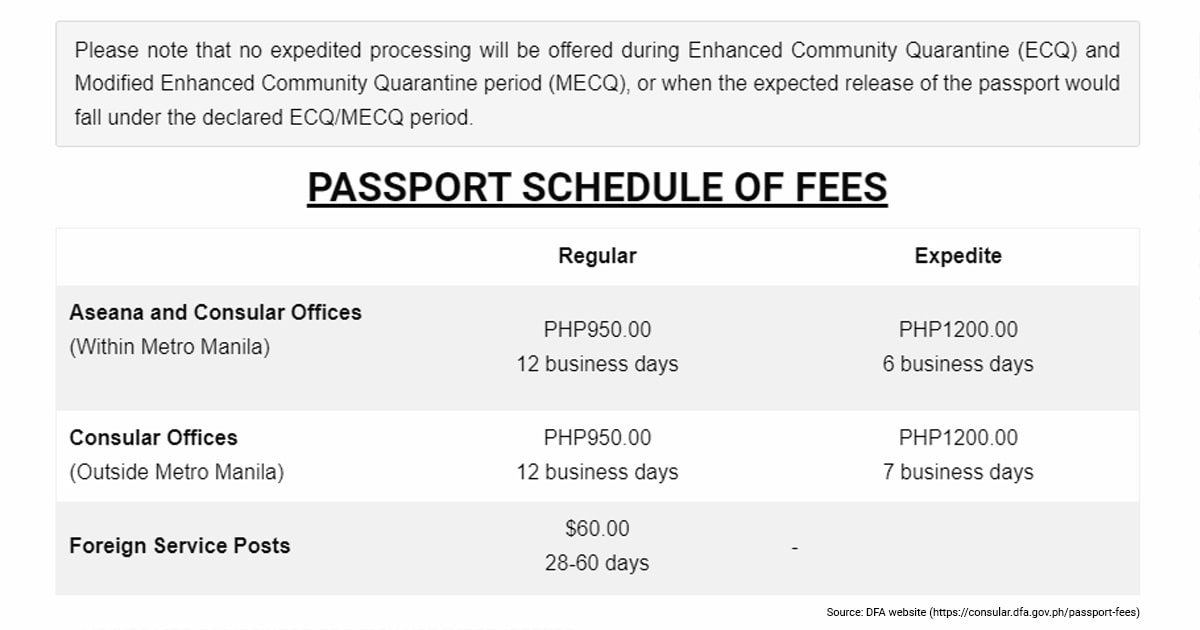 5. Lastly, following successful payment of the processing cost, you will be sent an email with a payment reference number, a copy of your application form, and a passport renewal checklist. Please bring these hard copies (on A4 paper) to your scheduled visit.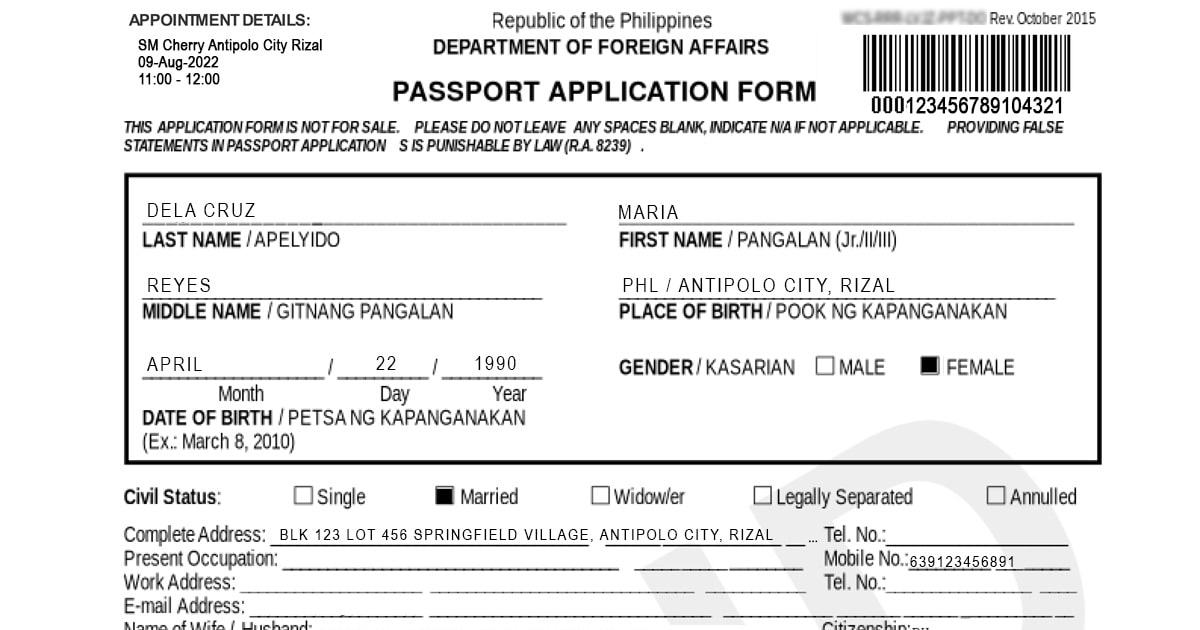 6. Do note that if you have an appointment with the DFA, make sure to bring all the necessary paperwork with you. As the DFA does not permit late entry, you should arrive at the venue at least 30 minutes before your scheduled time.
Other Reminders:
Minor applicants must be accompanied by either parent or an authorized adult companion. 

New Philippine passport renewals don't require you to submit a picture of yourself since your photo will be taken at the embassy or consulate. In the meantime, please follow the dress code. Earrings, necklaces, and colored contact lenses are not allowed during photo capturing. 

If you have any other questions, you can also contact the Department of Foreign Affair to solve your problems. 

Phone: +632 8234 3488  Email: info@passport.gov.ph
The Easiest Way to Get Your Perfect Philippine Passport Photo
However, maybe the photo taken at the embassy or consulate may not be delicate enough due to the fast work of the staff, so you may not be satisfied with your passport photo. So if you want to take your time and get a flawless passport photo without feeling pressured, or if you need a photo for your travel document right away, for this reason try AipassportPhotos.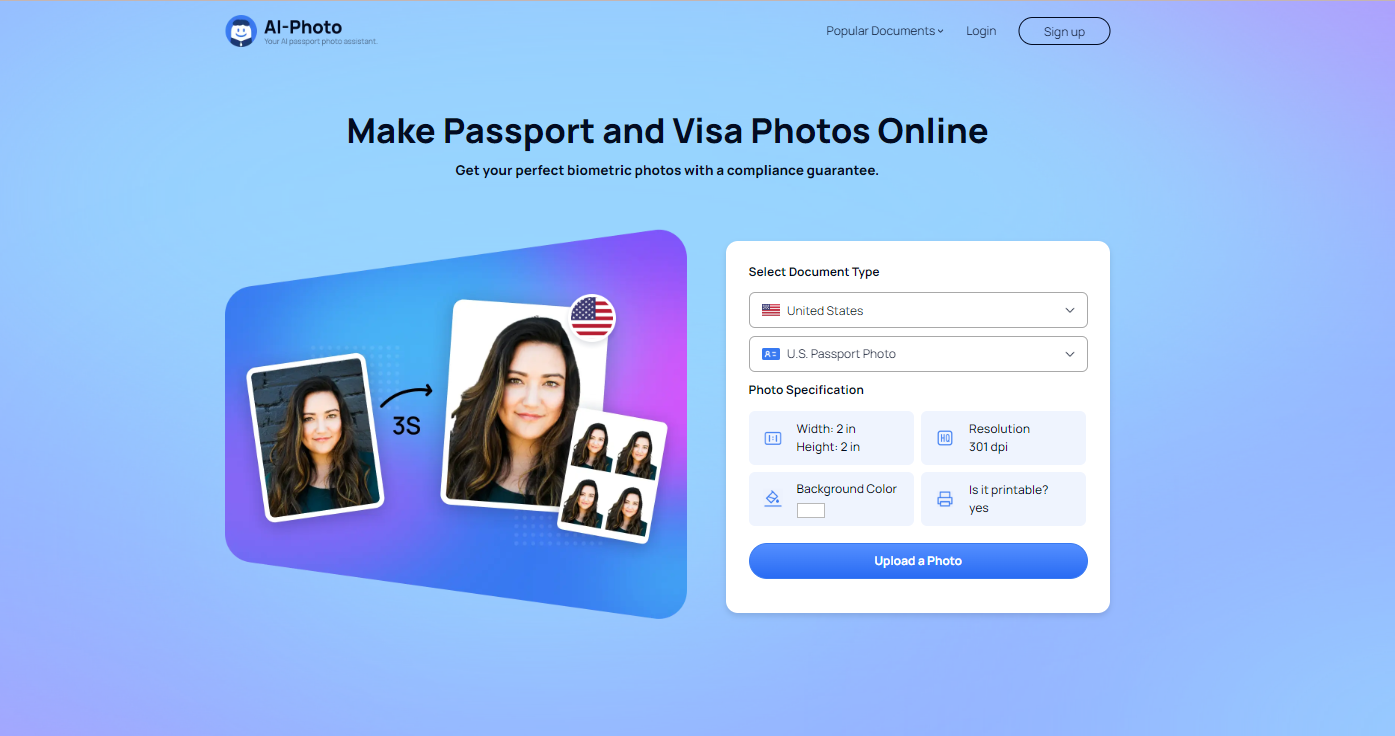 AI-Photo enables you to enjoy low-cost professional services to make standard-compliant passport photos online. You only need three steps to take the perfect ID photo you want. It takes your photos in a convenient way without wasting extra time, effort and money, and the most important is that we guarantee that the revised photos will be accepted by the government. Try to use it  and make your perfect passport photo!
Besides passport photos, AI-Photo is also capable of making a Philippine baby passport photo as well as a Philippine ID photo, and all of them will be accepted by the government and present you with the best look. 
FAQs
In the end, we've put together this FAQ section to clarify any doubts you may have regarding Philippine passport renewal. 
Q: How can I set an appointment? / Can I set my appointment here on the DFA Facebook page? / Do I still need to set an appointment for renewal?
A: You need to set an online appointment via http://www.passport.gov.ph, Passport appointments cannot be made on Facebook or any other social media platform. All appointments are free. Appointments not made through http://passport.gov.ph are not legitimate appointments.
Q: I made a mistake in filling out my application form. Will this affect my application? Will my appointment be canceled?
A: Minor/typographical errors in fields such as parents' names, place of birth, and old passport numbers may be corrected during the processing stage. However, any error in the applicant's name and date of birth fields in the application form cannot be corrected during the passport appointment. Further, regardless of the field where the error is present, any application with two or more incorrect entries shall be rejected or subjected to further review.
Applicants must ensure that the information being submitted during the online booking of an appointment is complete and accurate. Multiple errors and/or misrepresentation of information may result in failure in capturing the applicant's biometrics or be considered grounds for rejection of the passport application.
Q: What are the requirements for a new application? / What are the requirements for passport renewal?
A: 
Q: When can I claim my passport?
A: Please refer to your passport stub/receipt for your passport's tentative release date.
You can click here to get more FAQs about your passport application, renewal, requirement, and so on.