There are plenty of regulations when it comes to Singapore IC (Identity Card) photos, and instead of scratching your head while reading the long requirements listed on the official website. Even if you manage to read through them all, there's still a chance that you may make a mistake.
Don't worry! That's why we wrote this article to give you some tips and tricks to ensure that your IC photo looks great. If you don't want to put up with an unattractive IC photo for the next few years, scroll down to read more!
Singapore IC Photo Requirements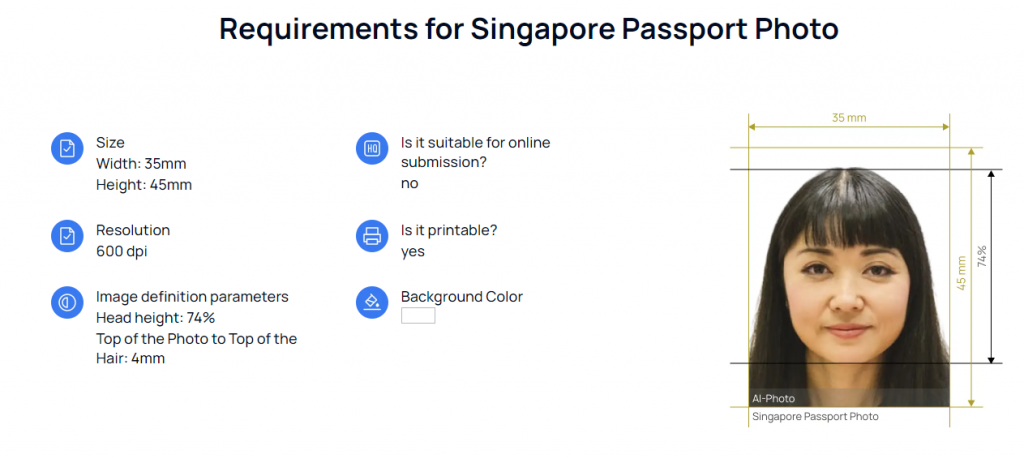 In this section, we'll walk through the key elements you need to consider to have a great-looking Singapore IC photo. 
Your photograph must meet ICA's guidelines. Being aware of these requirements will help you get a great-looking Singapore IC photo. 
Here are some of the most important requirements that you should keep in mind:
The photo size must be 3.5cm wide by 4.5 cm high (35×45 mm).
Your face in the photo must take up 70% – 80% of the vertical height.
The file size should be less than 2MB.
The format should be jpg, jpeg or png.
The background color of Singapore IC photos should be white.
How to Look Good in Your Singapore ID Photos
Wear Clothes in Color
Almost all photos you're using for ID cards or passports require you to be dressed appropriately. And Singapore IC photo is not an exception.
Wear clothes in color to complement the white background. Your hair and upper shoulder should be in the frame.
Use A Clean White Background
The background color of Singapore IC photos should be white, without any shadows or patterns. This ensures there's enough contrast between your face and the background. However, you could always use AiPassportPhotos to change the messy background to pure white background.
Make Use of Natural Lighting
A Singapore IC photo must be taken with even brightness.
It's essential to have even lighting on both sides of your face. But avoid taking photos in direct sunlight, as it can cause glare or create shadows on your face.
When there's not enough natural light and the room is not well-lit, using soft lighting sources like LED lamps could help.
Avoid Heavy Makeup
When choosing makeup for a photo, opt for matte and neutral colors that will not overpower your features. Blot your T-zone before the photo to reduce shine and create a more even complexion.
If you want to wear makeup, choose a light one. A nude lipstick is a good option for adding a touch of color without changing your overall appearance.
Avoid using heavy makeup. Eyeshadow, eyeliner, and mascara can cause face distortion in the photo.
Keep Your Hair Tidy
Your hair should be neat and tidy, with no strands covering your face. A low ponytail or a half-up, half-down style can accentuate your facial features.
Remove Your Accessories
You're not allowed to wear accessories, such as jewelry or sunglasses. These might decrease the clarity of the photo.
If you're wearing headgear for religious reasons, select one with a dark color that is against the white background.
If you're wearing contact lenses, choose non-colored ones to ensure no red eye.
Keep Your Expression Neutral
When taking a Singapore IC photo, it's essential to maintain a neutral expression. No smiles, frowns, or other exaggerated expressions should be on your face. And your mouth should be closed. To do this, try to relax by taking a deep breath before shooting the photo.
Keep Your Head Straight
Maintain your head in the center to show your full face, with your eyes looking directly into the camera.
This way, your facial features will be aligned and symmetrical in the photograph. Do not use a selfie to apply for a Singapore IC photo.
Avoid tilting your head to one side or the other, as this can distort your face.
Check the Frame
Before taking your Singapore IC photo, double-check the camera to make sure it's set in the right frame. Your face and shoulders should be visible when you're standing at a certain distance from the camera.
Other elements involved when we're talking about the frame are lighting and background. Follow the tips we listed above and you're going to take a qualified and satisfying Singapore IC photo.
Timing Your Shot
Now that you have everything set up, it's time to take the perfect Singapore IC photo. Take a deep breath to relax your face, maintaining a neutral expression.
Ensure that your eyes are open and your face is visible. Check if you forgot to take off your sunglasses or your jewelry.
If you're taking the photo by yourself, leave some time for yourself to walk to the standing position. Set the timer to at least 5 seconds, allowing you to get to the position, adjust your clothes, and wear on a neutral expression.
Enhance Your Photos with Online Editing Tools
Don't frown when seeing the word "edit". The process can be quick and simple when you use an online tool like AiPassportPhotos, which has a function specially designed for Singapore IC photos. 
Use the all-in-one tool to edit a good-looking photo. Simply tap on the "Upload a Photo" button, or try the following features if you want to adjust the photo further.
Enhance Your Photo
If your face is not clear enough in the photo, use the Photo Enhancer to improve it according to the official guidelines. Make sure your face is centered in the frame. 
Adjusting Colours and Lighting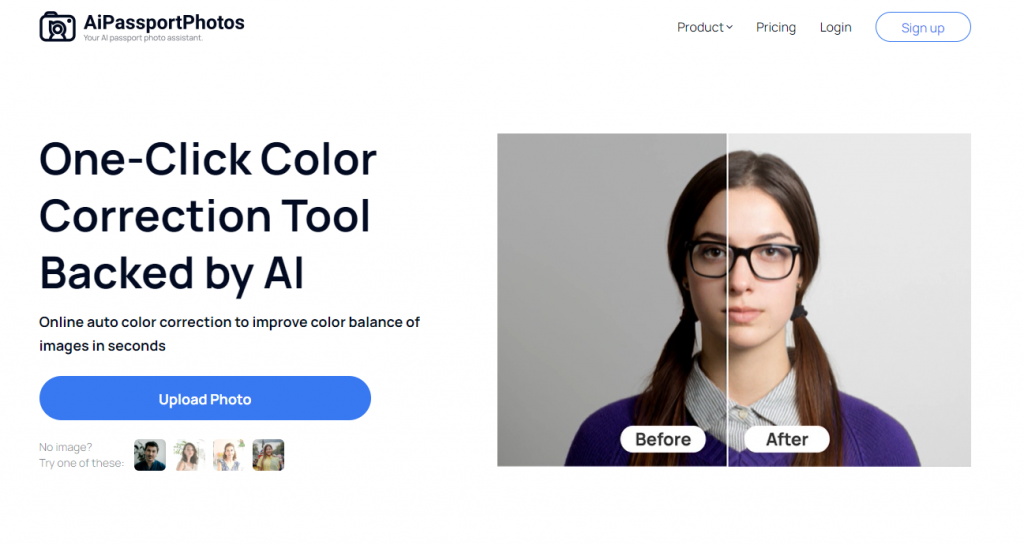 If you find that there is uneven lighting on your face or some overexposure, use the one-click color correction tool to adjust the color of the photo.
Upload your photo and after about 15 seconds of processing, you'll be taken to the following interface.
You can choose the white background color, or experiment with other options as long as the photo meets the ICA's requirements.
Once you finished adjusting the photo, click on "Get photos now" to download it to your computer.
Retouching Minor Imperfections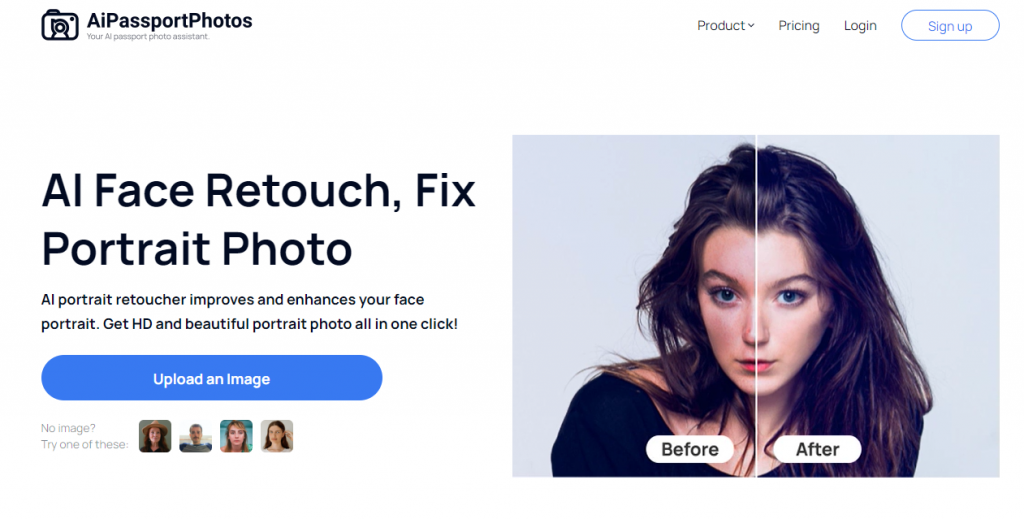 Finally, you may want to retouch any minor imperfections in the photo, but do not overdo it. The office may reject your photo if you make too many changes. Minor imperfections here refer to red-eye or color contrast.
Open the online tool and use it for yourself. We hope you enjoy the photo editing process with our tool's help.
To sum up, these tips can help you look your best in your Singapore ID photos. Remember to keep it simple and natural, and practice your face expression beforehand to feel more confident. Take a few more pictures so you can have a better chance of getting a good one.
With these tips, you'll have a great ID photo that you'll be proud to show whenever necessary.
Frequently Asked Questions
Which apps can help with editing IC photos for Singapore?
There are a few apps that can help you take and edit Singapore IC photos. You can search for them using keywords like "IC Photo Singapore" or "Passport Size Photo Maker".
Note that some of these apps are free to use, while others may charge you for using the advanced features.
What attire is recommended for Singapore passport photos?
When taking a Singapore passport photo, it is important to dress properly. Here're some Dos and Donts:
Do wear neat clothes to complement the white background.
Do not wear any accessories including sunglasses and jewelry.
Do not let your hair gear cover your eyes or ears.
Do not wear colored contact lenses.
Click here to learn more. Follow these rules to avoid reducing the quality of the photo.