Speaking of application forms, such as passports, one of the most commonly required pieces of information is the photo. For passport photos, you frequently have to adhere to a strict set of rules and requirements. It may make you believe you need to go to a photo studio to have photos professionally taken and printed. Do you know, that you may get your photo taken at home while still making sure it satisfies all the requirements? That is to say, you can get a qualified photo from an online passport photo maker and print it by using an online print service at Kmart.
Basic Requirements for Passport Photos
Each country has different requirements for passport photos, so we need to check carefully to meet the requirements when we take a passport photo. In Australia, the requirements for a passport photo, according to the government(gov.au), are as follows:
1. The image size for the printed photo must be 35 mm in width and 45 mm in height.
2. High-quality color photos, less than six months old
3. No retouching of any kind (including removal of backgrounds, moles, wrinkles or scars)
4. Clear, focused images with no marks or "red eyes"
5. Plain white or light gray background that contrasts with your face
6. Uniform lighting (no shadows or reflections)
7. Face centered, looking directly at the camera; not tilted in any direction
8. Hair off the face so that the edges of the face are visible
9. Eyes open, mouth closed
10. Neutral expression (no smiling, no laughing, no frowning)
11. jewelry can't obscure any part of your face
12. Glasses are not allowed in passport photos.
The official example is given on the official guideline's website:
Tip: If you are in a different country, please find the information on the official government page in case the photo is rejected.
Get a Compliant Passport Photo Online
The traditional average cost of a passport photo ranges from $15 to $20. While some providers only offer printed copies, others offer both printed and digital copies, and you need to get there personally. It's inconvenient and expensive.
Online passport picture maker is the simplest and quickest way to get a photo for any type of document, including a passport, ID, driving license, visa, and more. For printing and internet submissions, you swiftly get an acceptable photo.
Prerequisite for taking photos at home
Before making a compliant passport photo, make sure your camera (including your smartphone's camera) has a sufficient resolution. We advise utilizing cameras with a minimum resolution of 5 Megapixels. Make sure you have adequate lighting. While natural light is best, you must also make sure that there are no glares and that the lighting is consistent throughout the entire image. On you, there shouldn't be any shadows.
You have to take a photo (for the proper distance, use a tripod) or ask your roommate to do it for you. Make sure you can see your entire face, look straight at the camera and keep a neutral expression with your mouth closed. Direct your attention to the camera. Avoid dressing in light colors.
Step for taking photos by AiPassportPhotos
Step 1: Get your photo uploaded.
Select Australia and choose Kmart Passport Photo, and click "Upload a Photo", upload the photo you prepared and wait for it to generate a passport-size photo.
Step 2: Later, you will receive a photo like this: one for online submission and one for printing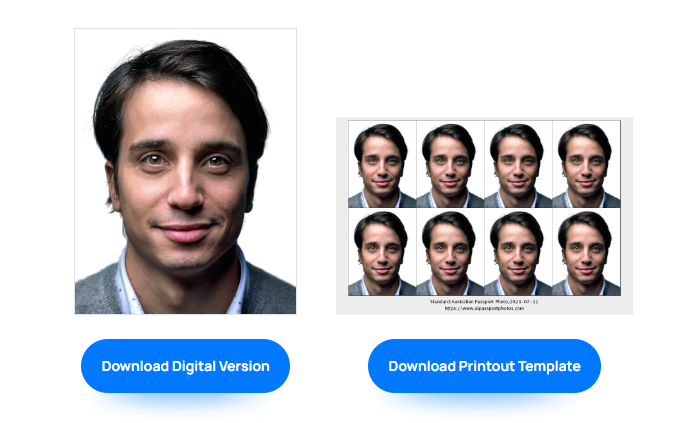 Here're the good things about AiPassportPhotos you should know:
1. Save time and money for you since the digital passport photo is way cheaper than offline options.
2. You can keep taking pictures again and again until you choose the one you think is the best.
3. Meet the photo requirements of many countries and save energy for you. With one click of the button, and it will crop size automatically, you can just wait seconds to get the compliant photo you want.
4. You will get ensured 100% acceptance of your photos. There's no need to worry about rejection.
5. You will get a template filled with four copies of your photos for printing anywhere, anytime.
The price for AiPassportPhotos is friendly for users to meet their needs. The payment is completed with the credits. You will get 5 free credits for signing up for use, and 5 free credits for inviting each friend to use it. Also, it has a massive use subscription starting at $0.125/ credit, and a one-time use subscription starting at $0.997/ credit. Anyway, at aipassportphotos.com you will always find a solution to your problem.
Where can I print my passport photo?
When you get the digital photo, you have options to print:
1. Printing a passport photo at home
That would be fantastic if you had a colored printer, you could get printed passport photos without having to leave the house. It's convenient but also costly. Some 10×15 cm (4×6 inch) high-quality picture paper (glossy and 200 gsm minimum) to print is needed. Locate the template on your computer, print it, and make sure to format your printer so that it prints on the appropriate size paper. If you don't have these things, an offline print store or an online printing service is recommended.
2. How do I print a passport photo at Kmart?
  Why Kmart?
Kmart is recommended for that it's easy and convenient with both online and offline print services. It has the cheapest price among other providers. You can go to the store in person and pick up the pictures right away. Or you can just use the online service at home without leaving the house.
Price Comparison:
| | |
| --- | --- |
| Provider | Price |
| Kmart | only for print service starting at $0.10 per photo |
| Australia Post | $19.95 with Photo service |
| Officeworks | $16.95 with Photo service |
| Photo Studios | $15-$20 with Photo service |
Location and working hours
Normally, Kmart opens from 8:00 am to 10:00 pm. If you can't find the location of Kmart near you, here are some tips:
Go to the page https://www.kmart.com.au/store-locator/, enter the address or postcode, then you can get the results.
You can just Google "Kmart near me", the results come up fast.
And the Kmart App is available, just download it from Apple Store or Google Play. You can check the nearest store on the APP anywhere and anytime.
Tip: The Kmart's Kodak Moments Kiosk may also be accessed over a Wi-Fi connection, so you can upload photos using your smartphone. At every Kmart location, there is a self-service photo printing station. However, there is no evidence that the machine can print passport-sized photos, so you need to provide a template in advance.
Steps for Online Print Service
Firstly, go to the page https://www.kmartphotos.com.au/prints, click on the "Prints" section. Simply select the 4×6″ (10x15cm) print.
Upload the image file that you got from aipassportphotos.com, pay for the service, and you can either pick up the print when it's finished at the convenience store (next-day pickup is available) or you can just choose the delivery service within 8 to 14 business days.
Conclusion
Getting a passport photo at home is so easy. Firstly, take a qualified picture of yourself; second, upload to an online passport photo maker such as AiPassportPhotos to get a compliant photo. Finally, you can use the photo to make an online submission or print it into a physical photo at Kmart. Of course, the above ways are for your reference, there are alternative ways to get your things done. But be sure to meet the requirements that are needed.