It is acknowledged that applying for a driving licence could be a hard job. You have to go through hours of courses, training and tests. Finally, you get it only to find that the photo on it doesn't look pretty. The good news is that it would not stay on the card forever. There comes the chance to change photo on driving licence when you have to renew an expired driving permit or replace a lost, stolen, damaged or destroyed permit. Moreover, a driving licence usually last for 10 years but you don't want to wait for such a long time or your appearance has changed, you can renew it at any time.
How To Renew Driving Licence Photo?
We are going to introduce 3 main options of driving licence photo renewal and the photo requirements. The process goes the same whether for full driving licences or provisional driving licences.
Renew Driving Licence Photo Online
Online application is considered the simplest way. You just need to fill in the digital form at Gov.uk and send the required documents to the vehicle licensing agency.
Before starting, please check the eligibility of the online application. Failing to meet all conditions must change to other methods. You must:
reside in Great Britain (service in Northern Ireland is stated in the following parts)
be qualified to drive
hold a UK passport within the validity period
current driving licence (explain for the absence if you can't show it)
current driving licence (if you do not have your licence you must say why in your application)
National Insurance number (if any)
residential address for the last three years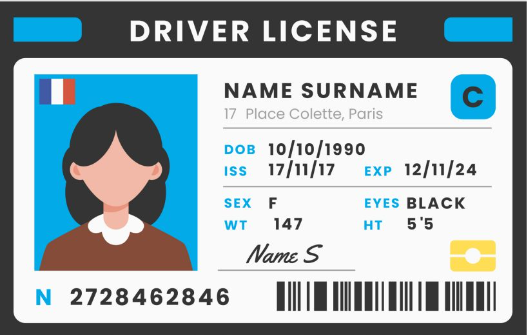 Change Driving Licence Photo at Post Office
Similar to the Passport Check and Send service, you can also update driving licence photo at post offices to renew your driving licence. The staff would help you check whether your application form is correctly filled in and take a new qualified photo for you. What you need is to take the reminder letter. If none, please bring your current driving permit along with you. There is one thing exceptional. You can't apply for the renewal in this way supposing that you have changed your name.
Update Driving Licence Photo by Post
In order to update driving licence photo by post, you are supposed to ask for a 'D1 pack' of forms at a certified Post Office. Fill in the form and send it to the designated office along with a new recent passport-type photo (no signature required), current photocard licence (if any), a cheque or postal order of £17 and identity documents (in the event of name change).
The address to receive the post is:
DVLA
Swansea
SA99 1DH
Renew Northern Ireland Driving Licence Photo
Northern Ireland driving licences are different from Great Britain's, consisting of a plastic photocard and a paper counterpart. Generally speaking, you can renew NI driving licence only 2 months before expiration. That is to say, you cannot change driving licence photo whenever you want in Northern Ireland unless you change the address, lose or damage your licence.
Renew NI Driving Licence
The Driver & Vehicle Agency (DVA) would inform you of renewal two months before it expires with an "Application for Renewal of a Driving Licence (DL1R)" notice. Upon receiving the notice, you can renew driving licence photo by attaching a new digital photo or photo code to online application on DVA Licensing Portal.
If online service is not applicable for you, you can submit the renewal application to the following address with a new biometric photo, current photocard and paper licence.
Driver & Vehicle Agency, County Hall
Castlerock Road, Waterside
Coleraine
BT51 3TB
United Kingdom
Replace NI Driving Licence
In the case that you lose, or damage one or both parts of your NI licence, you have to go for a replacement which could be fulfilled either online or by post.
The online replacement process is similar to the renewal. Just visit the DVA Licensing Portal and provide all required materials and information.
If your name has changed since the last issuance, you can replace your driving licence by post.
First of all, please complete the DL1 "application for a driving licence" form (Sections 1c and 8 for only name change) which is available in post offices. Then, send the new biometric photo, application form, remaining part of your NI licence, £30 fee and original copy of identity certificate with your new name to DVA at:
Driver & Vehicle Agency, County Hall
Castlerock Road, Waterside
Coleraine
BT51 3TB
United Kingdom
Driving Licence Photo Requirements
A biometric photo is required unless you just change the name/address or apply for a duplicate. Whenever renewing driving licence, please make sure it complies with the official rules and regulations. Here's what you should know:
The photo must present your true look and be taken last month.
Use a light-color background such as cream or light-grey
Make sure the whole face is visible, especially eyes and eyebrows.
Make sure the head measures 29-34 mm from the chin to the top of head.
Keep a natural facial expression, no laughing, smiling, or frowning.
Look straight at the camera with eyes open and mouth closed.
Avoid red-eye effect, shadows, and distracted items in the photo.
Glasses are prohibited unless for medical reasons (sunglasses, colored contact lenses are restricted in any case).
Headgear is prohibited unless for medical or religious reasons.
Print the photo with high-quality paper to make it clear if you renew it by post.
Size: 45mm in height and 35mm in width. Don't trim it after printout to meet the size.
How to Make Qualified Driving Licence Photo
Now that you have learned about all the information you need to renew driving licence photo and photo requirements, it's time to make a perfect one. Here is a simple way to get a photo that would be 100% accepted by DVLA or DVA with the help of AiPassportPhotos.
1. Find a well-lit location and set up your equipment. Make use of natural light if possible. Even if there is no suitable background, it's ok because the tool would tune it to a proper one.
2. Ask your family or friend to take a photo for you or use a tripod to selfie with the rear camera. Upload the photo online. You can also upload a photo taken before, but it must be made within one month and meet the photo standards.
3. Wait for a few seconds and the driving permit photo is done. Retake a photo if you are unsatisfied with it.
According to the users' feedback, AiPassportPhotos costs much less than studios or photo booths. It is free to preview, so you just need to pay for the last attempt. It provides digital template for online applications.
FAQs: Driving Licence Photo Renewal
Q: How much does it cost to renew driving licence?
A: It depends on the way you do. For example:
Renewal online: £14
Renewal at post office: £21.50
Renewal by post: £17
Renewal of NI licence: £30
Applicants over 70 or with a medical short period licence: free of charge
Q: How much does it cost to replace a driving licence?
A: £20
Q: How should I pay for the driving photo renewal?
A: MasterCard, Visa card, Electron or Delta debit, credit card, cheque or postal order
Q: How long does it take to get a new driving permit?
A: It would arrive within a week if applied online and 3 weeks if applied at post office or by post. The processing time would extend when medical or personal details need checking.
Q: Can I use passport type photo for driving permit?
A: Yes, provided that it is taken in last month. They share the same requirements.
Q: How long does a driving permit last?
A: It depends on the type of it.
Full & provisional licence: 10 years.
Driving licence for 70-year-old drivers or older: 3 years.
Driving licence for lorry/bus: 5 years.
Q: How can I change driving licence photo?
A: You can apply for renewal or replacement at post office or by post where you can attach a new photo to the paper form.
Summary
In a word, the only way to renew driving licence photo is to renew or replace the licence. The Great Britain driving licence allows you to renew it whenever you want while the North Ireland licence must be renewed at expiration date, name/address change or be replaced at loss or damage. When changing photo on driving licence, please get acquainted with the official requirements first in case of rejection.
That is what AiPassportPhotos aims at because the AI officer would find out any infraction and help you make a compliant photo. If possible, use it to save your time and money on driving licence photo renewal. Then focus on preparing for your gorgeous road trip.