For many people, the mere notion of having their passport photo taken in public can be a nerve-wracking affair, especially if they are camera shy. The average passport lasts ten years, so naturally, having a passport photo that ages like a fine wine rather than fresh milk is the desired result for many. 
However, posing in front of a photographer and following strict guidelines for a passport photo can be overwhelming for some people. There's nothing more demoralizing than being presented with a full-frontal view of your facial features and discovering that your proportions are out of sync. 
However, with technological advancements and the convenience of taking photos at home, it is now possible to create your passport photo without stepping outside the door! 
In this article, we'll show you how to take a professional-looking passport photo at home using our biometric software, rescuing you from the jaws of a frustrating pharmacy photo session. We'll also explain the advantages of using our AI system and how even your baby can get in on the action! So, let's get into it.
Taking Your Passport Photo at Home: The New Era of Convenience!
Gone are the days when you needed to visit a professional photographer or a photo booth to have your passport photo taken. With the advent of digital cameras and smartphones, taking passport photos at home has become more straightforward than ever.
This can be particularly beneficial for those who get stage fright from being the object of a photographer's attention. Using AI to craft a home passport photo gives you complete control over the process, providing flexibility with experimenting and retaking pictures until you are satisfied with the result.
However, not all home passport photo options are created equal. Some programs suffer from poor lighting or shading; others have built-in filters that may be more hindrance than help with passport compliance standards. 
To that end, AiPassportPhotos is a fantastic option for taking passport photos at home. It utilizes artificial intelligence to analyze your image and ensure that it meets the strict requirements of passport agencies. This is a convenient and efficient way to create a home passport photo, and there's no need for professional equipment or technical expertise to create a picture-perfect headshot!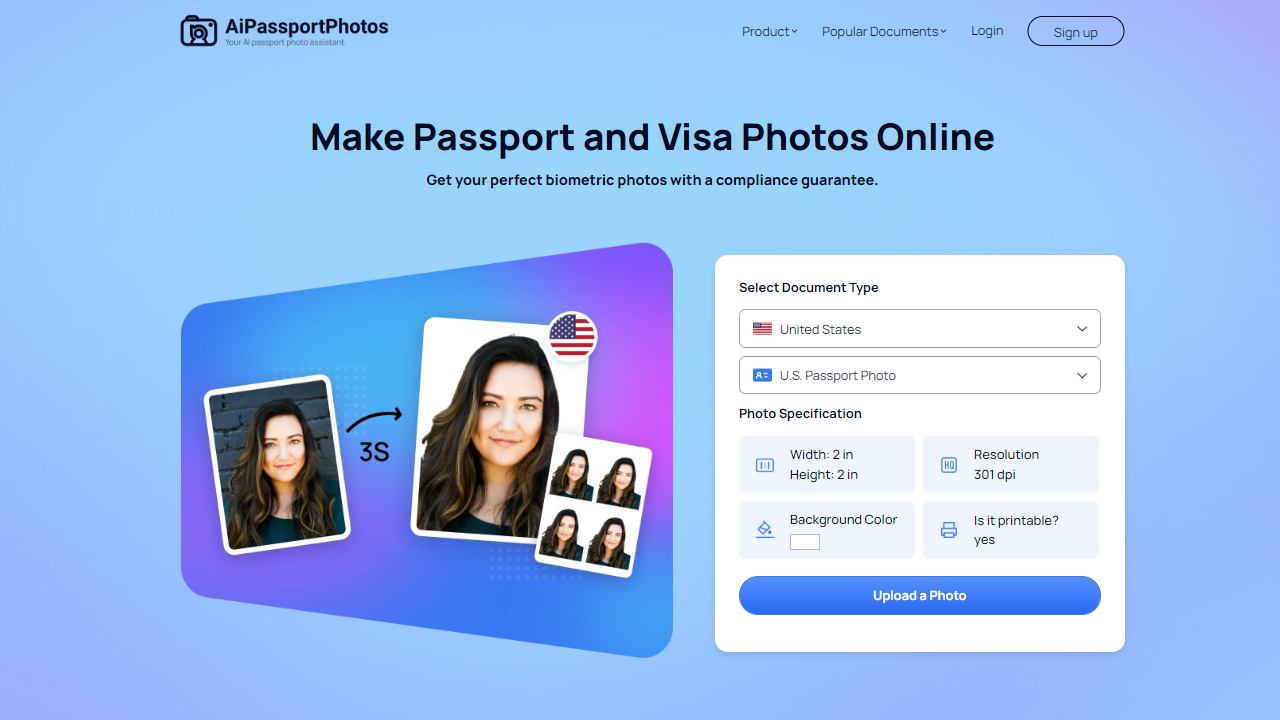 How to Take a Passport Photo at Home Using AI
The powerful algorithms in our AiPassportPhotos tool assess your headshot to ensure it ticks all the boxes with the strict guidelines for passport photos. 
Often, these criteria include specifications for the photo's size, format, backdrop color, lighting, and facial expression. To produce a compatible passport photo, our AiPassportPhotos tool automatically detects and modifies these factors within moments of scanning the image. 
How Does It Work? 
Simply snap a picture of yourself in front of a plain background, such as a white wall, and use that image to access our AiPassportPhotos online. You can take your home passport photo with a digital camera or smartphone. 
And while we know you've got a killer smile, keep your appearance neutral! The more neutral your facial expression, the easier it is for officials to verify your identification and issue your passport.
Once you have the perfect passport photo, just upload it to our website, which will review it and let you know whether it satisfies the specifications for a passport photo. Our online passport photo maker will advise on how to make alterations, such as shrinking the image, altering the backdrop color, or adjusting your face if the picture doesn't satisfy standard passport requirements.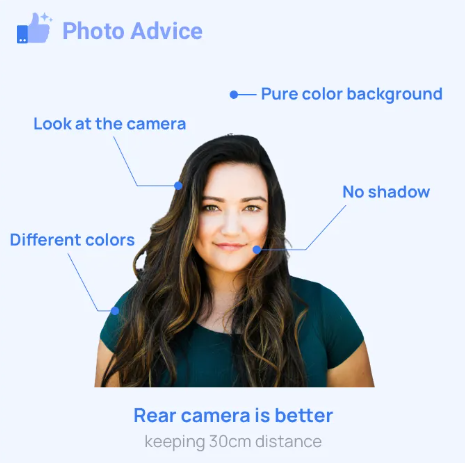 After making the necessary adjustments, you can upload the revised image to  AiPassportPhotos for additional analysis. From there, you repeat the procedure until your passport photo complies with the requirements. Follow our guidelines for taking your home passport photo, and you should be able to get it perfectly on the first attempt! 
Benefits of Using AiPassportPhotos Tool for Home Passport Photos
Using AiPassportPhotos to create your passport photo at home holds several benefits for camera-averse or time-strapped individuals. Below are seven reasons to use our passport photo creator for your home passport photo experience. 
You gain privacy and control over the process by having your passport photo taken at home. Those who are camera-shy could find this especially helpful as they might feel more at ease shooting images in a comfortable setting.
Flexibility and Convenience
Taking your passport photo at home allows you to experiment and retake pictures until you are happy with the result. You can take your time adjusting the lighting, background, and facial expression at your leisure, which can be challenging, to say the least, in a professional photography setting!
Using our AiPassportPhotos tool to take a passport photo at home is far more affordable than the fees you would pay at a photography studio or photo booth. Best of all, many of our home passport photo options are entirely free!
Passport Requirement Compliance
Passport agencies have precise requirements for passport photos, and it can be difficult to meet them without professional aid. However, the tool examines your image and provides feedback on whether it meets the designated size, format, background color, lighting, and facial expression requirements. This saves you a lot of time and effort to guarantee that your passport photo is compliant and avoids any potential delays or rejections in the passport application process.
Our tool is designed to be user-friendly, even for those who may not be tech-literate or familiar with photography. We provide step-by-step instructions and guidance on how to take a compliant passport photo at home. 
Our software uses advanced algorithms and artificial intelligence to evaluate and modify your photo. This ensures that your home passport photo is accurate and consistent with official requirements. The software automatically detects and corrects minor issues such as incorrect lighting or background color, giving you a professional-looking passport photo in mere moments.
Taking your passport photo at home using AiPassportPhotos can free up a great deal of time for you. There's no need to schedule an appointment with a professional photographer or visit a local pharmacy, both of which take time out of your busy schedule. Instead, you can take your home passport photo at your own pace, upload it to our website, and receive instant feedback on whether it meets the requirements or needs adjustments.
Taking a Passport Photo at Home for All Family Members
AiPassportPhotos also offers alternatives for other specific requirements, such as baby passport photos. This is an invaluable option for many parents and one of our most popular options. 
Firstly, it ensures compliance with passport regulations, as our software employs advanced algorithms to analyze and adjust your baby's photo to meet the necessary size and format. 
Secondly, it eliminates needing to travel to a professional photographer for your baby's headshot. Taking a passport photo at home in this manner offers you a wealth of privacy and flexibility. Your baby can be photographed in a familiar and comfortable environment, ensuring they are as relaxed and photo-ready as possible. 
AiPassportPhotos also provides step-by-step instructions and automatic adjustments, making capturing a compliant passport photo of your child without stress or hassle. No matter your needs, it has a full range of biometric options to vastly simplify the process of obtaining a compliant passport photo for you and your loved ones.
Summary
In conclusion, AiPassportPhotos provides an accessible and user-friendly option for camera-shy individuals and parents of young children, including babies, to take their own passport photos at home. Our tool provides simple step-by-step instructions, automatic adjustments, and compliance with passport requirements, making it a practical option for those who feel shy in front of a camera or those with infants. 
With the benefits of privacy, flexibility, accuracy, and cost-effectiveness, AiPassportPhotos can simplify the process of obtaining your passport photo and ensure that it meets the specific guidelines set by passport agencies. 
So, if you are feeling camera-shy, don't worry! You can take control of your passport photo at home using AiPassportPhotos. With just a few simple clicks, you can create a compliant passport photo and be ready for your next travel adventure in moments. Say goodbye to the stress of posing in front of a camera and hello to the convenience and comfort of taking your passport photo at home!