Getting a passport photo in the USA can be a stressful experience, even if you opt for an online application. Sorting a photo and getting down to the post office, library, or local government office to take a photo is a mission.
In fact, applying for a passport usually means spending a considerable amount of time at the passport office, waiting in long queues, and paying overinflated fees for a simple photograph. But if you know how, there are plenty of ways to take the stress out of getting your passport photos and renewing your passport.
Online passport photo makers are becoming increasingly common, and more and more of us are choosing them over traditional methods. But why are so many people making the choice?
The Benefits of Online Passport Photo Makers
In a world where everything can be done online, why should your passport photos be any different? Online passport photo makers make passport photos accessible to everyone without hiring a professional photographer, heading into town, or spending a small fortune.
In fact, you don't even need to leave the comfort of your own home if you have your own printer. Online Passport Makers are a simple and convenient way to create photos in minutes – and there are plenty of other benefits too.
Saving time and money.
It can be done from anywhere – your home, your office, or even on vacation.
High-quality photos that will always meet the requirements of your state or country.
How to Choose a Good Passport Photo Maker
A quick Google search will show you just how many different passport photo services are available online – each promising to be the best and the cheapest.
When it comes to choosing the right site for you, the choice can be overwhelming, but there are a few different ways to filter through and find the best.
A good passport photo service should be user-friendly, even if you're not too familiar with your way around a computer. The photos should be high quality, and a good passport photo maker should be accessible across devices.
Reviews can be a great way to filter through different photo editing sites, helping you to find the best based on other users' experience with the tool.
The Best Free Passport Photo Makers in the USA
There are plenty of different passport photo tools to take advantage of online, with some standing out more than others. The following selections are the best free tools currently available for USA passports, children's passports, and baby passport photos.
AiPassportPhotos:
AiPassportPhotos is the best online platform allowing users to take and print passport photos easily and conveniently. The website offers a simple three-step process that guides users through taking and validating their photos before sending them to be printed and delivered.
The site uses AI to help crop and change backgrounds as well as dimensions at just the click of a button, and photos made on the site have a 99% acceptance rate with passport agencies across the world.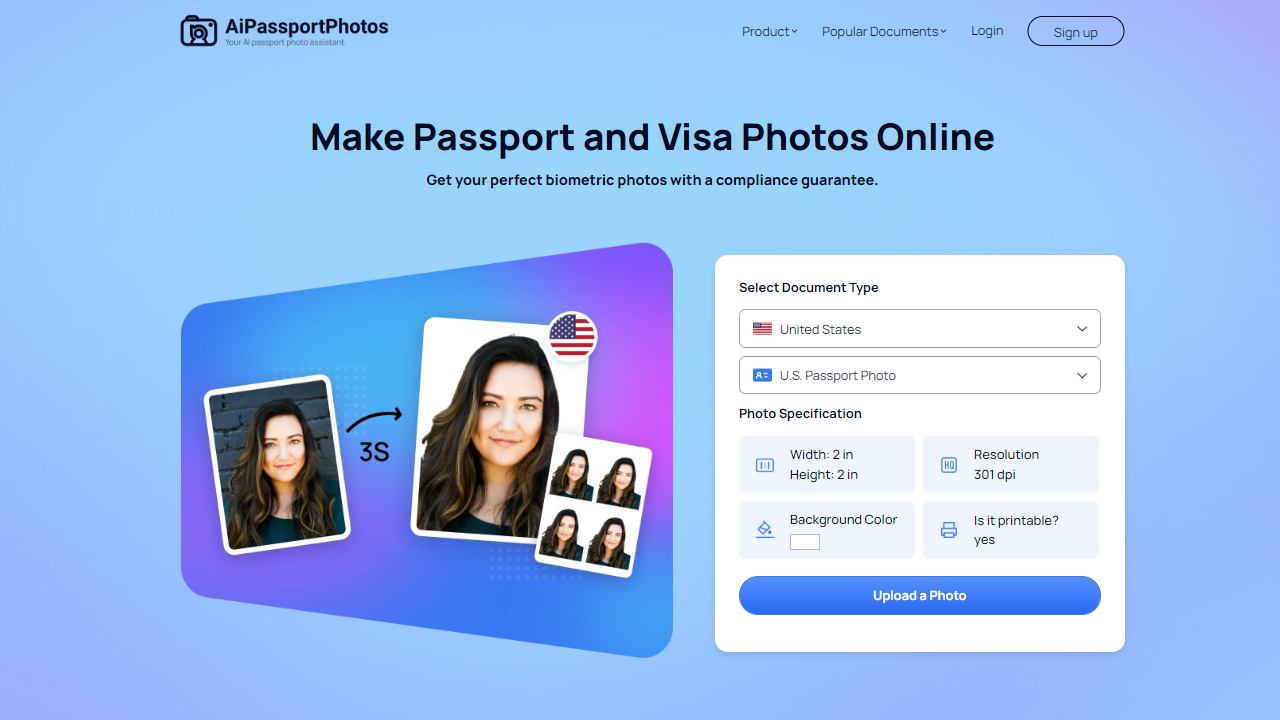 Passport Photo Online offers a free service, allowing you to upload your photos to the platform. The site will automatically crop and resize your image in order to meet the correct requirements for your country.
IDPhotoStudio is a free online tool allowing users to upload and edit their passport photos. The tool allows you to customize your passport photo size to meet the requirements of a variety of different countries.
With Passport Photo Maker, you can take advantage of a free trial to create your passport photos online. The interface is user-friendly and offers a variety of editing tools for your photos, including editing for passport photos.
Online Passport Photo is a free tool that allows you to crop and edit your photos based on your country's passport requirements. You can upload your photo and adjust the position of your head, background, and other features with just a few clicks.
MyPassportPhotos offers an app and website to help users create their own passport photos at home with just a smartphone. Simply follow the step-by-step instructions and create your new passport photo in minutes for free.
Why Choose AiPassportPhotos?
Artificial intelligence is being used increasingly in the world around us, and passport photo sites are no different. With the AiPassportPhotos platform, users can use the integrated AI to adjust the background color and resize or retouch the passport photo to meet the exact country requirements – without any Photoshop experience.
Choosing the right platform for your needs requires careful consideration of the features available, user-friendliness, and compatibility with your devices. Passport photos get rejected all the time, but with a combination of following the guidelines of your country's passport and using an AI passport photo tool like AiPassportPhotos, you can guarantee your passport photo will be accepted the first time.
How It Works:
At AiPassportPhotos all you need is a smartphone or a camera, and you can create your passport photo online for free in the comfort of your own home. It's as simple as visiting the site, uploading your photo, and following the onscreen prompts.
AiPassportPhotos uses advanced facial recognition technology to ensure that your photo meets all the requirements, such as the right head size, position, and quality.
This minimizes the chances of your photo being rejected, which could delay your passport application process – in fact, AiPassportPhotos have a 99% acceptance rate.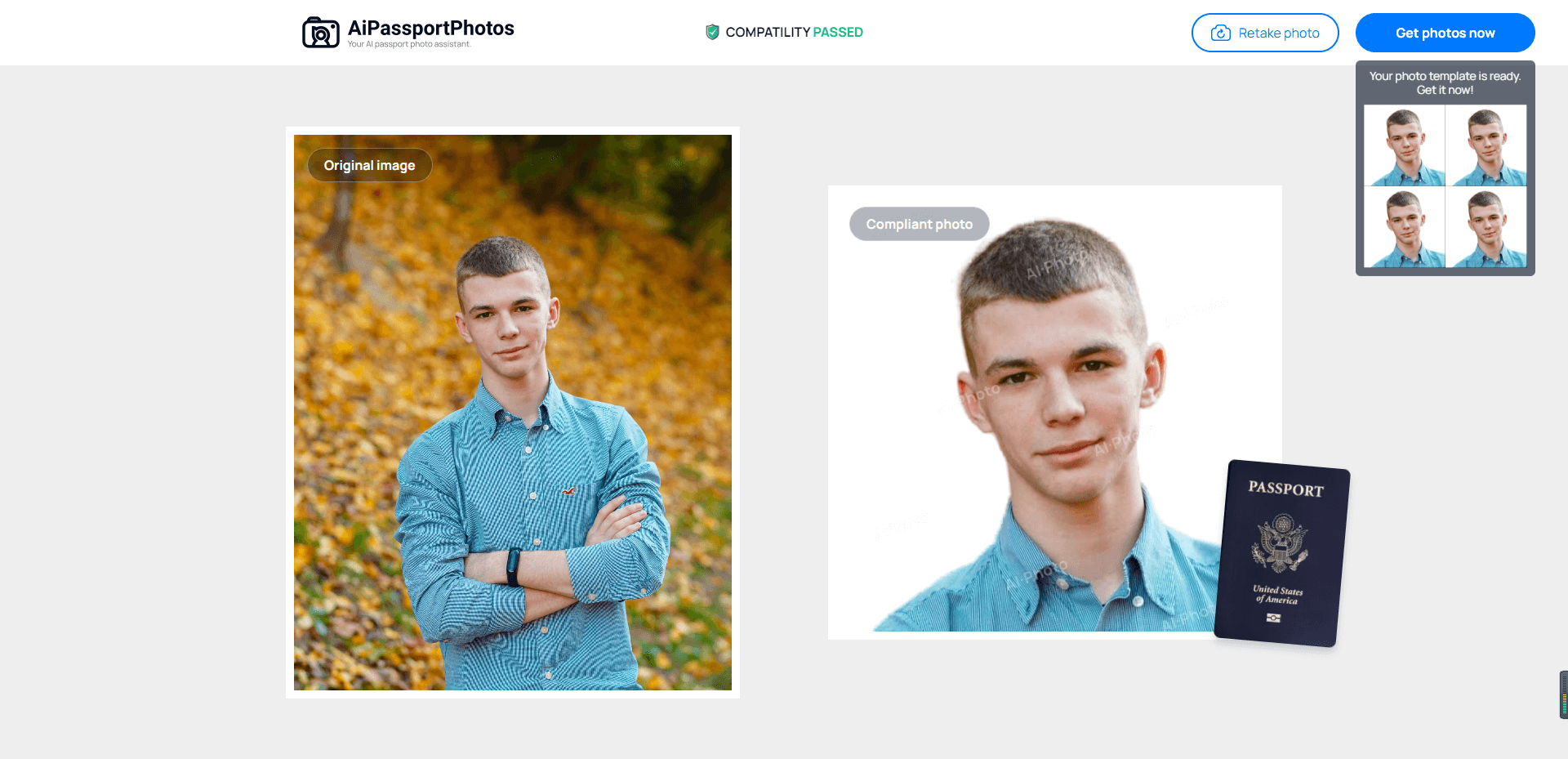 (Face image source from pexels.com)
Perhaps the best feature of AiPassportPhotos is it's free. New users can download up to 5 pictures for free after registration, including unlimited free preview. Typically sufficient for creating a satisfactory ID photo, AiPassportPhotos will automatically generate an electronic template for future use, like printing or sharing. You can either print your photo at home or take it to a nearby photo printing shop, such as Walgreens, CVS, or Walmart.
It's really that easy!
If you need to unlock more tools, you can subscribe to our upgrade package to access additional benefits. Subscribing also allows you to accumulate points that can be redeemed for free usage.
Save time, money, and stress on your next passport photo when you choose AiPassportPhotos – it just takes a few clicks. Visit the site to learn more about how AiPassportPhotos works.