If you're planning a trip to the beautiful city/country of Singapore then you might be asking, does a Singaporean need a visa to Australia? Well, the answer to that is a yes. It is indeed necessary for residents of Singapore to apply for an Australian visa before they can actually visit the country.
If granted, your visa will be valid for six years and will allow you to stay for up to 90 days per visit, so although the process of applying is a bit of a hassle for some, it does at least yield some longevity in terms of how much use you can get out of your visa.
If you follow all the guidelines below, use the right tips and don't procrastinate, you can make the application process fast and headache-free. So without further ado, check out our guide to Australian visa for Singapore citizens below!
Before you decide to apply for an Australia visa in Singapore, there are a few things you need to get sorted out first. The most important of which is deciding what kind of Australian visa you need, and its related application form.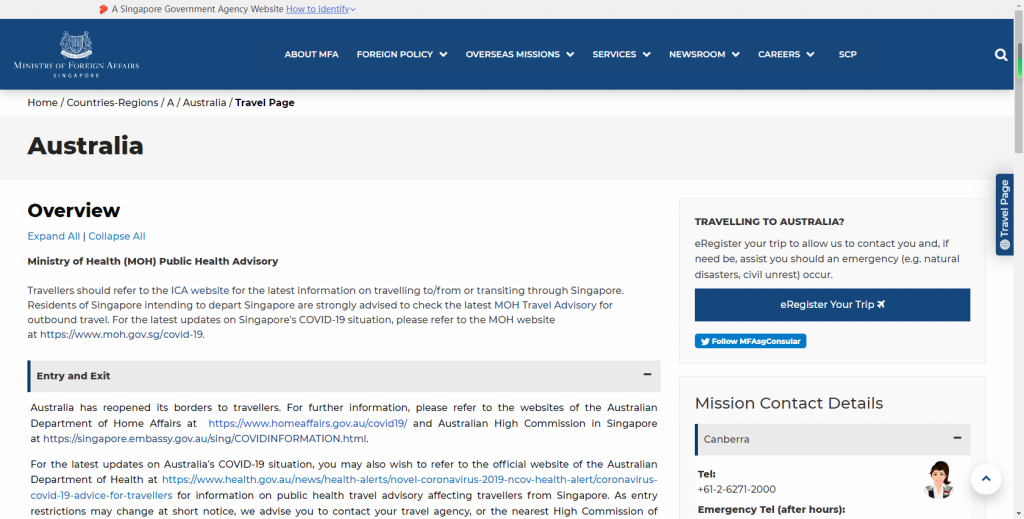 1.a) The Different Forms of Australian Visas
There are six main categories of visas that Singaporeans can apply for when visiting Australia.
The first is the visitor visa which applies to short-term tourists who are only visiting Australia temporarily, usually for reasons of pleasure but sometimes for medical treatment as well.
The second is the study and training visa. This category is exclusively for international foreign students and their parents or guardians who need to accompany them.
The third is the partner or family visa. These are for the parents of naturalized Australian citizens or permanent residents who are visiting their children or family. They can also be issued to dependent relatives or potential wives and husbands of Australian citizens or residents.
The fourth category is the work visa. Infamously known as the hardest kind of visa to obtain in most countries, these are for people who are being employed by a business native in Australia. They can be temporary or involved with permanent residence.
The fifth category is the refugee or humanitarian visa. These are granted to people who qualify for Australia's international protection obligations, be it for safe haven or for temporary protection.
The sixth category of Australian visas is miscellaneous. They fall under no specific umbrella term and simply refer to a variety of different circumstances and requirements. These include former resident visas, bridging visas, investor retirement visas and several other special purpose or special category visas.
1.b) How to be Eligible for Each Australian Visa
Different visas have different requirements, so depending on which one you want, you will require its corresponding application form.
For example, if you want an Australian tourist visa to Singapore, your stay will have to be no longer than 90 days. You will also have to be visiting for personal reasons related to tourism, not business.
If you require a work visa, then you will have to apply for one of the several subclass visas related to skilled and temporary work or permanent residence. This requires having lived in a specific area for at least a few years and already owning a prior Australian visa of some kind.
If you want to apply for an ETA or Electronic Travel Authorization, you may only be eligible if:
You have no criminal record
You own a passport that has at least 3 remaining months of validity
You do not have a contagious disease
You are not traveling for the purpose of community or health services
1.c) There are several documents you need to bring with you when you're applying for a visa to Australia as a citizen of Singapore. Be sure that those docs include all of your identification data, like your passport number and expiry, trip details, and more.
Your driver's license, birth certificate, and passport are typically all you need if you're only applying for a standard visa such as an Australian tourist visa Singapore.
If you are applying for a more complex visa such as a work visa, you will also have to provide an invitation letter and a business card.
When applying for an ETA, you will only have to supply your original passport and your e-mail address. Also expect to have a proper online means of payment on hand.
2) Top 5 Tips for a Smooth Australian Visa Process for Singaporean Applicants
Now that we've gone over the basic requirements of how to apply for Australia visa in Singapore, you're probably now wondering if there are any simple ways you can help make the entire process feel a little easier and faster. To help out, here are our top 5 tips you can smooth out your Australia visa application to Singapore process.
Tip 1: Don't Procrastinate; Start the Application Process as Early as Possible
Waiting until the last minute to apply for a visa is often a bad idea. When you're scrambling at the last minute to make preparations, this makes it more likely for you to forget key things, such as your application fees or any necessary documents. This is why you should get it out of the way and apply as early as possible.
Not only is it practical, but you will also feel more relaxed having done so. Many countries will allow you to apply for a travel visa 1-3 months in advance of your trip, so take advantage of that option.
Tip 2: Prepare All Required Documentation
As mentioned earlier, every Australia visa application Singapore needs the right papers and information for the process to be cleared. While this includes your passport and personal info, it also includes your own Australian visa ID photo.
If you need help preparing a proper visa ID photo as fast as possible, one great resource you can take advantage of right now is AiPassportPhotos. This website will do most of the work for you.
All you have to do is upload a photo of yourself that follows general ID photo guidelines, such as a clear angle of your face, no obscuring headwear and a neutral expression. AiPassportPhotos can then, within mere seconds, place your face on a plain background ready for visa photo guidelines.
Tip 3: Never Overlook Details
It's essential to double and triple-check everything as you go to make sure you didn't miss anything. The last thing you want is to arrive with an incomplete application. Make a checklist and check it before you are ready to apply.
Tip 4: Don't Fall for Common Mistakes
In addition to making sure that you have everything you need, be sure the documents and passport photos you are going to use all meet the requirements. Particularly when it comes to the passport photos you'll use for your visa, it can be easy to make them the wrong size or otherwise not fit specifications. So be diligent and detail oriented!
Tip 5: Request Expert Advice If Needed
If you start feeling confused and don't understand certain aspects of your application process, seek help from someone who has either successfully done it before or a qualified professional like an immigration lawyer.
Conclusion
To summarize, applying for an Australia visa in Singapore requires you to know which visa you need, to bring documents that have your personal and passport information, to pay the correct fees, and to submit the appropriate application form.
Additionally, keeping in mind good tips and habits like always applying early or using a proper photo ID editor can only help, making the visa application process as smooth and hassle-free as possible. Keep all this in mind and your Australian visa will be yours in no time.